Mohamed Salah shared his wisdom on reaching his life goals with a group of refugees, during a Global Works session run by LFC Foundation.
The Reds forward told the group of 20 participants that if you have a vision and work hard then your dreams can come true.
Salah surprised the group by arriving at their session before taking part in an inspiring Q&A session where he discussed challenges faced on the pitch and the importance of a player's life off the pitch.
Following the Q&A, Salah watched on as the group showcased their football skills in small-sided games, while he also spent time talking individually to two young refugees about their journey and spoke about the importance of hard work and belief.
Speaking at the event, Mo said: "If you have a good vision and you believe inside you that there is a bright light there, you can achieve big things.
"I believe if you work hard and you have a good vision, all your dreams will happen. All of them.
"You just need to really work hard and be able to sacrifice and do everything possible to make your dream come true."
Matt Parish, chief executive LFC Foundation, added: "It was incredible for us to have Mo come down to the session and share his experiences and advice with the group, it was clear to see the impact the visit had on our participants.
"As a hero to so many across the world, Mo was able to inspire these young men and the smiles on their faces throughout showed just how much this visit meant to them.: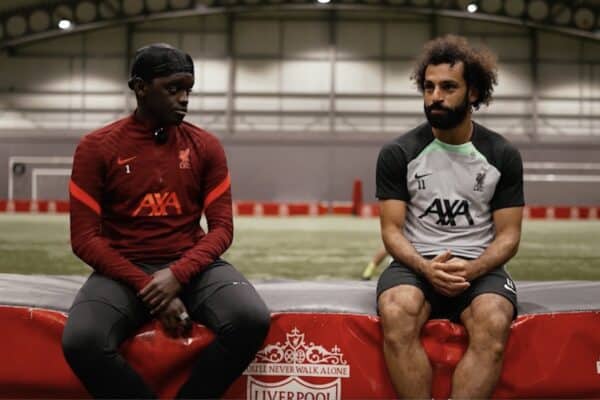 The LFC Foundation and key partners work closely with refugees across the Liverpool City Region, providing weekly football sessions to help integrate them in to the community and make new friends.
Since the Refugee Football programme started, LFC Foundation have worked with over 900 refugees and asylum seekers.
The session seen in the video was part of the Global Works employability programme, and since March 2023, this programme has been delivered to 38 refugees.
This 10-week programme is a combination of developing key employability skills whilst utilising sport to develop physical and mental wellbeing.