PGMOL have released the eye-opening full audio of conversations between referee, VAR and assistant VAR during Luis Diaz's offside goal decision.
In a remarkable exchange between referee Simon Hooper, VAR Darren England, assistant VAR Dan Cook and fourth official Michael Oliver, chaos unfolded on Saturday.
With Diaz clearly onside before firing Liverpool in front midway through the first half against Tottenham, the goal was bizarrely ruled out.
Following pressure for Liverpool and a formal request to release the audio, PGMOL and the Premier League have now made this public.
It reveals how:
VAR Darren England realised his error in confirming his check was complete
VAR Hub Ops Executive Oli Kohout advised to delay the game – after it restarted
And how a replay operator was left to point out that Diaz's goal should have stood
Full quotes of the conversation are below.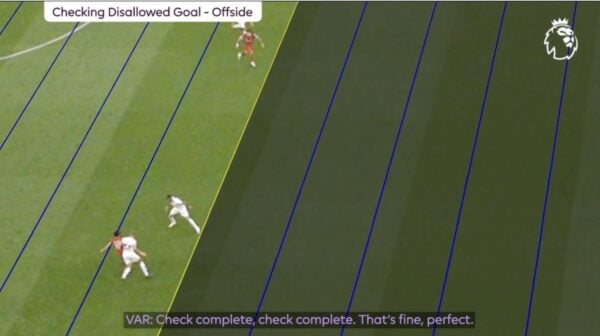 VAR (Darren England): "Check complete, check complete. That's fine, perfect."
Assistant referee 1 (Adrian Holmes): "Playing."
Referee (Simon Hooper): "Cheers mate."

VAR: "Thank you, mate."
Referee: "Well done boys, good process."

Replay operator: "Wait, wait, wait, wait. The on-field decision was offside…are you happy with this?"
Assistant VAR (Dan Cook): "Yeah."
Replay operator: "Are you happy with this?"


Assistant VAR: "Offside goal, yeah…that's wrong that, Daz."
VAR: "What?"
Replay operator: "On-field decision was offside. Are you happy with this image? Yeah, it's onside. The image that we gave them is onside."
Assistant VAR: "He's played him. He's gone offside."

VAR: "Oh for fuck's sake."
Replay operator: "Delay, delay. Oli (VAR Hub Ops executive Oli Kohout) is saying to delay. Oli's saying to delay."
VAR: "Pardon?"
Replay operator: "Oli's calling in to say delay the game. The [correct] decision is onside."
VAR: "Can't do anything."
Replay operator: "Oli's saying to delay. Oli's saying to delay."
VAR: "Oli?"

VAR Hub Ops (Oli Kohout): "Yeah?"
Replay operator: "Delay the game, to delay the game? Stop the game."
VAR: "They've restarted the game. Can't do anything."
Assistant VAR: "Yeah, they've restarted. Yeah."
VAR: "Can't do anything."

Assistant VAR: "No."
VAR: "I can't do anything. I can't do anything. Fuck."