An incensed Joel Matip and referee Paul Tierney certainly had the Kop's attention, to mixed results, as fortress Anfield held strong for another league victory.
After the week Liverpool had, Brentford's visit felt like another potential hazard but Jurgen Klopp's men put three unanswered goals on the board for a much needed win.
It comes right before the final international break of the year and ensures the Reds are second in the table, a point behind Man City – who they face immediately upon their return.
Another victory at Anfield was not short on talking points and on his return to overseeing a Liverpool match, Tierney thrust himself into the spotlight a time or two!
Here are a number of things fans spotted from Sunday's victory.
Matip's actions speak louder than words
– Joel Matip wins tackle.

– Paul Tierney gives foul and books Matip.

– Matip reacts in typically mad- limbed fashion.

– Kop chants, "F**K OFF TIERNEY!"

??? pic.twitter.com/9fNTCW7WTN

— Paul (Maych) Machin (@ThePaulMachin) November 12, 2023
Matip does not do things in half measures and that includes any and all reactions to referee decisions that he cannot quite believe.
How the centre-back got a yellow card for the challenge remains a mystery, and his reaction is everything we have come to know about him, it's a full body one and you can't blame him for it!
— No Context Joel Matip (@NoContextJMatip) November 12, 2023
Don't think Joel Matip was too happy about getting a booking ?#AstroEPL #LIVBRE pic.twitter.com/FZGCBE3Fzh

— Stadium Astro ?? (@stadiumastro) November 12, 2023
Never change, Joel. Never change.
Tierney gets the Kop going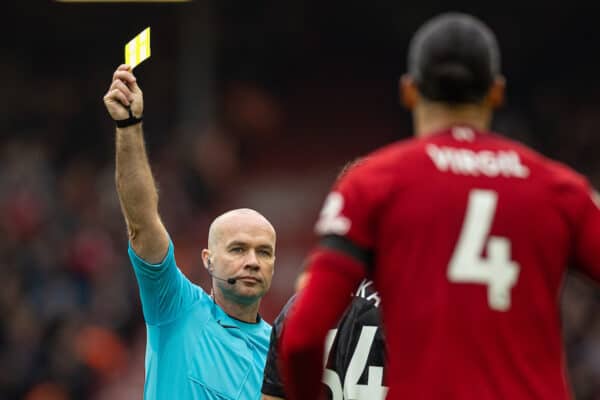 A knock on from his bizarre decision to show that yellow card to Matip, Tierney triggered typical Kop humour, and if you think "F**k off Tierney" was the highlight, you'd be mistaken!
Not very often you hear a ref getting his name chanted by the crowd, let alone get two different chants.

"F*** off Tierney" was the main one, but instead of ironic cheers when he gave a decision #LFC's way it was: "We love you Tierney, we do…"

Howard Webb will be so jealous.

— Jim Boardman (@JimBoardman) November 12, 2023
'FCUK OFF TIERNEY' #LFC #LIVBRE pic.twitter.com/cWuWvdcdSY

— AsimLFC (@asim_lfc) November 12, 2023
Ref watch update from in the ground today – dunno if it came through on the tv but the loudest chants of the day were "fuck off Tierney" several times. Although at one point we got a decision our way and the kop started singing "we love you Tierney we do, oh Tierney we love you".

— Nick Turner (@NickTurner13) November 12, 2023
It did not take long for the first chant to come to the surface, but after Tierney awarded Liverpool a free-kick not long after Matip's yellow, it was "we love you Tierney, we do."
Quick wit, as ever. Brilliant.
Quite the back slap for Darwin
klopp nunez pic.twitter.com/QyMGt6ieUs

— omni media (@archiveomni) November 12, 2023
Another 90-minute outing, one assist and two goals ruled out for offside, it was a near complete performance from Liverpool's No. 9 and he earned Klopp's adulation.
The boss had some brilliant words after the match, but while still on the pitch Klopp had a bear hug and an almighty back slap to dish out as a reward.
Nunez is continually growing and doing all Klopp asks of him and the best bit is, he is only going to get better.
What a moment for the 16-year-old!
? 16-year-old Trey Nyoni would have become Liverpool's youngest-ever Premier League debutant if he featured against Brentford from the bench.

A lovely moment with Jurgen post-match ? pic.twitter.com/41ZKaesiWE

— This Is Anfield (@thisisanfield) November 13, 2023
You could be forgiven if you read the team sheet and did not quite know who Trey Nyoni was, he is only 16 and arrived as an academy signing in the summer.
But he was on the senior bench for the first time after an exceptional start at youth level, and having trained with the first team a number of times already, he's clearly caught Klopp's eye.
The manager has an incredible record bringing youth into the team and Nyoni will hope to soon have another Klopp embrace like this after playing for the team but for now, it is one step at a time.