In what will be Rafa's final Euro 2008 column in Spanish newspaper El Mundo, he reflects on Sunday's Final win over Germany where Liverpool's Fernando Torres scored the all important only goal of the game.
Read all of Rafa's previous columns here >>
Twenty-four years later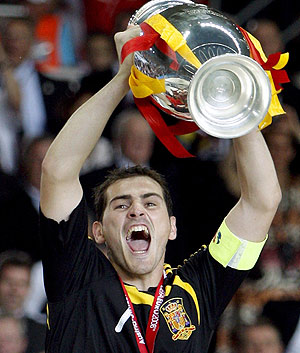 24 years ago, when the Spanish national team lost the final in Paris, of the Eurocup in France'84, Fernando Torres was barely three months old. Last night, in Vienna, the madrileño put sentence to a final that will become a part of history. He will too and in style. Spain won their second continental title and they did so brilliantly. They were superior to each and every one of their opponents and did so with a playing style based on ball possession, depth in attack, and executed by players of great quality. Then, Luis did the rest. First, he chose the proper men to suit his ideas. Then, he kept them united until the very end. Yesterday, during the epilogue, he only needed to preserve the formula of success.
Germany kept the 4-4-1-1 that gave them so much success in the last games. There was speculation that they were going to play with two strikers (4-4-2), but at the end Ballack, behind Klose, was their proposal. Meanwhile, Spain came out with the expected formation with Fabregas moving behind Torres. On the contrary, they had less possession than usual and were playing more on the counter-attack.
On one of those solitary actions, Torres imposed his pace and power over Lahm and finished superbly with a touch of quality over Lehman. It was on the 33rd minute and his dart was worth a final. From there on, the Germans went forward and the usual runs by Lahm himself were met by those of Metzelder, taking risks that Fernando was always willing to exploit.
With Spain ahead on the scoreboard, the second half was a repetition of the first. Germany again started very strong, betting, this time, on a 4-4-2 with the addition of Kuranyi up front. Despite all efforts, Spain steadily recovered their level, like they did in the first half, and balanced the control of the ball while enjoying some clear chances of sentencing the final. They had many chances on the counter-attack and Torres was looking a bigger threat every time. But the scoreboard wouldn't change. At the end, the Spanish explosion, festivities at its fullest and the special prominence of Fernando. I'm happy for him, for Pepe, for Xabi, for Alvaro and for everyone else. My congratulations to them.
In conclusion, we reached the end of a Eurocup where, in my point of view, we had an excess of games and where we were surprised with some of the games that went into extra-time, giving us the feeling that some of the national teams were not very fresh at the end of games. With various teams that had looked promising leaving home early and with a superior Spanish team that were just winners. Better that way. About the semifinal draws, demented, better not speak about.
TIA would like to say a huge thankyou to Alex (ASF) for allowing us to publish his translations here over the last few weeks.