Reds fan Neil Dunkin, author of Anfield Of Dreams: A Kopite's Odyssey, brings us the next stadium in his world tour of Super Grounds.
IF you've won the lottery by being born a Liverpool fan, you don't need telling Anfield is the most fantastic stadium in the world. For atmosphere, passion, fervour and sheer pulsating excitement, nothing surpasses it, least of all the Mogadon trio of Old Trafford's theatre, Stamford Bridge's bank or the Emirates mosque.
But it's always interesting to see games in famous arenas when you're abroad, so I've picked some of my favourite foreign stadiums. After visiting the Maracana and Azteca, I now come to my third super ground, the San Siro.
Super Grounds: Issue 3: The San Siro
Planet Football
SUMMER holiday with wife and son in the French Alps. After a day walking through the mountains, we were relaxing in our flat in Chamonix. A sports channel was on TV and the French announcer began discussing a match on the Wednesday, the Coppa Berlusconi between Milan and Juventus in the San Siro.
Preview completed, 16-year-old Russ asked: 'œCan we go?'
Brill idea. Any run-in between AC and the Vecchia Signora, or Old Lady, is a biggie, up there with our derby game, and this curtain-raiser to the Italian season would enable me to see the San Siro, high on my stadium want list.
Scrutiny of the map indicated Milan was about 150 miles away on the other side of the Alps. Go for it. Berlusconi or bust.
On the morning, we set out at 9 o'clock, drove through the Mont Blanc tunnel into the Valle d'Aosta and along motorways to enter Milan's outskirts. As we got nearer to the ground in the San Siro district, ticket touts waited at almost every traffic light. Noon, eight hours before kick-off, they were already touting for business.
For them, the giveaway was our British number plate. Tourists! They must be interested in going to the match. The instant we halted at one red light, they were tapping on the window, welcoming us to Milano, brandishing the best tickets in the house. They appeared kosher, with watermarks, but I wasn't convinced. 'œNo, grazie' and we cracked on towards the stadium.
Minutes later, turning into a dual carriageway, we caught our first glimpse of it, directly ahead, unlike anything I'd ever seen.
The San Siro has been likened to an aircraft carrier looming over the city but to my eye it looked straight out of Stanley Kubrick's 2001: A Space Odyssey. After a two-year journey from Klemola 44 galaxy, 400 million light years away, a gargantuan spaceship had landed in the middle of a residential neighbourhood.
The magnitude of Milan's other cathedral was jaw-dropping. Massive, colossal, enormous, gigantic, monumental, titanic '¦ flick through a giant's dictionary to convey its impact.
Along the sides, round towers spiralled up, solid-fuel booster rockets supporting mahussive steel girders, with air locks sticking out where replenishment vehicles could dock with supplies. Sloping walkways linked these towers and, as we got nearer, a couple of astronauts could be spied near the top of one ramp.

This inter-galactic craft had alighted in the midst of a vast open area, big enough for another San Siro, across which buses and trams were trundling. A Space Age stadium with boundless amounts of space.
Driving past the concourse, I spotted the Biglietteria, or ticket office, but when I turned into the access road next to the booths, a security guard approached. Parking not allowed.
He directed me to the far side of the dual carriageway, to a street of shabby maisonettes and mansions within high walls.
As I pulled up, an old man advised us we shouldn't leave our motor because Albanians and zingari, gipsies, would break in. Thanks, mate.
Car crime is an Italian growth industry, especially during summer when foreign tourists migrate to the sun, and those ticket touts had shown how a number plate made your vehicle stand out. Delegating sentry duty to Anne, I hurried with Russ to the Biglietteria, buying three seats for £11 each.
Now that everything was tickety-boo, we could take a look at Milan. A policeman on traffic duty at a junction alongside the stadium offered some security so we abandoned our car there, catching a tram to the city centre for visits to the cathedral, il Duomo, and historic Vittorio Emanuele shopping gallery, before appeasing our hunger with pizza.
At 6.30pm, another tram took us back to the San Siro, officially the Stadio Giuseppe Meazza, in honour of the inside forward who played for both Milan teams and the Italian national side that won the World Cup in 1934 and 1938.
By this time, the concourse had become the venue of not so much a car-boot sale (Just who is buying all these car boots?) but a lorryload sale. Through rear doors of a dozen juggernauts, traders were unloading racks and boxes of football gear, merchandise for every Italian club you could think of, as well as Liverpool jerseys '" obviously counterfeit.
Russ settled on a Juve shirt with Del Piero's name for all of £15. Did Alessandro know his side's black and white colours were adopted from Notts County?
One hour before kick-off, we passed through our gate and walked into the San Siro at pitch level.
We were at the bottom of a man-made gorge, a concrete canyon, smudge of sky high above, mountainous stands all around.
Gobsmacking.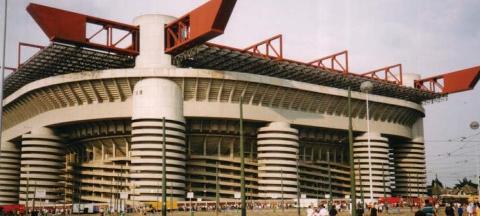 At each corner of the stadium, circular cliffs formed load-bearing buttresses for the girders visible from outside, a steel latticework extending over most of the pitch. You could see the problem this has caused. Bare patches of grass signified how lack of sunlight has stunted growth and made Europe's leading turf technologists tear their hair out. Yet the Serie A season had yet to begin.
Beneath the upper stand's overhang, our seats were to the left of the Curva Sud, the South Curve, San Siro's Kop, where AC's hardcore tifosi displayed banners proclaiming Commandos, Tigres, Fossa dei Leoni (Lions' Den) and You'll Never Walk Alone. All around, flags trumpeted where fans came from '" Milan Club Pisa, Milan Club San Remo, Milan Club Bar Seveso and elsewhere '" but no one was wearing an AC shirt. Suits were obviously the dress code for lots of blokes, the principal players being Versace, Armani, Moschino, Ferre and Dolce e Gabanna, while beautiful women competed in a fashion parade that even included fur coats. In summer! What a reception they'd get in the Sandon.
Spectators were seemingly dressed for a night at La Scala rather than the San Siro, perhaps accounting for the ground's nickname of L'Opera del Calcio, Football's Opera House.
Style was evident too in the handsome flags being swung back and forth. No one designs and waves flags like Italians, world standard-bearers of these pieces of cloth combining art and sport.
In the midst of a red and black blizzard, one superlative example stood out, an artist's depiction of Che Guevara, Christ raising his eyes to the Father, but with nothing to identify which team the freedom-fighter was endorsing.
Why should any supporter fork out for a custom-made flag that does not show his club? This non-partisan image brought to mind an American, a professional organiser of protests, whether against the building of a new airport in Phoenix, closure of a factory in Detroit or relaxation of gambling laws in Louisiana.
He criss-crossed the States, earning hefty consultancy fees from pressure groups and becoming noted for the placard he ensured got TV coverage on every march or picket.
It featured one word applicable to just about any conflict or quarrel: 'œShame'.
A canny choice, as with Che's flag. You could flourish that revolutionary emblem at any ground without causing offence, except possibly in Bolivia.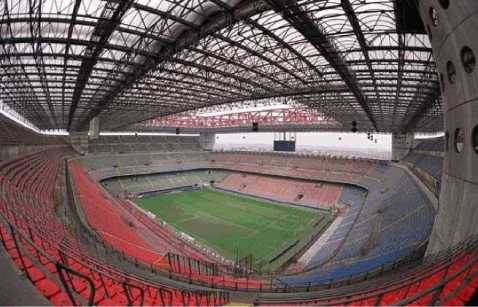 Che was shaking his head vigorously as Milan and Juve strode out through smoke from flares that shrouded half the ground. Because of this, the early action was hazy but all was clear when Juve scored, setting off a hail of bottles that landed on the pitch, despite high netting to protect the goal. Now the few hundred Zebra supporters made themselves heard, as would fans of Milan's other half, Inter, when they saw their hated foes conceding a goal on TV.
Behind our seats were some carabinieri and I asked how many people were there. Ottanta mil, one estimated, 80,000. I'd researched the stats and this wasn't bad for a stadium whose full capacity was 85,700 '" 30,785 in the bottom tier, 33,914 in the second, 19,890 in the nosebleed seats as well as 302 places in the VIP tribune, 200 in the press box and 609 places for disabled people, with carers.
As the game grew more intense, spectators stood up, gazing at the far end where Juve's contingent was caged. In a gap in the terrace, riot police were whacking supporters with batons. Home fans responded with eardrum-melting whistles, then at the behest of a bloke with a megaphone, sang such diverse ditties as Roll Out The Barrel and Yellow Submarine, which must have inspired the Rossoneri to fire torpedoes. They scored thrice to win 3-1 and Silvio Berlusconi's cup was remaining in the Starship San Siro, to a YNWA soundtrack from the Curva Sud.
Operation Coppa over, we hastened back to our car, which had not been looted by zingari tribes, and lingered for a last glance at the stadium.
From the interior, a super-size shaft of light punched into the black ether while the towering booster rockets shimmered as they were primed. With seconds ticking away, astronauts were scurrying along walkways to their command posts.
Mission accomplished, Starship San Siro was about to blast off on its return voyage to Klemola 44.
Neil Dunkin's Anfield Of Dreams: A Kopite's Odyssey From The Second Division To Sublime Istanbul has been shortlisted for the British Sports Book Awards 2009 in the Best New Writer category. You can buy Anfield Of Dreams for just £6.99.