Introducing a new series written by Ste Speed, looking at some colourful characters to have worn the red of Liverpool. They might not all have been the best performers but they did endear themselves to the fans in some way!
We kick off with Croatian midfielder Igor Biscan, often maligned in his early years but rejuvenated under Benitez and ended his LFC career with a Champions League winners medal…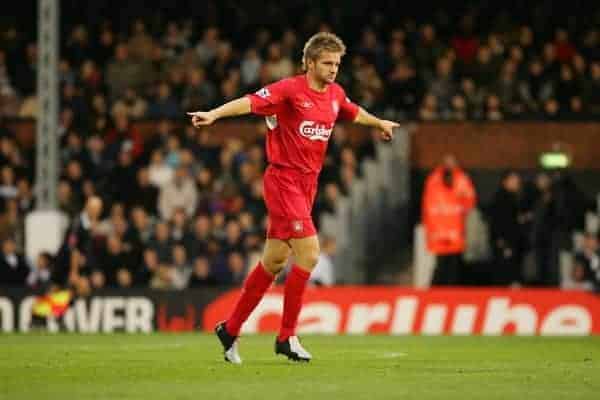 CROATIAN midfielder Igor Biscan was a cult favourite amongst Liverpool supporters. He was sarcastically nicknamed Zinedine Biscan by the Reds fans, partly because he drew comparisons to the former France captain Zidane earlier in his career. He was actually a more talented player than he is often given credit for and part of his problem at Liverpool stemmed from being played out of position most of the time, especially by Gerard Houllier.
Biscan was born in May 1978 in Zagreb, Croatia (then a part of Yugoslavia). He was a talented player as a youngster and represented Croatia at youth level. In 1997 he began his professional career with local side Dinamo Zagreb. Igor spent part of his first season, 1997/98, on loan at NK Samobor but managed to make five appearances for the Dinamo Zagreb first team. He then became one of the most important players in the side helping them to win the Croatian Championship for the fourth consecutive season in 1998/99. They also competed in the Champions League for the first time, where they finished second in their first group stage with wins over Porto and Ajax. For the 1999/2000 season Igor was made the club captain and began to make a name for himself around Europe. He captained the side to a fifth league title and also during the clubs second campaign in the Champions League. Although they finished bottom of the group in the Champions League they had a famous nil-nil draw away at Man Utd with Igor playing a blinder.
During the European Under-21 Championships in the summer of 2000, Igor played superbly and started attracting the attentions of some major clubs. Juventus, AC Milan, Ajax and Barcelona were all heavily linked with him in late 2000. So when Liverpool manager Gerard Houllier signed him for £5.5 million in December 2000 it was seen as a real coup for the Reds. There was rumours at the time that Houllier was losing faith with Didi Hamman and the signing of Igor seemed to add fuel to these stories.
Igor made his Liverpool debut two days after signing, as a substitute in a 1-0 defeat to Ipswich. Despite the loss, Igor impressed in his cameo showing some nice touches and neat passing. He played a bit part during the remainder of the season as Liverpool went on to win the treble of League Cup, FA Cup and UEFA Cup. He didn't play regularly because Hamman was playing brilliantly, Steven Gerrard was in form and Gary McAllister was turning back the clock in every game he played. Igor did have a few standout performances during the season. He dominated the midfield in victories over Man Utd and Arsenal, during which he won huge battles with Roy Keane and Patrick Viera. He also scored his first Liverpool goal that season in the 5-0 victory over Crystal Palace in the League Cup semi final.

Igor warming up for Dinamo Zagreb
Igor became a cult hero on the terraces at Anfield, especially after the two performances against Man Utd and Arsenal. Cries of 'Eeeeeeegor' would regularly be heard whenever he was playing. Stories also started emerging around Merseyside of Igor being a bit of a character off the field, including rumours of him being a ladies man. I regularly used to hear various tales about him being spotted in different locations with stunning dolly birds on his arm. Igor was actually a really quiet fella and therefore it was easy for this type of image to be attached to him without it being questioned. Whether these stories were true or not it all simply added to the cult status he was starting to achieve with the supporters.
After showing plenty of promise during his first season and an ageing Gary McCallister now playing less games, it was obvious to everybody that Igor was ready to take on a more important role in central midfield for the 2001/02 season. Well obvious to everybody except Gerard Houllier who insisted that Igor's best position was at centre back. Stephane Henchoz had spells out injured during the season and Igor was chosen to play alongside Sami Hyypia. They never looked good as a partnership and it was thanks to Sami that we didn't concede more goals. I was always frustrated whenever Igor was playing in central defence because I knew that Jamie Carragher was the natural choice to play there. We now had Christian Ziege to play at full back so Jamie could have easily slotted in there. However despite the cries for Jamie to play there from the supporters, local media and even Phil Thompson, Houllier insisted that Carra was too short for the position and Igor was the man to play there when Hyypia or Henchoz was injured.
In late 2002 there was a seven week spell when Henchoz was out and Igor stepped in again. During this period we played quite poorly and despite Sami's best efforts we shipped a load of goals which eventually contributed to Liverpool's failure to qualify for a Champions League place for the 2003/04 season.
The 2003/04 season was more of the same for Igor whose performances for Liverpool were now becoming a bit of a joke. From being compared to Zidane earlier in his career he was now looking more like Torben Piechnik (the man whose signing caused many a Red to consider giving away their season tickets!). He was being played all over the park from defence to the wings but never in his strongest position, central midfield. Things went from bad to worse for his Liverpool career when he was sent off away to Marseille in the UEFA Cup quarter final. With Liverpool down to ten men, Drogba ran riot and the Reds were knocked out of the tournament. When discussing this game in his autobiography, Steven Gerrard refers to Igor as "that tit". This defeat signalled that the axe was drawing closer for Houllier and his insistence at playing Igor in defence was often touted in the media as proof that he was clueless. This is a very harsh judgement considering what Houllier did for the club in his early seasons but it was certainly clear that he was making decisions that were not beneficial to Liverpool at all.
A perfect example of Houllier losing his touch is the fact that he insisted on playing Igor in defence or on the wings, while at the same time the likes of Bruno Cheyrou and Salif Diao where getting games in midfield. Both of these were players who lacked athleticism, ability to pass a ball and any of the qualities required to succeed at the top level. Igor had proven at Dinamo Zagreb, and during his first season at Liverpool, that he had something to offer in midfield but three seasons played out of position undoubtedly contributed to a decline in his abilities and possibly confidence.
In the summer of 2004 Houllier was fired and Rafa Benitez took over as Liverpool manager. When Xabi Alonso was signed to play in midfield it appeared that Igor's Liverpool career would be over. However thanks partly to injuries and suspensions, the 2004/05 season would end up being his finest in a Liverpool shirt and etch him into the hearts of Reds supporters everywhere.
When Steven Gerrard suffered a broken metatarsal against Man Utd in September 2004, Igor got his chance to finally start playing in central midfield. Three years removed from the position meant that he was rusty and his performances were inconsistent. He was able to turn it on from time to time though and played a few absolute blinders, especially in the Champions League. In late 2004 he came off the bench and scored a belter with his second touch in the 4-2 victory over Fulham. He also played really well in the Champions League against Deportivo La Coruna. When Steven Gerrard came back into the side it looked like Igor would be back playing in the reserves and the League Cup, where he played well helping the Reds to reach the final. Xabi Alonso then suffered a broken ankle against Chelsea in December, and Igor was back in the first team. He had a few bad performances, particularly in the FA Cup defeat to Burnley, but he also had some outstanding performances too, especially in Europe.
His finest game for Liverpool came in the Champions League first round against Bayer Leverkusen at Anfield where he deputised for the suspended Gerrard. He set up Luis Garcia for the opening goal and played superbly alongside Didi Hamman as he looked graceful on the ball and made lots of great passes. He also played well against Juventus in the quarter finals. I was present inside Anfield to witness Igor's final goal for Liverpool when he headed a late winner in a 1-0 victory over Bolton in April 2005. His last big game came against Chelsea in the Champions League semi final where he was one of the heroes that battled to reach the final in Istanbul. Igor's final appearance in the Liverpool squad came when he was an unused substitute in the Champions League final. After the heroic victory, Igor received a winner's medal which was fully deserved after his efforts to help Liverpool reach the final.
In July 2005, Igor was released by Liverpool and he moved on to join Greek side Panathinaikos for two seasons. This coincided in a poor period for the club and the highlight of his two seasons there was when they reached the 2007 Greek Cup Final, losing to Larissa. In December 2007, he moved back to Croatia to join Dinamo Zagreb. In his first season back at the club he helped them to win the Croatian league and cup double in 2007/08. His efforts were rewarded when he was named the club captain for the 2008/09 season after Luka Modric moved to Tottenham Hotspur.
Igor Biscan is never going to be regarded as one of Liverpool's greatest players and he was named as one of the 'Ten Players Who Shook the Kop (With Laughter)' by the fanzine The Liverpool Way. No matter how we may have rated him as a player the name Igor Biscan rarely fails to make us smile. Despite three horrendous seasons at the club, his revival during his final season and the performances on the road to Istanbul, have given him a place in the hearts of Reds supporters everywhere.