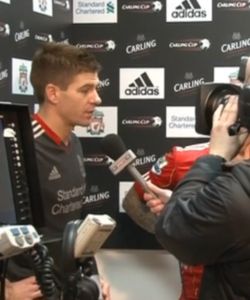 Liverpool captain Steven Gerrard will finally get to lead his hometown club out at Wembley on February 26th, against Cardiff City.
All of Gerrard's previous domestic cup finals where while Wembley was being rebuilt and took place at Cardiff's Millennium Stadium – the 2001 and 2006 FA Cup Finals, and 2001 and 2003 League Cup Finals.
The League Cup Final will be the Reds' first appearance at the national stadium since it was rebuilt, and since the Reds last played there in 1996.
31-year old Gerrard sacrificed himself for the team as he took a more defensive role against Man City in the second leg on Wednesday night. He protected the back four and ensured City's array of attacking talent went home defeated.
"To lead them out at Wembley will be a special occasion," Gerrard said.
"It's been too long for this club to not be in a major cup final, so it's nice to finally get there."
"I'm sure we'll be massive favourites but we've got to show Cardiff respect. It's going to be the game of their lives. They're going to be right up for it."
"They are going to play at a level they've not played at before so it's important that we don't drop our standards. We've got to raise our game and, if we do, I'm sure we can lift the Cup."
The match with Cardiff will also see Wednesday's man of the match Craig Bellamy line-up against his hometown club – with whom he was on loan to last season. "It couldn't be a better final for me," said the Welshman. "It's funny how football can work out at times. To get to the final is big for us."
Video: The Kop sing You'll Never Walk Alone pre-match vs City