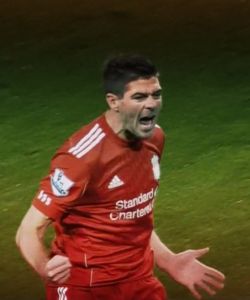 Liverpool captain Steven Gerrard says this Sunday's Carling Cup Final against Cardiff City is for the fans, saying Reds supporters deserve a trophy.
It is Liverpool's first final since 2007's European Cup Final defeat to AC Milan in Athens, and first trip to Wembley since 1996.
After a turbulent few years for the club, Gerrard is hopeful the fans can spur the players on to bring silverware home to Anfield in Sunday's 4pm kick-off.
"It's going to be a great occasion for the supporters," Gerrard said.
"They've waited long enough for a day like this. It's been a difficult few years but they have stuck with us and been brilliant.
"We know what the fans want and it's up to the players to give it back to them. I don't need to tell Liverpool fans how to make noise – I know they will be right behind us on the day. We've got to give everything for them.
"They deserve a trophy."