Danish defender Daniel Agger recently claimed that his centre-back partner Martin Skrtel has been Liverpool's best player this season. Left-back Jose Enrique also heaped praise on Skrtel, by suggesting that the 27-year-old Slovakian is the Premier League's best defender. Indeed, the former Zenit St. Petersburg man, who joined the Reds back in January 2008, has enjoyed a fine season. But according to some, Skrtel, who scored a crucial goal in the Carling Cup Final against Cardiff City at Wembley, has been relatively poor of late, with hints of nervousness and hesitation leading to mistakes creeping back into his game. Some supporters suggest that it is actually the absence of the invaluable Agger which is hurting Liverpool – and Skrtel – most. But just how true is this?
Agger became the most expensive player sold by a Danish club when Liverpool paid a club record fee for a defender to sign him from Brondby for £5.8m in January 2006. The popular and committed centre-back has suffered something of a stop-start career at Anfield since then, with constant injuries continuing to hinder his progress on Merseyside. However, the unflappable 27-year-old has been consistent and solid at the back whenever he has been fit enough to pull on the Liverpool shirt and a number of fans consider Agger to be the Reds' most talented defender.
While some claim that statistics can be deviously deceiving, there are a whole host of numbers which suggest that Agger, who has made more interceptions (50) than any of his defensive comrades, has been a key member of the squad this campaign and that his absence has been a big blow to Kenny Dalglish. Prior to Agger's most recent injury, a fractured rib which he sustained in the Carling Cup final, Liverpool had conceded just 23 goals in 25 Premier League games. Only title-chasing Manchester City had shipped fewer goals at the time. However, the Anfield side have conceded 10 goals in six top-flight games since then, allowing both Manchester United and even local rivals Everton to creep ahead of them in the 'goals against' column.
Liverpool have kept an impressive eight clean sheets in the 20 league games Agger has started this term, but when the powerful Dane has not been named in the starting line-up, they have managed just three shutouts in 11 fixtures. And of the 33 goals that the Reds have conceded this season, 17 have been leaked in the 1730 minutes Agger has been on the pitch. The other 16 – a similar amount – have been shipped in the 1063 minutes that Agger has not participated in. These figures suggest that Agger played a huge part in Liverpool's defensive solidity earlier this year, but without him, the Anfield outfit's record at the back has been far from impressive.
While it would be ineffective to produce similar statistics for the tough-tackling Skrtel, simply because the rugged Slovakian has hardly missed a league game this season, it is clear that Agger's recent absence has hurt Dalglish's side. And even though Skrtel, who has played with great authority this campaign and takes few prisoners, has won more duels (both aerial and on the ground), has completed more tackles (and been more accurate) and has managed to make almost twice as many clearances and blocks than Agger, without the dominant Dane Liverpool seem to be picking up less points and winning fewer games.
In terms of win percentages, Liverpool have claimed victory in 40% of the games in which Agger has started in the Premier League so far this campaign. When Agger has failed to start, that figure drops down to 27%. In comparison, the Reds have won 32% of their games when Skrtel has started and 33% of the games in which vice-captain Jamie Carragher has been named in the first eleven. As for points, Liverpool have racked up a reasonable 30 from a possible 60 in the 20 games Agger has started, compared to just 12 points from a possible 33 when he has not. These statistics suggest that Agger is a hugely influential player for Liverpool. In general, this season, when the ball-playing centre-back has started, the Reds have kept more clean sheets, conceded fewer goals and consequently won more games and picked up more points than when he has been absent.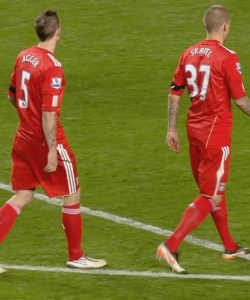 This does not necessarily mean that Agger is Liverpool's best defender or main man at the back, and given how brilliant Skrtel has been this term, it would be somewhat foolish to suggest that the Slovakian has been defensively inferior in any way to his centre-back partner. In fact, if anything, the above statistics mainly seem to endorse the idea that Skrtel and Agger work extremely well together and when they do play alongside each other at the heart of Liverpool's defence, the opposition find it very difficult to break the Reds down.
Given the excellent understanding both players have developed and the great alliance they have formed at the back this season, some would suggest that it is fairly natural that Skrtel's form in the league has dipped slightly in the absence of Agger. It is still unknown how much longer the former Brondby defender will be out for, but the sooner he returns, the better it will be for Liverpool. Not only does the presence of Agger, who is strong and alert at the back yet equally comfortable on the ball, seem to boost Skrtel's confidence, but it also appears to galvanise the defence and team as a whole. Should the Dane return to full health within the next few days and remain fit for the remainder of the season, then Liverpool's chances of overtaking bitter rivals Everton in the league, winning the FA Cup and ending the season on a high will be significantly boosted.