Aaron provides his top five Liverpool FC players from this season and explains his choice for his player of the season.

The PFA this week unveiled its shortlist for both player and young player of the season. Predictably enough Liverpool are conspicuous by their absence. A turbulent campaign littered with as much controversy as a Simon Cowell tell-all has underwhelmed in many respects yet still offers a silver lining. A second final beckons and with it the opportunity to transform an underwhelming season into a decent one.
Saturday's glorious defeat of Everton ranks as one of a number of highs in this the craziest of years. Winning the Carling Cup at Wembley, however fortunately, also provided a scrapbook moment. Overcoming Chelsea twice in a week, registering a league double over our neighbours and eliminating United in injury time too deserve a mention. Not forgetting an emotional night against City to reach 'Anfield South' for the first time in sixteen years. There was also a first victory at the Emirates in August and three of the best own goals in living memory courtesy of bumbling Brighton.
Nevertheless all of the aforementioned can be readily contrasted with some quite depressing lows. Top of that list, of course, is Evragate and the subsequent ban dished-out to Luis Suarez. Whatever our grievances at the time it is fair to say the entire aftermath was handled poorly, culminating in humiliating apologies from the boss, managing director and player himself. The lack of impact exerted by summer signings has also disappointed and culminated in the dismissal of Damien Comolli last week. Dismal home form essentially crippled any hope of mounting a challenge for Champions League football and a general lack of cutting-edge has seen countless points go begging from the opening day onwards. A recent run of two wins in thirteen league games meanwhile delighted certain media pundits and heaped pressure on Kenny Dalglish.
All in all this campaign has resembled a soap opera, our very own version of Dream Team, only with better actors. Against this startling backdrop certain players have exuded a level of consistency belying the team's general plight. In light of the PFA's announcement/snub, here is my list of the five candidates (in ranking order) for LFC Player of the Season 2011/12:
5 Lucas

Last season's player of the year, Lucas picked-up from where he left-off at the beginning of this campaign. Much maligned throughout Rafa Benitez's tenure, the Brazilian knuckled-down in an attempt to win approval on the Kop. In time he earned respect and plaudits alike for battling displays at the heart of midfield and an all-round improvement in his game. It could be argued Lucas was the one man to enhance his reputation during Roy Hodgson's ill-fated reign, quickly developing into one of the top combative players in England.
An untimely injury cut-short his season in November and in truth the reds have never really recovered. Since such time the side has not quite looked as solid and crucially the absence of his midfield partner had a detrimental effect on the form of Charlie Adam. Jay Spearing, Steven Gerrard and Jordan Henderson have all been asked to fill his void but none offer the same assurance when it comes to extinguishing opposition fires.
His two most notable performances of this term came in the space of seven days, first at Stamford Bridge and then at home to City. Before the latter David Silva was strutting his stuff in an almost blasé fashion, dazzling the league with great flair. But in Lucas he found an immovable obstacle, a constant thorn in his side as Liverpool battled for a hard-earned point. By offering a shadowing master class Lucas cut-off the leaders' main blood supply. A week beforehand, along with Adam, he pressed Chelsea into any number of errors as the reds strode to a deserved win at the Bridge. Here, his tendency to harass the likes of Lampard and Mata with lightening frequency limited the threat posed by Andre Villas Boas' strugglers. It's a tactic Liverpool could so badly do with at Wembley but will instead have to wait until next season to utilise once more.
4 Daniel Agger

Daniel Agger is a Rolls-Royce of a footballer, a real thorough-bread of a defender. Anyone with any kind of connection to Liverpool has known this for a long time but been deprived of the Great Dane so often in light of a wretched injury record. When fit, as he generally was up until February, the effect he has on the team is clear for all to see. An overdue link-up with Martin Skrtel at the heart of defence not only edged Jamie Carragher out of first team proceedings but sured-up the backline considerably. In an attacking sense meanwhile, his marauding runs from deep open-up space and provide another outlet to our often impudent attack.
When injury cut-short his Carling Cup Final the reds could hardly imagine how long they'd be reeling from such a setback. His absence however coincided with our worst domestic run for sixty years – a telling stat. With Agger in the side our win percentage is a respectable 40%, without him that drops to 27%. Lucas' percentages are not too dissimilar, and therein lye our recent difficulties.
A calming presence when in possession, Agger is vital to our fortunes at both ends and has re-affirmed his importance this term.
3 Craig Bellamy

When Kenny Dalglish swooped to re-sign Craig Bellamy on the last day of the summer transfer window most supporters saw it as a no-brainer. A quality player, on a free transfer with a known love for the club – sounds like good business. However few expected him to feature as much as he has or produce on such a regular basis.
From his first start of the season away at Brighton (where he scored and won MOTM) Bellers has always brought something to the party. His work-rate, pace, tenacity and goals have been a breath of fresh air and a key factor in both cup runs. In the absence of Suarez, Bellamy came to the fore quite brilliantly as a born-again striker – offering, in my opinion, the performance of the season at home to City in the Carling Cup.
Since our talismanic Uruguayan returned to the fold the Welshman has had to settle for a place in reserve but can always be relied upon as an impact sub. A real fans player, we can only hope his knees hold-up for another season or two – as players of his calibre are hard to come-by.
2 Luis Suarez

Forget the wave of controversy that swept through the corridors of Anfield at the turn of the year and focus solely on the football. When doing this it must be said that Luis Suarez is one of Liverpool's best players of the Premier League era. His movement, creativity and desire to win mean he has now surpassed Steven Gerrard as our key man. If the reds are to win games, almost invariably, they need Suarez to sprinkle his magic. And more often than not, he obliges.
Ignoring a slight blip in form upon his return to the fold, Suarez has continually posed our biggest threat. He began the season like a house-on-fire, with three goals in as many games and terrorised Bolton at Anfield before an untimely international break.
Even as Liverpool toiled at home to the likes of Norwich and Swansea, it was Suarez who single-handedly threatened to tow them across the line, albeit in vain. His finishing could improve but his all-round play and ability to ghost past defenders is a joy to watch. Last weekend's triumph over Everton was another example of his big-game mentality – always involved, showing for the ball and troubling the backline.
Without him leading the line, we would not have reached next month's showpiece and we would almost certainly be worse-off than eighth in the Premier League. As Carragher conceded this week, keeping him at the club is essential to our long-term aspirations. Tying Suarez down to another contract and then adding quality to supplement his skills must be our priority this summer.
1 Martin Skrtel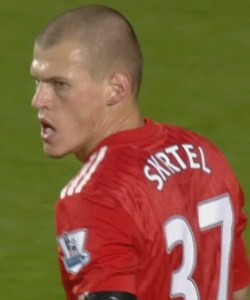 Jose Enrique was tipped as Liverpool's stand-out performer early in the season only to see his form nose-dived at the turn of the year. A number of fans, including myself, have been expecting Martin Skrtel to follow suit. Rash in the tackle, positionally wayward and with a terrible knack of conceding penalties – the Slovak had never really convinced me – until this season. But rather than tail-off, 'The Terminator' has grown in stature and become a colossus at the heart of defence.
By ushering Jamie Carragher out of the side, Skrtel assumed the role of defensive marshal around November and has never looked back. Personal highlights will include an outstanding goal-line clearance against Newcastle, starring and scoring in the Carling Cup Final and captaining the side at Ewood Park; where he also played the pass of the season.
In Daniel Agger Skrtel has the perfect foil – on and off the pitch. He compliments the Dane's elegance with a more robust style of defending – a partnership which concedes precious little. Moreover away from the field the pair are said to be pretty close, which increases the chance of bumping into them on a dark night – scary.
Having featured in every league game last season, Skrtel had forced his way into the first eleven some time ago. Now though, he justifies that starting berth and is without question one of the first names on the team-sheet. In a season as up-and-down as Didier Drogba Skrtel has been brilliantly consistent and for that reason deserves to be called Liverpool's Player of the Season.
Aaron Cutler
Who is your LFC Player of the Season? Let us know in the comments below.
[poll=126]