Aaron discusses Steven Gerrard's performance against United and his role in the new-look Liverpool.
Ahead of last weekend's visit of Manchester United Liverpool captain Steven Gerrard conceded his form had mirrored that of his teams. In a word that translated as 'inconsistent.' For over a decade now the reds number 8 has been the heartbeat of this club, adopting the untouchable status reserved for legends like Raul in Madrid and Shearer at Newcastle. But aged 32 many supporters have questioned whether our talisman can retain that crown. Last Sunday he went some way towards dispelling the doubts and silencing the doom merchants.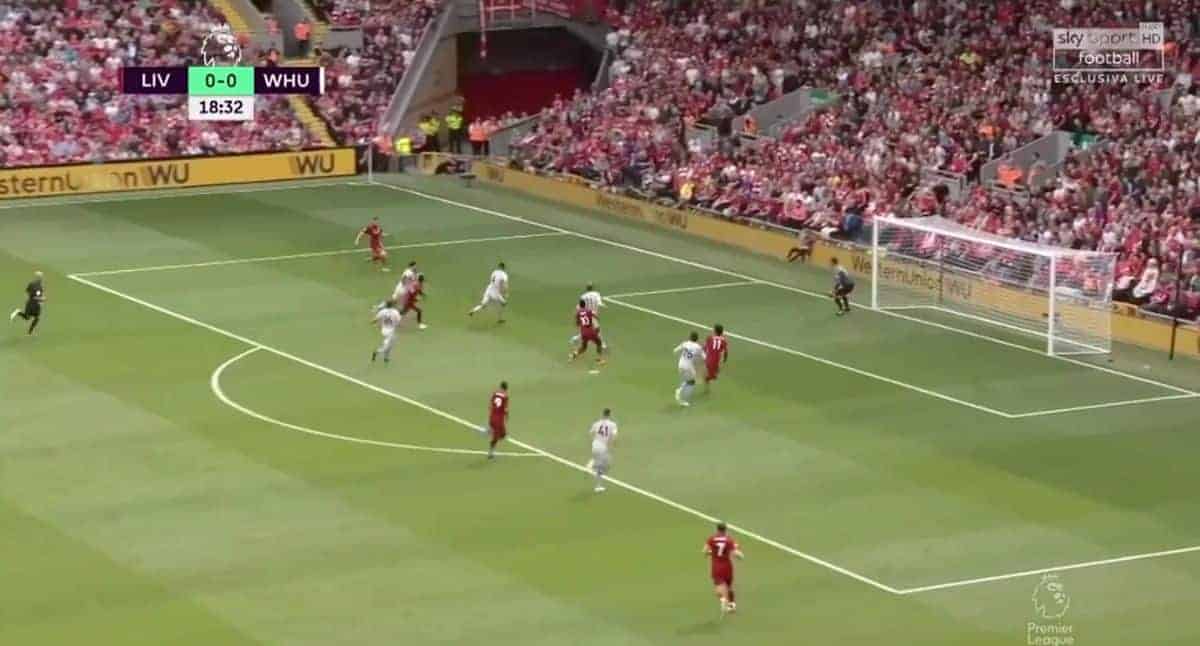 A fitting stage for a real big game player Gerrard dominated midfield and set the tone for a gutsy performance. Roared on by a passionate home crowd the reds were only denied that elusive first win courtesy of some appalling officialdom. Protests proved futile as United escaped Anfield with an undeserved three points.
Nevertheless there were a host of positives to draw from the clash, not least the efforts of Gerrard. Before Sunday's game the skipper had been rather hit-and-miss whilst adapting to the Rodgers blueprint. Rotating between advanced and sitting midfield duties hindered his game and led to ineffective performances, certainly by his own super-human standards. Furthermore that instinctive urge to play the killer pass was undoing the possession game preached by our new boss. Against United however he struck a perfect balance.
That range of passing was fine-tuned quite brilliantly, with an array of long balls launching dangerous counter-attacks. Such raking passes are hardly in-keeping with the Tiki-Taka mantra but when executed so superbly few will question their merits. One cross-field delivery to Raheem Sterling was so good it's unlikely any other outfield player would have envisaged it – let alone master the technique.
As is essential in such heated encounters Stevie won a lot of tackles and ensured he was first to a host of second balls. United also failed to press anywhere near their usual standard and afforded him the space to become playmaker. In truth this was a typical Gerrard display – combative and forceful but fused with a disciplined side once Shelvey was dismissed.
His goal meanwhile was a thing of beauty. Everything from the chest control to the celebration oozed class and would have made for a great winning strike. As it was we were beaten, again. Yet after a bruising start we can now turn our attention to some kinder fixtures. Beating Norwich at Carrow Road is no easy task but if the reds can repeat their feat of last season we may be able to piece together a much-needed run.
We follow-up that trip to East Anglia with two home games against Stoke and Reading respectively. If we keep a now standard stranglehold on possession and convert a few more chances there is no reason why we cannot build momentum. Indeed given the fact this has become our worst start to a campaign for 100 plus years the general mood amongst supporters is optimistic.
The fan-base seems to have bought into Rodgers ethos and is willing to offer him time and support. There is no crisis here, simply a settling-in period. Make no mistake, the Northern Irishman has been accepted – confirmation coming by way of song at the Hawthorns.
Aside from sticking to an admirable philosophy the manager has proved true to his word as far as our youngsters are concerned. 'If you're good enough, you're old enough' he often announces – then highlights with team selection.
Not since the early 90s has an influx of talent graced the Liverpool first team in this manner. Exciting prospects like Andre Wisdom, Adam Morgan, Suso and Jerome Sinclair are being blooded ahead of schedule and rewarding their boss with some fine showings. And lest we forget Sterling – a mere 17 year old – has nailed-down a first team spot and no doubt hastened the exit of Stewart Downing.
We may lie 18th but there is much to be positive about. The midweek win over West Brom in particular was an ideal remedy to the heartbreak of Sunday. A shaky start was overcome and then put right by way of some fantastic possession football. Nuri Sahin and Osama Assaidi both underlined how important they will be going forward and ensured there would be no press frenzy concerning an early cup exit.
Progress was always going to take time but the club is moving in the right direction. That is why there is no knee-jerk reaction to our poor league form – we sense improvement, a far-cry from Roy Hodgson's early reign where the side seemed to be regressing.
And make no mistake Steven Gerrard remains integral to those on-field strides. He may not be the phenomenon of years gone –by but he remains our main man. It is far too early to write him off, mainly because his quality will prolong his career. Indeed he is good enough to adapt his game accordingly.
He can sit deep and dictate play from a holding position or push higher-up and add an attacking threat. Rafa Benitez once argued that Gerrard could redefine himself as a striker late in his career given his sharp eye for goal. Given our striking shortage there may be a time when that experiment is put into practice.
Nevertheless for now he can continue to exert himself on games in the tried and tested manner, as evidenced last weekend. One look at the opposition will tell you SG is a relative youngster compared to Messers Giggs and Scholes, who remain key cogs in the Manc Machine. You neither discount nor discard that kind of genius – simply utilise it for as long as possible.
On that point Gerrard's quality is needed tomorrow for what is certain to prove a testing fixture. Last season his movement and creativity – combined with an unusually deadly Suarez – bewildered the Canaries. Another helping would go some way towards three points and a steady ascent up the table.