Neil Poole is class teacher and you are his pupils as he takes you on an oustanding lesson of the days of Bill Shankly at  Anfield, and what that meant for Liverpool Football Club.

Good morning class. As supporters and scholars of Liverpool Football Club you have already passed the mandatory Shankly Studies module during term-time and you have demonstrated what you know. You can recall his quotes with ease. The key Shankly dates and victories trip off your tongue. You can colour any LFC conversation with Shankly anecdotes. However, to simply assume that Shankly was the most important single figure in the history of Liverpool Football Club is not enough at this Summer School for the gifted and talented. Here, you will need to prove it.
Winston Churchill stated that "history is written by victors" and in doing so highlighted that all past events are written from the point of view of those who have succeeded and therefore will inevitably contain bias. Liverpool Football Club has been victorious since the days of Shankly and has written its own history. We need to ensure we are not looking back through red tinted glasses. It's time to apply some science and test our understanding of Bill Shankly with studious observations and rational examination of the facts.
You may now want to sit down or hold the hand of the person next to you as I ask the following distressing question which will form the basis of our cross-curricular studies: Does Bill Shankly really deserve the adoration we give him?
Jenkins! Throw that at me again and you're out!
Mathematics
The numbers relating to Shankly's top tier league wins are worrying at first assessment and suggest that he may not be quite as successful as we had hoped. Three Division One titles over a 12 year period between 1962/1963 and 1973/1974 while impressive do not appear to compare favourably with the league title hauls of the dominant teams in the modern Premier League.
If we take the 12 year period from Manchester United's first league title of modern times in 1992/1993 season we see that they won the league 8 times, 5 more than Shankly's Liverpool. By the same token Chelsea achieved 3 league titles in 6 years, half the time of Shankly's Liverpool. While, Arsenal under Arsene Wenger amassed 3 league titles in only 7 years.
However, analysing raw data in a vacuum can only reveal some of the truth. If Shankly's league successes are looked at in context the reality of his achievements come to the fore.
Firstly, the numbers show that the top tier of football was much more competitive during Shankly's reign than in the modern era. While Liverpool were in Division One under Shankly 7 different teams won the title. By comparison you can take the most favourable continuous 12 season period in the Premier League years to counter this argument and the maximum number of title winners you can struggle to come up with is still only 4.
Secondly, if we consider how Shankly's Liverpool faired against their league competition at the time, Liverpool's headline statistics are superior. Simply put, no other team won the league as many times as Liverpool when Shankly was at the helm. Highly regarded Everton, Manchester United and Leeds United teams all won the league twice but still fell short of Liverpool's total.
Mathematics Test: Bill Shankly – Passed with distinction
Combined Studies: Further Mathematics/Geography/Psychology
Let's continue our analysis of numbers, but with a twist.
In Chinese culture the number 8 is believed to indicate prosperity. It appears Liverpool's affinity with the rest of the world was already in full steam at this time. The number 8 travelled half way round the world and was of psychological significance for Liverpool as Shankly set Liverpool up for continued prosperity on the pitch.
Liverpool had been in the mire of the second division for 8 long years before being promoted to the first division in 1962. To then go on to win the title in only their second year back at the top table of English football in the 1963/1964 season was a staggering achievement and one which arguably instilled the winning mentality to go on and win Liverpool's first ever FA Cup a year later in 1965 and the league in 1966.
Furthermore, Shankly's last league victory of 1972/1973 was Liverpool's eighth and importantly equalled the record held by Arsenal at this time for total league titles. From this point onwards and for the first time in our history we could stake the claim that we were not inferior to any other team in English football. Many believe that Shankly's last parting gift to Liverpool was the FA cup win in 1974. However, with his final league win, his lasting gift to LFC was arguably to again convince everyone, and give us the ammunition to prove, that there was simply nobody better than us anymore. For directly after Shankly's retirement the trophy-laden Bob Paisley years followed.
Combined Studies: Further Mathematics/Geography/Psychology: Bill Shankly – Passed with distinction
English Language
Shankly is as much remembered for what he said as what he did. But have we simply given witty one-liners gravity by constantly repeating them? While comments about closing the curtains if Everton were playing at the bottom of the garden and football being more important than life and death entertain, do they really tell us anything about the quality of the man? Do they make him as unique as we think they do?
Even if you isolate and study just three words from arguably Shankly's most famous quote, you will understand that the answer is yes. Shankly said that his idea was to build Liverpool up into a "bastion of invincibility" (add Scottish accent for extra authority!)

There is no doubt this has stuck. For over 30 years, generations of 7 year old Liverpool fans have displayed the reading age of a 60 year old, nonchalantly utilising language derived from the 16th century French word 'bastione'. You may not have quite known what it meant but you have casually been referring to the protective part of a fortification for years. We thought 2008 was the Year of Culture in Liverpool; Shankly was introducing culture into our everyday lives decades ago.
People mean 'I love you' when they refer to three little words. But in 'bastion of invincibility' Shankly created his own highly emotive 'three little words.' They are close to bursting point with meaning. Firstly, they refer only to Liverpool: the manager, the players, the staff, and the fans. No one else is invited to our party here.
Secondly, there is no need to belittle anyone else to make us feel superior. Later in the extended quote he talks about others having to submit and give in. But this is only mentioned as a consequence of building Liverpool up; not the purpose of it.
Thirdly, it is entirely positive. It is about constructing something, building something. 'Bastione' means to build. And it is about strength, about becoming impossible to beat.
Compare this to the most famous quotes of highly respected managers who are revered at their own clubs and Shankly is clearly unique. Sir Alex Ferguson's was famously quoted as wanting to knock us off our perch. Give me a quote any day of the week that is solely about us and which uses vivid imagery to confer the building of an empire. In my opinion it's more virtuous than a quote which is about another team, is destructive and evokes the image of a poorly balanced budgie falling off a piece of wood.
Similarly, Jose Mourinho's 'Special One' quote is about himself and Brian Clough's instruction to the Leeds players to throw their medals away because they had got them by cheating was divisive rather than the language of inclusivity used by Shankly. I am not criticising these other managers. I simply point out that Shankly was different, that he was unique. His words weren't just throw-away one liners, they resonate today just as he does because they still embody our ideals as supporters and because they were phrased so poetically.
English Language Test: Bill Shankly – Passed with distinction
Religious Studies
It's a tried and tested notion that football is a religion. However, as the years pass by the growing majority of Liverpool fans will never have had any first-hand experience of Shankly to call their own. Yet we will be expected to both keep and preach the faith. In reality anyone under the age of 45 is going to struggle to remember Shankly as Liverpool manager. Are the books you have read, the videos (ask your Dad) and DVDs you've seen, and the stories of older Liverpool fans enough to retain your unquestionably devotion to the memory and ideas of a man who would have been 100 on the 2nd September this year?
You have to find your answer to this one. But let me tell you how I stumbled across mine.
I was born a Red 4 years after Shankly resigned and my own belief wasn't truly confirmed until 18 December 1999. On this day Liverpool played Coventry City at Anfield but also celebrated the 40th anniversary of Shankly's arrival at Liverpool. Before the game the Kop and then the whole ground began to softly sing Shankly's name to the tune of the hymn, 'Amazing Grace'. Now I know Shankly's name had been sung to the tune of this hymn before, but I was 21 in 1999 and it is was the first time I had experienced it. This was the closest I've ever been to Shankly.
I was sincerely awestruck by the way in which Shankly's name was sung. It brimmed with reverence. It was tinged with real sadness. It was held down by weighty anchors of pride. I do not believe that human beings act in that way or convey that sort of emotion on the basis of hearing ex-Liverpool players do a Shankly impersonation for the thousandth time. Such feeling may come from something intangible but it is still very real. And it may not be the wisest move to follow a particular faith because lots of other people do, but that night the conviction in the voices of the masses triggered something. Like most Reds I was already adept at praising Shankly but that night I 'felt' why it was the right thing to do rather than just know it.
I sincerely hope that young Reds will get a chance to receive their own confirmation and experience a similar revelation during Shankly's 100th birthday celebrations over the coming months, which will allow their knowledge of him to be supplemented with a deeper understanding of their faith.
Religious Studies Test: Bill Shankly – Pass with distinction
As a footnote, Titi Camara scored a cracker in front of the Kop to make it 2 nil that night. I absolutely loved Titi Camara that time but I'm not about to write 1914 words about him anytime soon. Sorry Titi.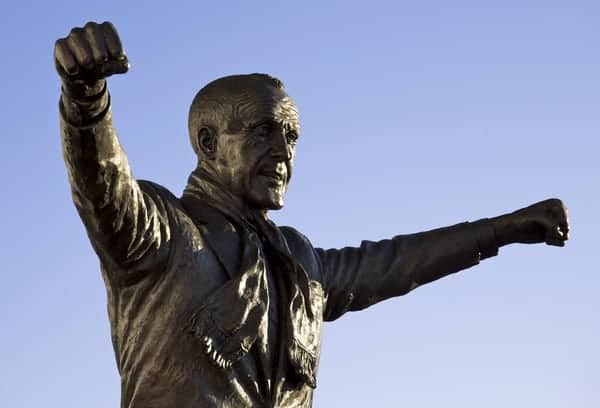 Homework
So there you go. Dare to ask some tricky questions of your own about a legend and you run the risk of shattering an illusion and finding out it was just a myth. However, in the case of Shankly when you test his worthiness of our adoration, you will simply confirm that he is, and reaffirm your own understanding of why he is still the bedrock of our club.
Your assignment is to ask some of your own difficult questions about Shankly and put them to the test. I am certain that in doing so William 'Bill' Shankly will make you happy.