The Under 21s Premier League has drawn to a close on its inaugural season. The new format has produced more travel, more matches and a new level of interest. Whether it produces more first team footballers is yet to be seen, although the early signs are encouraging with Liverpool graduating six players from the Academy to the first team.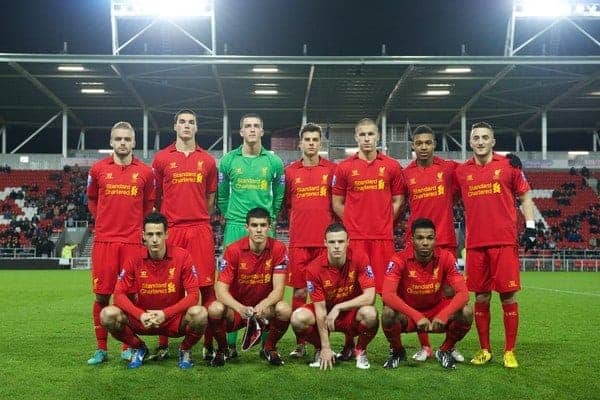 For Liverpool, the tournament has been a confirmation of their growing prowess at Academy level, managing to reach the semi-finals and going fourteen games unbeaten at the start of the season.
Phase One – National Group C: 1st (30pts)
For the opening stages of the tournament, Liverpool were drawn in Group C alongside Wolverhampton Wanderers, Chelsea, Middlesbrough, Fulham, Manchester City and Crystal Palace. This stage was Liverpool's most impressive as they remained unbeaten throughout all twelve matches, winning nine times including big victories away to Wolves and Chelsea. This phase was notable for Liverpool having a much more experienced squad than in phase two with the likes of Dani Pacheco and Michael Ngoo extremely influential.
Best Match
Wolverhampton Wanderers 1-5 Liverpool
Liverpool's best match of Group C was the vintage display away to Wolverhampton Wanderers. After a tricky first half Liverpool went into the break 1-0 down but produced a breath taking second half performance to rout the Midlands' outfit 5-1 with Pacheco (2), Adorjan and Ngoo scoring as well as Portugese midfielder Teixeira who was making his debut.
Best Player
Krisztian Adorjan
Adorjan's talent has never been in doubt. Since joining the club from MTK Hungaria he has impressed with his vision and creative ability but there were doubts over his goalscoring ability after he scored only 2 goals in the whole campaign last season. The doubts were thoroughly quashed with a superb start to the season. Adorjan's goals were crucial to the Reds' as they cruised to a first placed finish in Group C.
Phase Two – Elite Group: 3rd (22pts)
Liverpool's impressive form in Group C meant they qualified for the Elite Group in Phase Two, comprised of the top two clubs from Group A, B & C as well as the two best third placed clubs. The final line-up was West Ham United, Arsenal, West Bromwich Albion, Tottenham Hotspur, Manchester United, Southampton, Liverpool and Wolverhampton Wanderers. Liverpool's chances suffered a major blow before the group even kicked off with some of the 'senior' U21s; Dani Pacheco, Michael Ngoo & Danny Wilson leaving on loan. It wasn't long before another kick in the teeth came with long term injuries to Samed Yesil, Brad Smith, Jakub Sokolik, Jon Flanagan and Marc Pelosi. As though the group wasn't going to be tough enough anyway, with a change of management as Alex Inglethorpe came in, then these loses made it practicaly impossible for the Reds' to challenge. Somehow though they managed to get through the group in 3rd place, it was an underappreciated but stunning achievement.
Best Match
Liverpool 3-2 Arsenal
On a bitterly cold night at Anfield, a hardcore group of supporters watched a footballing spectacle as Liverpool battled their way to a narrow 3-2 win over Arsenal thanks to goals from Adam Morgan (2) and Krisztian Adorjan. The victory was all the more important as it meant Arsenal could not qualify for the semi-finals and came just a few days after a disappointing 3-1 defeat to Tottenham, also at Anfield.
Best Player
Joao Teixeira
The Portuguese midfielder Teixeira joined Liverpool from Sporting Lisbon shortly after being an integral weapon in their destruction of Liverpool U19s in the NextGen Series. However, he suffered a back injury which kept him out all season and only returned to action mid-way through Group C. His impact was instant and by Phase Two Teixeira had established himself in the U21s line up. Most eye-catching of his performances was in the narrow defeat to Man Utd where the usually flashy playmaker showed his worth as a box-to-box midfielder and put himself about like a 'traditional' English midfielder.
Semi-Finals – Manchester United (0-3)
Liverpool only reached the semi-finals thanks to a last minute Villyan Bijev striker against Arsenal and were always up against it when they visited Old Trafford to play Man Utd in the semi-finals, thanks to the small injury crisis siffered at U21 level in the second half of the season. It got off to a bad start as both Stephen Sama and Jon Flanagan conceded penalties to go 2-0 down. Despite a better performance in the second half Larnell Cole's hat-trick goal finished Liverpool's resolve and Jon Flanagan was sent off, harshly, to compound the misery.
The Stats

Average Age
Liverpool were the youngest team to qualify for the semi-finals and the 3rd youngest squad overall, coming in at an average of just 19.02 years old. On the other end of the scale Sunderland were the only side with an average age over 21, somehow managing an average of 21.37. Despite this Sunderland failed to win a single game in phase two.
Top Goalscorers
The top goal scorers for Liverpool were Krisztian Adorjan and Adam Morgan both whom scored 10 times, making them the 5th and 6th highest goalscorers in the league. Tottenham's goalscoring potential is impressive shown off as they managed to get both the 1st and 3rd highest goal scorers in the league through Jonathan Obika and Cristian Ceballos. Incredibly eventual winners Manchester United's highest goalscorer was Federico Macheda who managed just 6 goals.
Top Assists
Dani Pacheco was Liverpool's highest assist maker with 7 assists from just 11 starts but the top performing player was undoubtedly Manchester City's Marcos Lopes who, despite being just 17, finished with 11 assists.
The Season Overall
The first U21s Premier League has to go down as a landmark moment for Liverpool Academy. The U21s team managed to play attractive football while competing with the best academies in the country. At the same time they were often stripped of their best players and forced to draft in U18s to fill the gaps, something which will benefit those young players when they are required to become full time U21s in the next year or two. Liverpool didn't win the league and that may go down as a disappointment, especially in the way they were eventually knocked out, but Liverpool have now proven on a national scale that they are once again a hot-bed of talent.