Sporting Lisbon centre back Tiago Ilori is a player linked with a move to Liverpool this summer.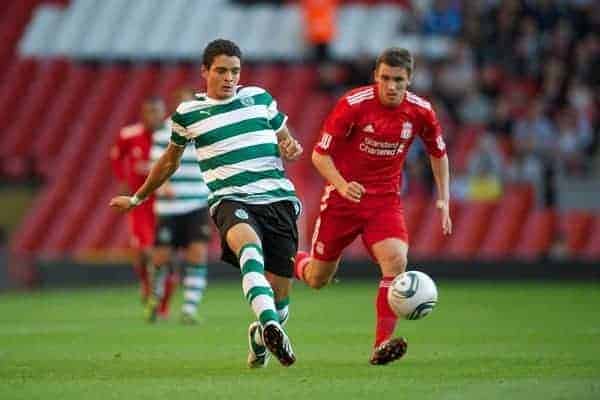 The young centre back has also been subject of interest from Chelsea since the appointment of Jose Mourinho. Outside of the Boot editor Sami Faizullah gives us the lowdown on the 20 year old.
Age: 20
Nationality: Portugese
Club: Sporting Lisbon
Position: Centre back
Height: 6ft 3in
When Tiago Ilori arrived at Sporting's illustrious academy, he was played in a striker's role. However, the management saw something more in his game and moulded him into a centre-back. A place in the central defensive role is Ilori's strong suit. Although he is capable of playing at left-back, it puts some of his attributes to waste.
Ilori's stature is what one notices first. Traditionalists prefer a centre-back to be one who can compete aerially in the defence; standing at 6'3?, Tiago convincingly makes the grade. This allows him to effectively deal with headed duels, protect his side against set-pieces while also having the ability to deal with a tall target-man striker.
Unlike most tall central defenders, Ilori is surprisingly not slow when it comes to his movement. In fact, he is exceptionally pacey; not just for a defender. At Sporting CP's academy, the club staff conduct speed tests on players and Ilori currently holds the academy record beating the pace set by the likes of Cristiano Ronaldo and Nani before him. This is a great asset to have in a defender.
Ilori, unlike some young defenders, is always willing to have the ball at his feet. He doesn't nervously hurry for clearances but rather prefers to take his time on the ball. Give him the slightest invitation and he will readily advance forward with the ball. He could have adopted these traits from his days playing as a striker.
Keeping with his tendency to take his time on the ball, Ilori also has a key eye for a pass. His vision of the game is exceptional. He's often seen completing excellent long-balls over-the-top with pin-point accuracy, enough to make any deep-lying playmaker jealous. As it was seen at the U-20 World Cup in Turkey, the Portuguese side often looked to Ilori to get the ball rolling. He has the ability to start attacks, and also provide his team-mates an opportunity to get into the right positions when he is on the ball. It makes him a valuable asset in attack.
Ilori thus epitomises the modern-day attacking central defender, constantly seen moving towards the half-way line rather than playing the role of a rigid central defender. It's a role that requires extreme tactical awareness as certain defenders have been found guilty of being caught out of position. The likes of Carvalho & Lucio have been excellent in such roles, but a younger attacking central defender like David Luiz has come under immense criticism. There's a fine line that has to be maintained. Ilori is still very young and inexperienced, the early signs though are good for him to be deployed in such a role.
Despite being an attacking minded central defender, Ilori showcases immense tactical discipline and organisation. He has the ability to form a solid pairing with a central defender, and although he does venture forward, he is back in his position during a defensive phase.
His reading of the game is tremendous as well. You get a clear impression that he has been brought up in a top footballing academy, such smartness in play can only be taught & learnt. His awareness about when to move out and when to remain deep allows him to effectively make regular interceptions without compromising his role in the back four.
His attack minded game and aerially ability make him an almost perfect central defender, but there are some parts of his game that need to be worked on. For instance, he's not the strongest and most solid defender when it comes to dealing one-on-one with a player. His intelligence makes up for it, but he could develop into the best defender in the World if he works on his strength & fitness.
Another aspect that Ilori is sometimes guilty of is over-committing. Attackers have the ability to get in behind the young Portuguese defender as he occasionally moves out to make an interception. A smart & experienced striker can take advantage of this with exceptional ease creating further problems at the back.
All in all, Ilori is an immensely talented footballer with a great bit of versatility. His height and pace is an unusual combination for a central defender, which tempts potential suitors even further; a rare type of player that is bound to attract top clubs.
Read more on Ilori at OOTB here.
[table id=14 /]