Matt Sproston (@spros1) turns Agony Aunt to advise on the relationship problems between Luis Suarez and Liverpool. It's time to "m*n *p"!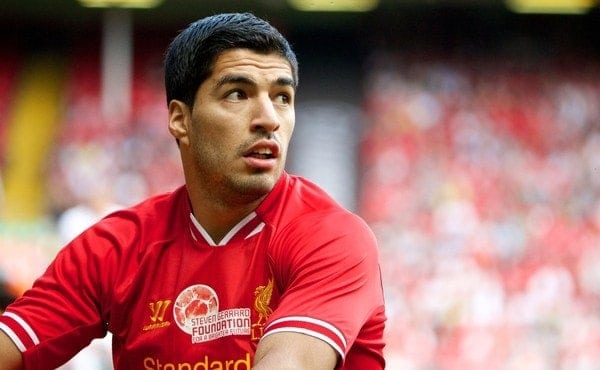 It's the oldest story in the book. In the beginning it's all so new and exciting. Your eyes light up when you see each other, a natural smile as wide as the Mersey. You just want to be together, can't bear to be apart.
Then, as time goes on, things may change. The excitement disappears and what was once so new becomes at best familiar or at worst old. Time apart is bearable and sometimes a relief. The smiles become forced. Eye contact avoided.
And then comes the inevitable conversation. "I want something different" or "I've changed" or "it's not you, it's me." Or worse still…. "there's someone else."
Maybe you decide to give it another go. Stay together, see if you can work it out. Try to recapture the old magic.
But usually when it reaches that stage giving it another go is just delaying the inevitable… a transfer.
Now Luis Suarez knows we love him. He was given an overwhelming display of affection at Anfield on Saturday and again at the open training session. He could have been in no doubt that if he stayed he would be forgiven for flirting with Arsenal. Instead he chose to rub his new flame in our faces. So now it's time for us to retain some dignity and tell him it's over.
We've all seen it. Some of us have done it. Spurned lovers pleading, crying or moping around. Desperately trying to cling on to something that has gone or maybe was never even there in the first place.
You might have said to a friend "you'll get over it. You're too good for him/her." Well now it's time to take that advice.
The old cliché is true, there is nobody that is bigger than the club. We have had dozens of players in our history ask to leave and many have been world class footballers at the height of their powers. Off the top of my head they include Kevin Keegan, Graeme Souness, Ian Rush, Steve MacManaman, Michael Owen, Xabi Alonso, Javier Mascherano and Fernando Torres.
There is an argument that puts all of the above as better footballers than Luis Suarez. When they left, the club moved on. It survived. In some cases it flourished.
In 1976-77 Kevin Keegan announced that he would leave Liverpool at the end of the season. Keegan at that time was the top player in Europe. He won European player of the year twice. Did the Kop panic, beg and plead? Granted, social media was restricted to the letter page of the Echo. No, the general consensus amongst the fans was "f**k him". The club found a new number 7 and the rest was history.
I accept that we are no longer acting from a position of such strength but we are still Liverpool FC. We are still a giant of world football. If Luis wants to leave us for the old dame from London he is taking a step down. Go back to the list of players who left and tell me which of them (with the possible exception of Alonso) went on to bigger and better things personally when they left Liverpool.
As fans it is time for us all to man up (sorry can't say that). It's time for us all to be strong. We've done our bit and let him know how we feel. If he still wants to go, get the right price and get rid. We all deserve better. There's plenty more fish in the sea.
And if Luis is genuinely seeking a move to Arsenal (and maybe naively I still believe that he is trying to smoke out Real Madrid) then more fool him. He must have heard of a guy by the name of Fernando Torres. He thought there was more excitement to be had with a tart from the West End and has spent the last two years pining for the love he lost.