Thomas McMahon explores 'Death by Football' amongst other Brendan Rodgers footballing philosophies and sees how they're being adapted and implement at Liverpool.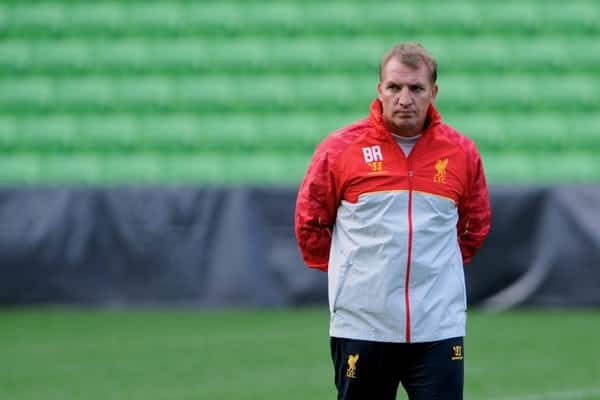 "When you've got the ball 65-70% of the time, it's a football death for the other team…It's death by football."
–Brendan Rodgers – Fan interview on This Is Anfield
In 2011, Brendan Rodgers shocked fans and pundits alike by avoiding relegation with recently promoted Swansea City. They played with a style of football akin to FC Barcelona, despite operating under a tight budget. One year later, Rodgers was appointed Liverpool manager; leaving little to the imagination as to how Liverpool's style of play would alter to that of Kenny Dalglish's. This was reinforced by Rodgers investing £15 million into the core engine which drove Swansea's slick passing machine -Joe Allen.
Short and agile, Allen serves as a visual metaphor of what Rodgers wishes Liverpool FC to become. Based on Rodgers interviews, it is clear the team needs to be tidy in possession, extremely mobile, intelligent on and off the ball and highly driven to succeed.
Ironically, Allen has had a difficult first season at Liverpool. His displays on the pitch can also be used , by some sections of the fan base, as a stick to beat Rodgers with . After all, how hard is it to pass backwards three yards? As with the aforementioned question, there is a bigger picture to Rodgers' modus operandi, which stretches far beyond mere sterile possession.

(As many would have predicted, Liverpool finished in the top 3 in terms of ball possession and passing success in 2012/2013 – via whoscored.com)
Despite Spain's clear success as an international powerhouse, pundits have often criticised their possession-based philosophy as 'boring' to watch. While watching the midfield simply tap the ball to one another in laissez-fair fashion can be tedious on the eye, it can cause devastating yet subtle consequences.
As the team's passing the ball in small triangles, the opposition has to invest energy into chasing the ball, in order to build their attacks. This slowly depletes their energy levels, meaning that when the team do eventually recover possession, that they are less likely to be as dangerous with the ball at their feet. Likewise, as the midfield is not expending great deals of energy by making short passes, this can be known as 'resting on the ball'.
Similarly, resting on the ball can lead to fewer injuries. As the players are making less high-intensity runs than under a manager who favours a more direct approach, it reduces the effect of fatigue on the player's muscles. It is no coincidence that both Steven Gerrard and Daniel Agger, previously ridden with injuries, played nearly every game the previous season.
Despite being described in some circles as tedious to watch, resting on the ball could actually explain how Liverpool scored 71 goals last season. As the midfield are holding possession, the strikers do not have to expend as much energy into chasing continuous diagonal or long balls; which a player in the mould of Charlie Adam might offer. This means that when the team does decide to go forward, the striker can sprint at higher intensities, channelling more of their energy into attacking movements with greater rates of success. In short, it is a more efficient method of squad energy utilisation.
"We have a default mechanism which makes us hard to beat and we can pass our way into the game again. Rest with the ball. Then we'll build again."
Brendan Rodgers on his philosophies – June 2012
In modern football, most teams are well organised and difficult to break down – particularly at Anfield. Brendan himself proposed that the opposition find it 'humiliating' when starved of possession for protracted amounts of time. These emotions can lead to the opposition losing their concentration and organisation, helping create spaces due to the defending player chasing the ball. This lax of concentration could be the trigger needed to launch a potent attack, helping break down the stubborn minnows that usually cost Liverpool points . Looking at possession football from a different perspective, it is a unique method of counter-attacking. The team in possession are waiting to pounce on the opponents mistakes, albeit from midfield.

"You win the ball back when there are thirty metres to their goal, not eighty"
Pep Guardiola in 2009
Ball retention can also be analysed as an unorthodox yet intelligent method of defending. After all, a basic principle is that the opposition cannot score whilst the team are in possession of the ball. It may lack drama, but it definitely is more comfortable to watch than witnessing a team defend in '2 banks of 4' facing wave after wave of attack. It may lack the blood and thunder in the last 20 minutes of a derby game, but at least you're not relying on goal-line clearances to maintain the lead.
Rodgers also prefers the defence to play a 'high line', by pushing the defence up the pitch towards the half-way line. The high line compresses the midfield, starving the opposition of time and space to supply the ball to their strikers. Adding to this, the midfield and strikers press the opposing team to make it even more difficult to get a foothold in the game. This forces the opposing team to make mistakes or poor decisions under pressure, surrendering their possession. In theory, Rodgers defensive principles invite less pressure onto the actual defenders, meaning that the opposing team is less likely to score as they cannot get close to the goal.
A frequently cliché used by critics of the short-passing mantra is that it lacks 'a plan B'. What pundits usually mean by this, is that the team lacks a big lump to launch it to when the slick passing isn't managing to penetrate the oppositions defence. However, just because Rodgers isn't adopting this tactic doesn't mean that he follows a one dimensional approach.
In fact, Rodgers has shown his adaptability in a variety of games, implementing different formations and tactics to different environments. When the pendulum started swinging in Everton's favour at Goodison park, he switched to 3 centre-backs – which bar a poor linesman's decision would have won Liverpool the game. He also adopted a more counter-attacking approach against Tottenham Hotspur, which despite uncomfortable viewing at times, saw Liverpool leave Anfield with 3 points. Once again, despite not being an obvious from the offset, Rodgers is conducting his methods in a more covert way .

(Liverpool uncharacteristically concede possession at home in a 3-2 win over Tottenham Hotspur, showing Rodgers's versatility. Via The Guardian)
Such has Rodgers veered away from tiki-taka, that there is even a debate as to whether the manager has dropped his initial principles altogether. With the recent signings of Luis Alberto, Kolo Toure and Iago Aspas, Rodgers still clearly values mobile technicians which value possession. In addition, Rodgers admitted that he built Liverpool's attacking play around Luis Suarez last season, but hinted that there will be a paradigm shift in the upcoming season.
"The team was built around Luis last season. I made some big calls to get the team to work in a way to suit his strengths and it is no coincidence he had a great season apart from the end bit. We would love to have him to continue the next phase."
Rodgers on the upcoming season and 'the next phase'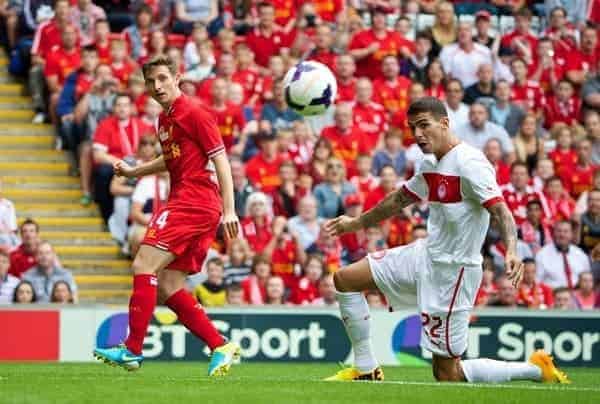 Referring back to Joe Allen as a metaphor – it isn't what Allen physically does which makes him a vital cog, but the ramifications which his actions employ. Passing for possessions sake may seem dull initially, but the side effects of following this style of play can be as surreptitious as they are devastating. Rodgers's philosophy is intricate, with all proponents creating a multiplier effect when used correctly. All players require a good first touch and high mobility, but when all the pieces of the jigsaw are in place, it is difficult to defeat a team when you cannot get the ball.
Educated from Spain, Rodgers has no doubt absorbed how Barcelona and the Spanish national team implemented Johan Cruyff's tiki-taka vision – an intrinsic element to their vast success. If Rodgers reverts back to the mantra which made him successful at Swansea; in conjunction with the pragmatism displayed last season, Liverpool can demonstrate the 'Death by Football' Rodgers alluded to upon his arrival. The death however, may not refer to an all-action shotgun murder in broad daylight – but a sleek assassination in the shadows of the night.