Liverpool fans have taken to Twitter to discuss the scenario of Luis Suarez staying at Anfield, despite all he has said about his desire to leave this summer.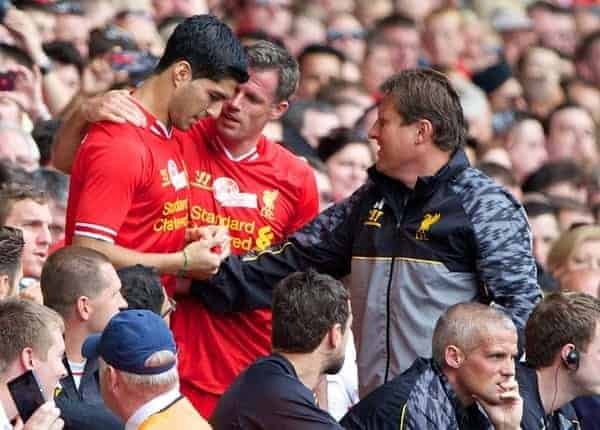 On Thursday night, club owner John Henry sent out a firm message to Arsenal: "We will not sell Suarez. That is unequivocal."
Now Reds fans are toying with the idea of the Uruguayan international being forced to stay on Merseyside and be involved with Brendan Rodgers' plans to continue the progression of the club.
It could be the case that Suarez returns to action at Anfield against Crystal Palace on Saturday, October 5th 2013, once he has completed his suspension.
We asked Reds fans on Twitter how they would greet his return, and whether there is a way back into the club for the 26-year-old.
Here are just a selection of tweets from fans, sharing a range of opinions, but on the whole demanding an official apology so the club and striker can move on.
As ever, please leave your views in the comments below, or on Twitter @thisisanfield

https://twitter.com/jesperalstrup/status/365589191171649536

https://twitter.com/martin500_0/status/365589168950218752
@thisisanfield he'll get the same support as any LFC player. He needs to do his talking on the pitch

— Gareth (@gazzalfc09) August 8, 2013
@thisisanfield He has to issue an official apology before he re-gains my respect

— . (@usernameneeded0) August 8, 2013
@thisisanfield Tevez was able to win back city fans, there's hope

— Hider (@Glazers_In) August 8, 2013
https://twitter.com/markl87/status/365589290413064192
@thisisanfield Only one way back and thats an apology, 100% performance and goals.

— Gavin O'Reilly (@gavinoreilly95) August 8, 2013
@thisisanfield I'll never forgive him, but if he gets us 4th or higher he'll start getting some respect back

— Josh (@JoshFerguson_19) August 8, 2013
@thisisanfield There is always a way back if he plays for the TEAM not the suarez roadshow anyhow we prob do it all again in Jan trf window

— Cat Inglis (@miaoow) August 8, 2013
https://twitter.com/djandymyers/status/365589655778885633