Ben Twelves reflects on Liverpool's opening day victory over Stoke City and warns Liverpool FC they must put chances away to finish off opponents.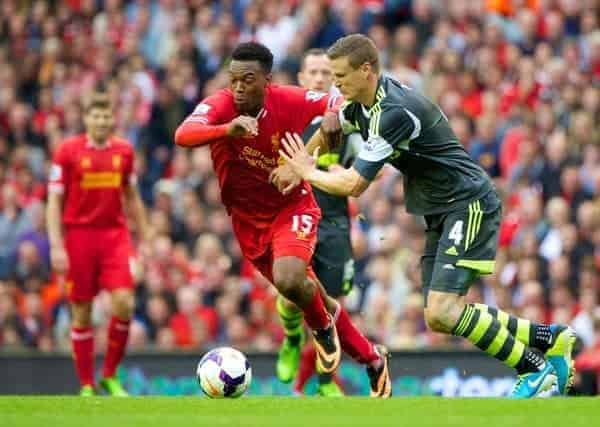 As the ball hit a stray Daniel Agger arm and referee Martin Atkinson subsequently pointed to the spot, an all too familiar feeling descended over Anfield. As we know all too well, dominating the vast majority of games but not having the just rewards has become something that the Anfield crowd has almost come to expect in recent seasons. Just when it looked that normal service would resume, thankfully, our new keeper, our Belgian keeper, Simon Mignolet saved the penalty from Stoke City's John Walters and we saw out the remaining few moments of the game to secure a very much deserved three points for the first time at Anfield on the opening day of the season since 2001.
It was no doubt a very welcome start to the season and one many supporters like myself would have taken had it been offered, especially when you think back to the start we had last campaign that led to questioning of whether the fixtures were actually generated 'randomly'. But while we had a decent performance and the three points to match from Saturday's game, the score-line left some, including myself, frustrated that once again we didn't have more to show for our exciting attacking play and all-round performance. Some sections will point towards the seemingly continuing curse of the opposition goalkeeper, this time Asmir Begovic, as the reason why we only have a '+1' in our goal difference column, where others will point towards wastefulness in front of goal that needs to be addressed.
Of course, when you create as many chances and have as many shots on the opposition's goal as we do, it is only natural to expect that we will miss with some, but for me we are missing with a few too many. Jordan Henderson, Iago Aspas, Philippe Coutinho, Jose Enrique and Daniel Sturridge were all guilty of missing some very good goal-scoring opportunities and Henderson along with Kolo Toure both saw efforts hit the woodwork when perhaps they should have scored. Admittedly, it could easily be argued that we were unlucky and Begovic made some great saves but I have listed a high number of goal scoring opportunities that we carved out and missed, once again showing that creating isn't our problem – converting them is, still.
The pattern that evolved during the game also felt all too familiar to boss Brendan Rodgers, something he admitted after the game to Liverpoolfc.com: "It was a déjà-vu moment from last year, in that first part of the season. The game was always in the balance when it's 1-0. For all our domination, we gave away a stupid free-kick which ends up coming into the box and unfortunately Daniel handles it without intent."
Liverpool boasted both the most shots and on target of the opening weekends fixtures with 25 and 11 respectively (something that we have only bettered in five of the last 186 Premier League games we've played) but along with Fulham and Southampton, recorded the lowest scoring win of the new fixtures. Daniel Sturridge also registered the joint highest amount of shots by one player with six, but only had one goal to his name. All other teams who secured maximum points in their first games won by higher margins despite having fewer shots on target and altogether, further illustrating that finishing off chances is an issue that needs to be resolved as we look to progress this season. But how do we go about it?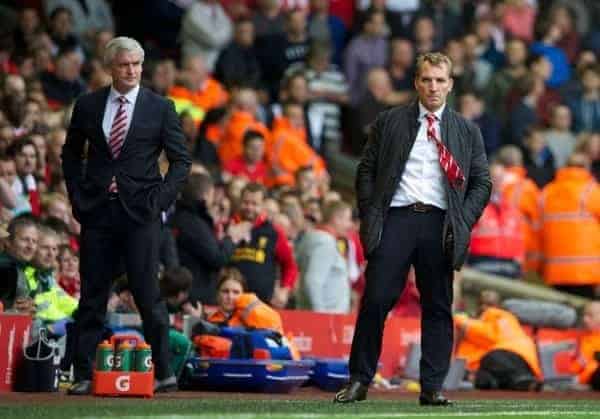 We have more than enough attacking players who have shown either during their time at Anfield or at previous employers that they know where the goal is and some who are steadily improving goal contribution, so for me it isn't a case of buying new forward players. What it must simply come down to is practice and through practice, gaining confidence as well as keeping composed in front of goal at key moments. Even though goals haven't been lacking since Brendan Rodgers took charge at Liverpool, we haven't been ruthless enough at times and have given hope to opposing sides which has seen us drop points in recent seasons.
As we look to launch a challenge on the Champions League places and finish three places higher than we did last season, killing off tight games with goals is something that will have to become second nature to us. Finishing fourth is going to be a tough enough task as it is without complications and for that reason, it is vitally important that the players adopt a new ruthlessness in front of goal. If not for the players' own sake, for the sanity of the Anfield crowd.