Liverpool are in a huge catch 22 situation at the moment, but clubs like Dortmund and even Spurs can provide examples of how to build over time by turning the loss of star players into opportunities to improve the team, writes Steven Maclean.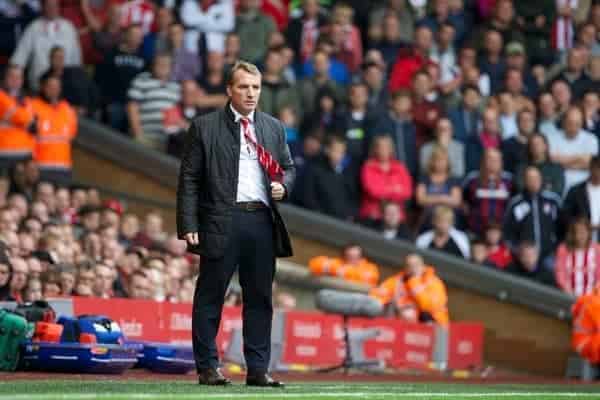 "Unless you have got the Manchester City or Chelsea money and just bring in £70m-£80m worth in one summer to add to a Champions League-winning group, you need a different way."

– Brendan Rodgers
Very few clubs can buy certified world-class superstars. Liverpool haven't signed one for decades, and yet we've had Fowler, McManaman, Owen, Gerrard, Alonso, Reina, Mascherano, Torres and Suarez furnishing the Anfield turf.
Unless you are one of the football monolithic Spanish institutions or a club fuelled by an oligarch, if you want world-class talents, these days, you have to grow your own.
Even the Milans, Juves and, more often than not, Uniteds tend to sell world-class players more than they sign them these days. United have always been willing to go that extra mile when others have looked like mounting sustained challenges, most recently with the acquisition of Robin Van Persie, but 'marquee' signings aren't what built Fergie's empire.
Start naming United's best players over the past 20 years and a pattern quickly emerges; Giggs, Keane, Beckham, Cantona, Stam, Scholes, Ferdinand, Van Nistelrooy, Ronaldo, Vidic, Rooney, Van Persie. Of those, Ferdinand and Rooney came in for large fees but at the time were only big talents as opposed to nailed-on world-class players. Ronaldo was bought relatively cheaply while still very young and the genius of Cantona acquired for a steal because of the perceived baggage that came with it. Roy Keane was a pretty big purchase at the time but it was a different game then, so really only the trio of Dutchmen Stam, Van Persie and Van Nistelrooy could be truly 'marquee-style' signings, best defined as: a player whose transfer fee or wages are so large that it almost impossible for them to be dropped.
Carrick, Yorke, Cole and Valencia came Premier League-tested, which was reflected in their prices, but none ever rose to a level above the value United were paying for. The fees paid for Berbatov, Veron, Anderson and Nani figure in United's ten biggest transfer outlays, but none have been success stories relative to their fees, and in some cases, proved to be quite the opposite.
At Arsenal the story is similar. Wenger's record transfer fee remains the 13m he paid to take Sylvain Wiltord to the Emirates, with Andrei Arshavin, Samir Nasri Santi Cazorla and Lukas Podolski completing the top 5. Thierry Henry was yet to realise his full potential when Wenger lured him from Italy, while Vieira, Fabregas, Cole, Van Persie, Petit, Pires, Overmars, Kanu, Campbell and Adebayor cost them less combined than we paid for Carroll.
Whatever Arsene Wenger is smoking, you can be sure he gets a good price for it and probably intends to sell a little on.
Between them, the only tried and tested at the very top of European football players that United and Arsenal have signed for 'marquee' fees are Veron, Berbatov, Van Nistelrooy and Van Persie, while they've sold Fabregas, Overmars, Anelka, Van Persie, Henry, Vieira, Ronaldo, Beckham, Stam and Van Nistelrooy as ostensibly world-class players.
These were not sides made from marquee signings that can't be be taken down once the party is over. Instead, the real work was in planting seeds in the ground on which the often gaudily expensive-looking marquee stood, while sometimes overpaying for technically-gifted English saplings.
Spurs might be splashing the cash now in anticipation of a huge fee for Bale, but it was only a few weeks ago that £17m Paulinho was their record signing. That doesn't mean it makes sense to sell solid oaks like Carrick, or bloomers like Berbatov, Modric and now Bale, but it does mean you can grow a team by planting seeds and tending to saplings in the shade.
Opportunism, Resurrection and Growth
Brendan Rodgers is primarily a coach. His strengths are his ability to maximise players' potential by improving them tactically, technically, physically or mentally and coaching them to play fluid attacking football. He can ignite fire in the belly of 'timid' souls like Downing and Henderson or inject some tactical nous in the mind of an otherwise hectic Jose Enrique.
Give him a team of decent footballers and he'll improve them, but give him technically gifted ones, and he can iron out any kinks and create world-beaters. Rodgers has already extracted pitbull tenacity from the pretty poodle that was Philippe Coutinho, while the once stray Daniel Sturridge now exudes the elegance of a pedigree greyhound.
Iago Aspas has looked better to me each time I've seen him. It was obvious from his time at Celta Vigo that he has bags of energy and a trick or two, but against Stoke he showed the tactical nuance Rodgers deems mandatory as well the fight required to play in the Premier League without becoming peripheral to the narrative. Aspas looks sly, quick, tricky and instinctive, often dropping in to holes or making darting runs. We might soon be talking about "Coutinho, Sturridge and Aspas" as the kind of deals we need to replicate. At just £7m, There's no pressure on Rodgers to play Aspas, so he can be used when it's best for him and the team, and 'rested' when we have better options.
Luis Alberto is another signing who is young, talented and cheap, and at 25, Simon Mignolet is still young in goalkeeper years. Wisdom, Sterling and Ibe have all emerged as genuine first team competitors to make it a squad comprising eleven outfield players 23 or under and a healthy youthful desire.
Of course you don't win anything with only kids, so as well as exposing the latent ability in forgotten hot-prospects and developing players through the academy, Rodgers will have to resurrect the odd career presumed dead as veterans like Gerrard, Johnson and Agger fade out. The astute addition of Kolo Toure suggests he knows how to do that, too. The big Ivorian radiates experience, confidence and determination – exactly what the younger players need to see. As good as they are, Steven Gerrard, Luis Suarez and Daniel Agger don't know what it takes to win the Premier League.

Kolo Toure does.
Kolo Toure was part of the 'The Invincibles' team that not only won the Premier League, but one that won it without losing a game all season. A team that bossed the league barely leaving their opponents' half of the pitch. A quick, technically gifted team playing attacking football with a high line. A team not unlike ours, but with more depth and experience.
What an inexperienced team playing attacking football with a high line needs more than anything is someone who knows how to anchor the defence.
Kolo Toure knows how to anchor the defence of a team playing attacking football with a high line.
Kolo Toure knows how to boss the league doing it. He's done it.
While Gerrard and Agger are the club's official captains, Kolo's character, determination and experience of winning the way Rodgers wants to play means he's the team's motivational and tactical leader. Kolo is Brendan Rodgers' Invincible; an example to the others.
Of course, there are rumours that Kolo Toure is not absolutely omnipotent, so we still need to add three or four players who are ready to perform right away, but they don't need to be as good as Suarez, and they don't need to cost £30m.
Marquee, or not Marquee
Suarez was clearly a quality young player on the up when Liverpool signed him, if not quite a certified world-class talent. He came with the baggage he insists on carrying with him at all times, but without it he probably wouldn't have been an affordable option for Liverpool from outside the Champions League in the first place. In signing Suarez, Liverpool were opportunistic in recognising a use value in Suarez greater than his exchange value suggested.
Willian could have been another Suarez. Not stylistically; where Suarez scurries hunched-over with a relentless tempo and instinctual drive, Willian glides, scheming his way through defenses with showboat poise. Their differing idiosyncrasies could and probably would have complemented one another wonderfully. Willian is a very good player, but like Suarez, he's only a very good player we thought we could sign because of the situation at Anzhi.
If Willian was 23 and going for the wages and transfer fee it took to get Suarez, FSG would no-doubt be doing everything they could to sign him, but at 25, £30m and top-level wages, the risks are weighted differently.
But Willian is older more expensive and less proven than Suarez was when we signed him. Aspas cost us under a ¼ of what Spurs are prepared to pay for for him and will play free from the pressure of a huge sum on his head. Spurs offered more for Willian than what we paid for Coutinho, Sturridge and Aspas combined. More than what we paid for Coutinho, Sturridge, Aspas and Kolo Toure combined.
Willian felt like a last chance to exorcise the disappointments of missing out on Mkhitaryan and Costa, who had both opted for Champions League football instead of a move to Anfield. Now it looks like he might give Spurs a taste of their own medicine by snubbing them in favour Chelsea and Champions League football. The harsh reality is that proven talents want to play in the Champions League, or at least at a club with a good chance of qualifying in the near future. So how do you get into the Champions League when you can't sign proven Champions League quality players?
It's not easy, but it can be done. Clubs like Dortmund and indeed Spurs provide examples of how to build over time by turning the loss of star players into opportunities to improve the team. Udinese and Porto are like talent factories, buying pop-up tents and turning them into Tipis and Wigwams before flogging them to Europe's giants at marquee prices. We might not have the riches of Chelsea or Man City, but we don't have to sell our best players to generate funds for reinvestment either. Since 2010-2011 FSG have overseen a net transfer spend of £82m, with at least £30m more waiting to be invested. Over the same period United have a net spend of £102m, Spurs have invested £33m and Arsenal are £15m to the good. We should be doing the same as Udinese and Porto, but retaining the talent instead of selling it on.
We haven't got Willian or Mkhitaryan, or Soldado, or Costa or Papadopoulos. Or Siqueira. We haven't got Champions League football, or even the Europa League. What we have got several young technically gifted players, a smattering of experienced pros, a couple of world-beaters, an Invincible, three points and at least £30m to spend on the next Coutinho, Sturridge, Aspas or Kolo Toure.
We will take opportunities to acquire otherwise unattainable talents when they arise, but you don't just buy a team of Invincibles. Wenger didn't buy a team of Invincibles and Rodgers can't either. Instead, he'll try to grow his own, plugging any holes in the squad with hungry, cultured footballers in deals that offer good value.
It's not the Arsenal way or The Liverpool Way. It's just a different way.
It's a way I like.