Thomas McMahon looks at the exit of Stewart Downing and concludes that an era of mediocrity is over for Liverpool Football Club…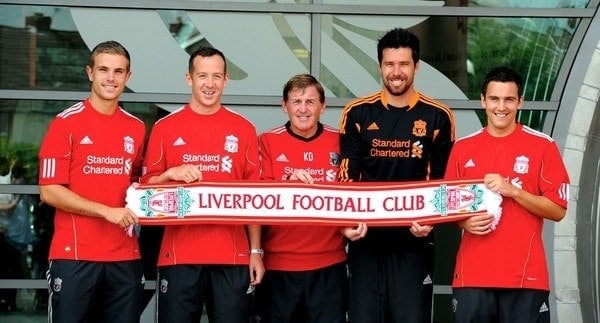 On a bleak end-of-season Sunday at Villa Park, Liverpool slumped to yet another defeat – this time to the 9th placed Aston Villa. The only goal scorer on the day was Villa's 'Player of the Season' and stalwart on the flank, 26-year-old English International Stewart Downing. Downing was a £12 million marquee signing under Martin O'Neil in 2009, and despite a difficult start at Villa Park, was blossoming nicely under Kop legend Gérard Houllier's stewardship – cementing a place in the English national team in the process.
Meanwhile, Liverpool were having a turbulent season. The club was rescued from the brink of administration by Boston Red Sox owner John Henry, while Kop legend Kenny Dalglish had replaced the widely unpopular Roy Hodgson as manager. Although the defeat to Aston Villa underlined a poor 2010/11 season, there was an air of optimism amongst supporters. The new owners promised to invest heavily to bring back the famous European nights to Anfield, as well as to make an eventual charge to become Premier League Champions. Adopting a sabermetric approach to recruitment, the owners employed Moneyball advocate Damien Comolli as Director of Football. During a hectic summer of arrivals, with Jordan Henderson, Charlie Adam and Alexander Doni having already signed for substantial fees, in arrived Stewart Downing himself – for a staggering 20 million pounds.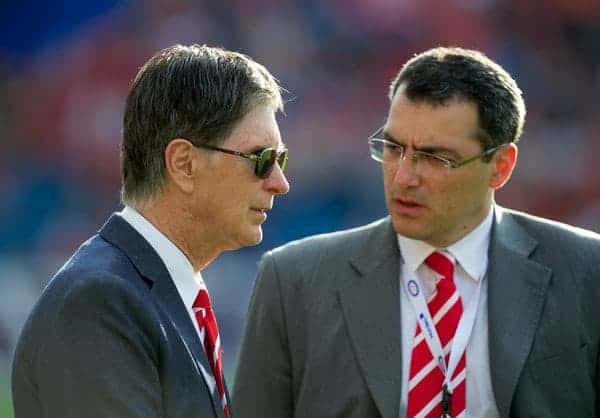 "Maybe his talent is a little bit undervalued in English football, but we know what we are getting – and we are getting a very, very good, efficient footballer. We look thoroughly into data and statistics before signing players and we really think we are bringing a big, big asset into our team."

Damien Comolli speaking to Liverpool's official website 19/07/2011
Despite being backed to the hilt by Comolli, his arrival raised a few eyebrows amongst fans. Most thought the fee to secure his services was inflated, but accepted that he could add some much needed width compared to fellow wide-men Dirk Kuyt and Maxi Rodriguez. Besides, with an impressive 77 chances created and  324 crossed completed the previous season, surely his arrival will signal a new dawn at Anfield – sculpted around 35 million pound marquee signing Andy Carroll? Unfortunately for Downing, Carroll, Comolli and the club itself, the summer of 2011 would prove to be a financial disaster.
"Stewie will definitely make a difference with his ability to get down the line and fire in quality crosses"

Jamie Carragher speaking to Liverpool's official website 15/07/2011
Metaphorically, Downing's Liverpool career was foreseen from his very first competitive game against Sunderland at Anfield. In the 33rd minute, Downing comfortably dribbled past 3 players from the right-flank before unleashing a rocket of a shot from 25 yards. Unfortunately, the ball rattled off the crossbar, with the game finishing in a deflating draw to mid-table opposition. This was a constant narrative of the 2011/12 season (incidentally, Liverpool would hit the Woodwork that season 33 times), with the new-look Liverpool struggling to break-down teams at Anfield – winning at home only 6 times throughout the league campaign.
The obvious scapegoat was Stewart Downing. Being the 5th most expensive signing In Liverpool's history, fans were disgruntled with the lack of end-product Downing was showing. Or any end-product for that matter. Downing finished the 2011/2012 season with 0 goals and 0 assists, likely going down in Premier League folklore as one of the worst debut seasons of all-time. Kenny Dalglish quickly defended the wide-man, admitting that Downing was  'a better player than I thought he was going to be' in attempt to alleviate scrutiny from the fans and opposition. However, Fenway Sports Group were clearly underwhelmed by their return of investment, and so decided to sack Damien Comolli in April and later Kenny Dalgish himself. Unconvinced by Kenny/Comolli's pursuit of young British talent, the owners opted for Brendan Rodgers off the back of an impressive debut season at Swansea.
"Stewart is a better player than I thought he was going to be," the Liverpool manager claimed. "I don't think it has been too comfortable for him either because we have played him in three or four positions, so maybe we need to look at ourselves and say we have to be fair to him as well. He is better than what I thought he was. He is quicker than what I thought he was and he is quicker than Carra [Jamie Carragher] thought he was as well."

Kenny Dalglish speaking to the Guardian 20/01/12
Not long into Rodgers' tenure, Charlie Adam and Andy Carroll, two notable signings in 2011,soon found themselves transferred to different clubs – shrouding Downing's Liverpool career in doubt . As Downing's a natural winger, having been utilised in a 4-4-2 system for most of his career, it was difficult to see how he would fit into Rodgers' renowned 4-3-3. Rodgers preferred focussing on wide-forwards and full-backs to provide width, as opposed to traditional wingers hugging the touchline. Nevertheless, he started amongst Luis Suarez and Fabio Borini in the 2012/13 opener against West-Bromwich Albion.
Carrying his previous season's form into the game, Liverpool crashed to a 3-0 defeat,  with Downing once again failing to contribute to a goal-return. He was subsequently dropped against Man City, being replaced by the young sensation Raheem Sterling – near 10 years Downing's junior. Disappointed by Downing's lack of tenacity on the pitch, Rodgers privately and publicly condemned the winger, hinting that he lacked the mentality to succeed at Liverpool.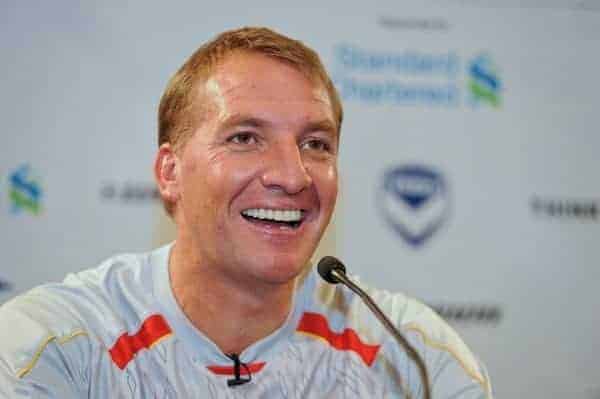 "Stewart is a good guy but it hasn't quite worked out for him … Talent alone is not enough. You have to work hard; you have to fight for the shirt. He is under no illusion that he has to fight."

Brendan Rodgers speaking to the Liverpool Echo 29/09/12
However Downing soon found himself used at an emergency left-back, covering for the injured Enrique. Using this as a platform, he fought for a place on the right-side of the forward line in the Winter period. Downing played with much more intensity and confidence, notably against Fulham FC where he scored his first Premier League goal. Rodgers seemed to ignite the resurgence, with Downing himself admitting that being warned of his expendability motivated him to improve. Downing finished the season with 3 goals and 5 assists in 29 starts, which while a slight improvement from his previous season, is a poor return for a 'wide-forward' in Rodgers's preferred system.
And so, Stewart Downing – the poster-boy of the Comolli era – has left for pastures new at West-Ham United. Sadly, Downing's career can be materialised by his single Carling Cup medal around his neck. Whilst achieving small-scale success, he has never witnessed Champions League football or ever challenged for the Premier League title, as Liverpool traditionally have.
With only Jordan Henderson remaining from Comolli's expensive purchases of 2011, it seems that Downing's departure marks the end of the post-Benitez epoch. One that will be remembered for the high outlays on British talent and the great domestic cup final days, but ultimately coming up short in the league. Who knows, had Downing's initial shot on his debut against Sunderland crept in the net, it may have been the catalyst to a successful career at Liverpool. That concept alone however, questions whether Stewart really had the mentality to succeed at a big club, where high expectations and pressure are a constant burden.
What's important is that the club have learned that there's more to a player than a handful of statistics – softer qualities such as personality needs to be more thoroughly researched. Rodgers regularly speaks about playing with 'style and steel' and Downing rarely possessed either. He often failed to beat a full-back 1-on-1, was generally timid on the ball, and disappeared during heated affairs such as his ghost-like display against Manchester United at Old Trafford in 2012.
"In order to breed the consistency needed to give us success, we need to bring in winners – those with the winning mentality,"

Brendan Rodgers speaking to the Liverpool Echo 24/05/2013
Unfortunately, FSG still seem to have been stung by the £115 million wasted investment into Comolli's sabermetric recruitment strategy, and as of yet, failed to invest any net expenditure into the squad. The club are struggling with the fallout too, with targets such as Henrikh Mkhitaryan and Roberto Soldado opting for Champions League football over Liverpool. Had the club invested more wisely in 2011, perhaps pursuing Juan Mata instead of Stewart Downing, then Liverpool could even be mounting a title challenge in the upcoming season.
So good luck Stewart. To paraphrase Rodgers, it didn't quite work for him. To an extent, he is a victim of poor decision making from an executive level, and the board need to ensure that Liverpool are on the correct path to success to avoid such mistakes happening again. Hopefully, while an exciting new chapter in Downing's career has just begun at West-Ham, a disappointing chapter in Liverpool history is finally coming to a close.