Luis Suarez will need to adapt to Liverpool's winning ways, and not the other way round, when he returns from suspension, says Tom McMahon.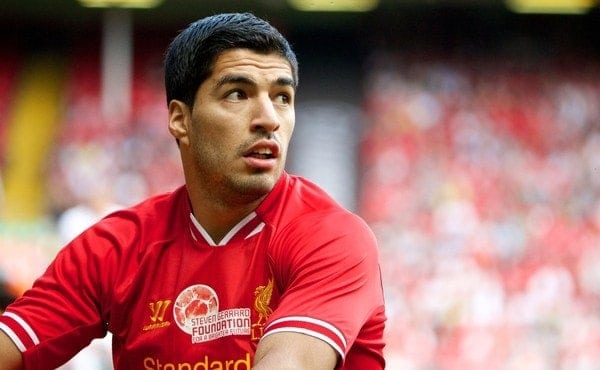 Cast yourself back to December 2012, briefly after Liverpool's 1-0 win over Southampton. The narrow victory at Anfield was quickly overshadowed by a needless handball from Luis Suarez, picking up his 5th yellow card and single match ban in the process. Most fans were anxious as to how we would cope in the next fixture without the Uruguayans presence. Struggling for goals and lacking in forwards, Liverpool had endured a shaky start to the 2012/13 season under Brendan Rodgers, with Suarez's purple patch providing a silver lining to an otherwise poor start to the campaign. Therefore, with Liverpool's controversial talisman out, how could anyone expect the team to beat a resilient West-Ham United, fresh and upbeat after their impressive 3-1 victory against Chelsea? Many predicted a stalemate, others feared for the worse, the reality was different. Thanks to the (now departed) Jonjo Shelvey and Joe Cole, as well as the ever-present Glen Johnson, Liverpool picked up an impressive 3 points at Upton Park—ironically scoring 3 goals in the process.
"That's the way it goes. That was always going to be the risk, but it's an opportunity for someone else to come in."

Brendan Rodgers on Suarez Ban, Southampton Post-Match Press Conference 01/12/12
The West-Ham result seemed like an anomaly at the time, but it's swiftly becoming a familiar narrative. A quick glance at Suarez's stats since arriving at Liverpool during a frantic 2011 transfer window tells you all you need to know about Luis Suarez as a player. 38 goals and 16 assists, in just 77 appearances. The prolific Uruguayan had netted 23 league goals the previous season, elevating him to a serious PFA Player of the Season contender. So when Suarez decided to sink his teeth into Ivanovic's arm against Chelsea at the twilight of the 2012/13 season which resulted in a 10 match ban, the familiar doom mongers came back into the fray.
So how have Liverpool managed to survive without Luis Suarez during his 10 game absence so far? 6 wins, 1 draw, 0 losses. It would seem that the team do not seem to miss Suarez as much as many would have anticipated.
Daniel Sturridge and Philippe Coutinho, purchased in the January transfer window, have thrived in Suarez's absence—scoring 10 goals between them in just 7 fixtures .The team, overall, appear to be gelling and playing with a greater sense of balance and fluidity. It would be unfair however, to draw a conclusion of Liverpool's post-Suarez improvement without first comparing the performances with Suarez in the team. While there is a limited sample of Premier League data since Sturridge, Coutinho and Suarez have been integral to Liverpool's attack, a comparison can be found below:
Suarez in the starting lineup (PL fixtures after the January transfer window)
Manchester City 2 – 2 Liverpool
Liverpool 0 – 2 West Bromwich Albion
Liverpool 5 – 0 Swansea
Wigan 0 – 4 Liverpool
Liverpool 3 – 2 Tottenham
Southampton 3 – 1 Liverpool
Aston Villa 1 – 2 Liverpool
Liverpool 0 – 0 West Ham United
Reading 0 – 0 Liverpool
Liverpool 2 – 2 Chelsea
(16 Points out of 30, 53.3% points gained, 4 clean sheets, +7 Goal Difference)
Suarez not in starting lineup (PL fixtures after the January transfer window)
Newcastle 0 – 6 Liverpool
Liverpool 0 – 0 Everton
Fulham 1 – 3 Liverpool
Liverpool 1 – 0 QPR
Liverpool 1 – 0 Stoke City
Aston Villa 0 – 1 Liverpool
(16 points out of 18,  88.8% Points Gained, 5 clean sheets, + 11 Goal Difference)
In short, since Suarez's ban, Liverpool gained the same amount of points, kept more clean sheets and had a better goal difference—despite playing in 4 less fixtures. Of course, these statistics need to be taken with a pinch of salt. Some would argue that Suarez played in more challenging and higher pressure fixtures than those previous to his ban. You could also argue that the data sample isn't significant or complex enough to extrapolate a strong conclusion. However, it does pose a once unthinkable question; maybe Liverpool are a better team without Luis Suarez?
To an extent, it does make sense. For all of Suarez's goals, assists and tricks, he can often lose the ball trying to do the sensational and can frequently ignore the simple pass. Forwards are naturally expected to lose the ball at points during games, as their main priority is to challenge defenders 1-on-1, take risks and to generally try and create havoc for the opposition. An issue with giving the ball away too much however, is that it gives the opposition a chance to hit on the counter and create dangerous chances. This could arguably help explain why Liverpool kept more clean sheets without Suarez, despite playing in fewer games.
The team's mentality also alters when Suarez is part of the starting 11. Rather than analysing the opponents, scouting for clever runs and creating innovative phases of play, Liverpool become lethargic and predictable. Players often seem to get a 'when in doubt, pass to Suarez' mentality, burdening him to be the main outlet of Liverpool's offensive play. Suarez is also prone to complain and shout at the younger players (i.e Robinson vs Oldham Athletic) when their risks do not pay off, creating further hesitation and erraticism. This allows the opposition to prepare accordingly, blunting Liverpool's attack and contributes to the all-too-familiar 0-0 stalemates. This may help explain why the goal difference was higher in the sample since Suarez's ban. Without him, players such as Coutinho and Sturridge are taking more risks, which are beginning to pay dividends in terms of goals and assists. Even fringe players such as Jordan Henderson, who have looked in the past to be risk-adverse, are finding themselves amongst the goals.
Despite this, Liverpool cannot just let such an extraordinarily talented forward simply pack his bags and leave because he can occasionally detriment the team. Arsenal and Real-Madrid have shown an interest for purchasing the player for upwards of 40 million pounds, showing that other teams feel that he can significantly improve their Champions League squads. Brendan Rodgers himself has admitted that he has previously sculpted Liverpool's offensive play around the Uruguayan, and that there will be a paradigm shift to a more team orientated approach.
"Would it be a mistake for Luis to leave? 100%. The team was built around Luis last season. I made some big calls to get the team to work in a way to suit his strengths and it is no coincidence he had a great season apart from the end bit. We would love to have him to continue the next phase."

Brendan Rodgers talking to the press about 'the next phase' 26/07/2013
As Rodgers arguably alluded to during his 'next phase' quotation, Liverpool's approach needs to evolve from the previous season, in order to accelerate up the league table as the club and fans desire. Daniel Sturridge and Philippe Coutinho are currently thriving in central areas of the pitch, notably where Suarez played to great success the previous season. To complement the current team's set-up, Suarez may need to play out on the flanks. Suarez scored 49 goals in 48 games for Ajax in the 2009/10, predominantly from the right-wing, so he has had previous success in these areas on the field.
So rather than ignoring the elephant in the room and slotting Suarez straight back into being the focal point of Liverpool's attack, the Uruguayan should have to adapt to a winning team. Luis Suarez is, without doubt, a world class player, but must be utilised and coached in a way which doesn't detriment the team. It's less about moulding the team around a star player, and more about blending all our attacking assets in a successful formation that allows the team to flourish. That way, hopefully Liverpool will continue their recent resurgence in the Premier League and be challenging on all fronts this season.