The relationship between Brendan Rodgers and Luis Suarez is still "quite calm", despite the events of the last week.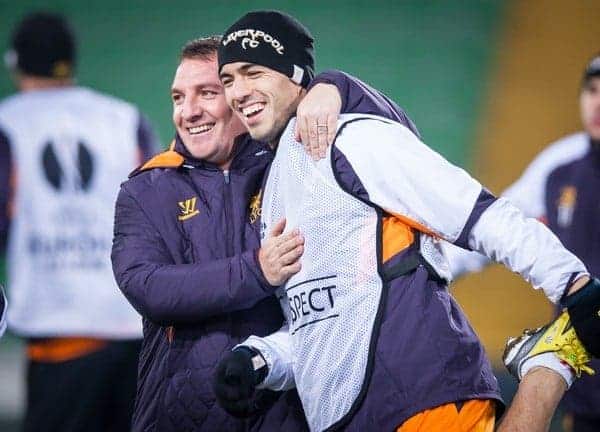 Suarez spoke to newspapers last week in an attempt to force his way out of Liverpool and push through a move to Arsneal.
However, Liverpool have outright rejected selling the Uruguayan forward this summer and Rodgers has demanded an apology from the 26-year-old to move things forward again.
Rodgers now says himself and club officials are working on ways of working "amicably" with Suarez to bring him back into training with the rest of the squad.
Suarez is currently being made to train on his own after his bad attitude in recent weeks.
"It is something that we have to do everything we can to fix," Rodgers told the club's official website:
"There has been a lot said and a lot reported, and we have made a stance, as a club and as a manager, of the commitment and the standards required.

"If you don't have that commitment, and those standards, then you won't play. It's as simple as that.

"If we have got to sit and wait, then so be it. But this is a club that has got great values, and we hope that the situation can be resolved amicably, and I am sure it will be.

"There's no problem between me and him, it is quite calm. But obviously I have got to respect the club and the team.

"It doesn't matter who you are, if they're not pulling their weight then they are letting down the club, the city and everyone who has stood by them.

"So until I get that assurance that we are going to get nothing but 100 per cent commitment, then there will be no solution."
Rodgers' quotes come despite claims by Suarez's international team-mate Edinson Cavani that it is the manger who has broken a promise:
"The Liverpool coach can talk about loyalty and disrespect, but maybe he needs to look up what it means.

"Luis had the chance last year to join a big club like Juventus, who went on to win the league in Italy.

"But, instead, he chose to stay and fight with Liverpool. Now, that's what you call loyalty.

"I've known about his agreement with Liverpool and understood that he would be leaving, if they were not playing in the Champions League."
Suarez is suspended for the first six domestic games of the new season. Liverpool are now focussed on the first game of the Premier League season on Saturday when Stoke City visit Anfield.
The game gets underway at 12.45pm on Saturday, 17th August 2013 and is live on BT Sport 1.