In a summer which has seen goalkeeper Pepe Reina ultimately dropped for Simon Mignolet at Liverpool, Eli Caywood looks at the stats to decide whether Brendan Rodgers has made a shrewd move, or a plucky gamble.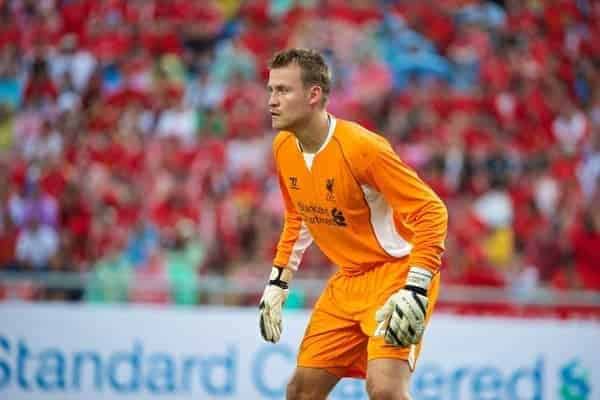 As we all say goodbye to an Anfield legend and fan favourite we look to his replacement wondering what to expect. The departure of Pepe Reina has been almost unanimously met with sorrow and some apprehension. We've all read comments from Brendan Rodgers about his decision to bring in Mignolet, his age and perceived potential all fit the bill of what Brendan is trying to do with Liverpool.
What has given many Liverpool fans pause for thought is the manner in how it has been handled. In his farewell letter Reina expresses regret in how his loan move was handled, and many people will agree that a hero of Reina's stature should have been given a proper farewell. One has to wonder how much this had to do with footballing reasons, or how much it had to do with a new manager wanting his players in the dressing room. Regardless of the reasons, we have to say a temporary goodbye to a beloved hero and a pillar of our team for almost a decade.
Mignolet represents Brendan's biggest gamble to date. His transfers so far have largely been to supplement an already existing squad. With the exception of a few players that were brought in and established themselves, Mignolet represents the only out-and-out switch Brendan has made to the squad.
So what can we expect from our starting goalkeeper? Mignolet joined Sunderland prior to the 2010/11 season, that gives us three years of data to look and compare with Reina's performances. (Thanks to eplindex.com for the stats)

Since 2010/11 Mignolet has been on the raise, while Reina has missed more games (if memory serves) due to injury. This switch should help provide some context to our analysis. Although I did not include Reina's stats from 08/09 and 09/10, I did look back to give a perspective on Reina's performances. Reina has been criticized over the last few years for a dip in form, and I wanted to see if that was justified. Interestingly enough, Reina started every league game and played every minute between 08/09 and 10/11.

(stats in a red box with white font, display a "negative stat" so a negative difference is actually a good thing)
Granted this chart seems overwhelming, but it shows us one of the two main factors I feel are important in our comparison (the other being possession/passing). Goalkeeper stats are difficult to adjust like I have in previous articles for out field players, I did not feel that any adjustment would reflect accurate estimations. What I think is important to highlight in this section is the errors that led to shots, and errors that led to goals. This unfortunately, is an area in which Reina has been falling behind Mignolet. Another key stat is saves compared to opposition shots on target. Over the three years Mignolet averages .65 saves per shot on target, while Reina averages .67 saves per shot on target. Reina has also been scrutinized for his aerial defensive abilities, Reina missed an average of 7 crosses per season while Mignolet missed an average of 3 crosses.

Defensively, the two are somewhat split. Reina obviously experienced a difficult year defensively in 11/12. Reina has also committed more defensive errors over the last two years, which according to the previous chart led to more opposition goals.  (* As a note, I inquired how ground and aerial duels were calculated for keepers, I did not receive a response, So I'm not entirely sure how these stats are calculated or what they can tell us about performance, I will update the chart accordingly when I receive a response.)


One of the strongest parts of Reina's game is passing play. He has always been well-regarded for his ability to distribute the ball, in fact in 09/10 Reina had two assists. These carts verify his passing and distribution, worrying Mignolet is 14% to 30% behind Reina in all-passing stats.
Statistically we can see that Reina has fallen behind Mignolet is some key areas. Reina's form has been of some concern over the last few years, as noted in "Pepe Reina: A victim of his own success" (John Ritchie, June 17, 2013, thisisanfield.com) Reina had a great start to his career and set the bar for himself very high. But as we can see statistically he has not been achieving the same standard that ranked him amongst the best in the world. That is not to say Reina is not capable of such form again, but it does seem Brendan Rodgers is not going to wait and find out.
For the better part of a decade Reina has been a constant in an ever-changing environment at Anfield. For many years Liverpool fans could look to our defence and feel confident in the man between the sticks. We can all agree that Mignolet has some big gloves to fill, both on and off the pitch. We have certainly lost a dependable leader in Reina, coupled with the retirement of Carra, our defence has now lost two of it's most prominent leaders.
So is Rodgers' gamble set to pay out? Defensively Mignolet is certainly showing signs of improvement and at the relatively young age of 25 he still has time to grow. Unfortunately we have lost a goalkeeper with excellent feet and vision. Mignolet will have to put in some great performances to win of the Anfield faithful, but based on the stats we've seen he is certainly capable of it.