Sometimes it's tough being a blogger, even a brilliantly talented blogger such as myself who, let's be honest about it, would be just about perfect except for my modesty! Anyway I figure it's high time I posted a new blog, but then I've got to decide on a topic. Decisions, decisions it's all go here at Kopblog HQ.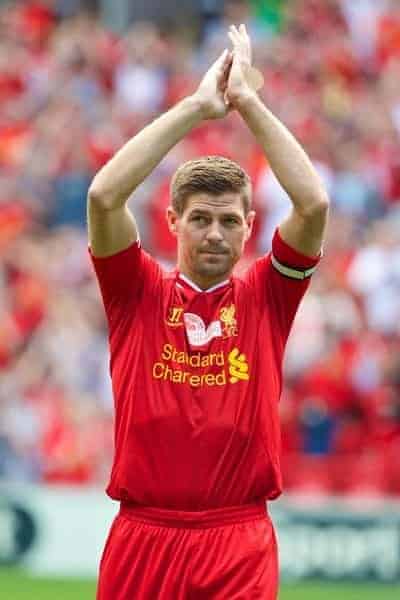 So I think maybe I'll write about Pepe Reina who has gone on loan to Napoli and is definitely, probably, maybe, not really angry at the club about apparently not telling him about it. Jaysus, Pepe with such an indecisive mind I can see why you always had trouble with corner kicks! Besides, there are undiscovered tribes in the deepest, darkest parts of the Amazon who knew this move to Napoli was very much on the cards, so don't talk shite lad!
Then I thought maybe I'd write about Suarez and the fact that it's looking like he will definitely, probably, maybe, won't be leaving the club this summer. Who can say how this sorry episode will turn out? To me it's kind of like a tetanus injection, on the one hand you don't want it to happen but on the other you just want it over with as quickly as possible. But I'm a bit fed up reading about this topic as I'm sure everybody else is so let's park it until there is some fresh information.
I then decided I would write a blog full of fire and brimstone as I am so pissed off at the club's lack of activity in the transfer market. Particularly as we see Spurs bringing their transfer spending to £50 million with today's signing of Sodildo. Bloody Spurs! A team we are at the very least on a financial par with and a team we finished 11 points behind last season. Yet they are showing some ambition and investing in their side while our guys are pissing about looking to bring in mediocre players on loan deals.
Granted Spurs may well recover their investment with the possible sale of Bale but they have invested a lot of money in their squad in recent seasons and I suspect they would have spent this cash regardless of the Bale situation. So I was really pushed over the edge when I read Rodgers comments today stating that the cash is available but he may not spend it if he can't find the right quality in the market! What a lot of crap, it made me want to grab him by the throat and beat him like a red headed step child to knock some sense into him.
I know managers have to say this kind of stuff to avoid been held to ransom etc, but it does my head in because a lot of what he has been saying recently sounds a lot like the stuff he said during last summer's transfer window and we all know what a complete mess that turned out to be. But I calmed down a little when I heard the news earlier that the club have definitely, probably, maybe bid £22million for Diego Costa Fortune. So I've had to park that blog as well because if the Costa bid is real then many of my brilliantly thought out points would be about as useless as a nuns tits!
But then I was reminded that this weekend see's Liverpool playing Olympiacos in the Steven Gerrard Testimonial and this has totally mellowed me out so I figured I'd pay tribute to the Great Man. As I began to write the words seemed somehow familiar so I dug deep into the Kopblog HQ vaults and found the below piece that I wrote back in November 28th 2006 titled, Is Captain Gerrard a Superhero? I kinda like this old blog as this was written when Gerrard was in his prime and it gives a little flavor of what we were talking about back in the day.
Is it a bird? Is it a plane? No, it's Captain Gerrard coming to save the day. I sometimes wonder if it's time for StevieG to start wearing his underpants outside of his trousers. It's amazing how, when things seem at their most desperate, it's often Captain Gerrard who arrives to pull our asses out of the fire and I'm beginning to think of him as our very own Superhero!
Saturday was yet another example. Man City came to Anfield for a draw and they set themselves up both tactically and physically to achieve that result, and for a long time it looked as if they would be successful in that regard. Although we enjoyed the lion's share of possession, we seemed to lack the pace and width in our attack to break them down. However, once again Captain Stevie rescues the situation by rocketing in a goal from outside the box to give us a hugely important three points.
There have been many examples of Captain Gerrard's super powers over the years. In the closing months of Houllier's last season when we faced a huge uphill task to get into the last CL qualifying spot, it was Captain Gerrard who almost single-handedly drove us to victory in those final games and got us into fourth spot. The following season, saw us once again in a desperate situation, when with the clock ticking down at Anfield we needed to score one more goal against Olympiacos to see us through to the next stage of the CL, and once again it was Captain Gerrard who saved the situation with a wonderful long range strike.
Perhaps, Istanbul provided us with his finest moment. 3-0 down at half time against AC Milan in the CL final, our cause seemed hopeless and we desperately needed some inspiration from somewhere in the second half. Again it was Captain Stevie who came to the rescue by scoring our first goal and driving us forward to victory in the greatest comeback the game has ever seen.
Last season's FA Cup final with West Ham was more of the same. Gerrard had already scored one and put in a wonderful pass to Cisse for our second but we still found ourselves mere moments from defeat. However, Captain Gerrard wasn't finished yet and from absolutely nowhere he scored a brilliant 40 yard thunderbolt to put us back on level terms and we went on to lift the cup after a penalty shoot-out.
These are just several high profile examples of Captain Stevie's super-powers but there are literally dozens of others. However, throughout the World Cup for England and for the most part of this season he hasn't been at his best. A number of reasons have been put forward for this, but whatever the cause, he has often played as if someone must have slipped some kryptonite into his tea.
Thankfully, there have been some good signs recently that his super-powers may be returning. This is of course great news for Reds fans as he is such a vitally important player for us. When we find ourselves in deep shit and Captain Stevie rescues us with a long-range thunderbolt or a brilliant pass, we are all absolutely delighted. So delighted in fact, that we often forget to examine why we were in deep shit in the first place!
Despite the fact that Rafa has assembled a fairly strong squad of players, I still feel that with the exception of Gerrard, we are still a little lightweight when it comes to real quality. We have a mixture of some good and very good players, and some others with great potential. But in terms of true top class quality, then beyond Gerrard, the cupboard looks pretty bare.
I know some people may disagree with that, but I think sometimes as supporters we have a tendency to overvalue the ability of our players. We tend to base our judgement of them on what they occasionally show they are capable of doing, rather than what they actually do on a regular basis. I am certain there will be much better things to come from this squad of players when things click into place in the remainder of the season. But if we were to judge things based on what we've seen from them so far this season, then it makes for pretty poor reading.
Despite all the extra strength brought into the squad over the summer, in my view the only players who have shown any type of consistency in their performances in the season so far are Carra, Agger, Sissoko, Kuyt and Crouch. For a team that had hopes of mounting a title challenge, this really is a pitiful small number. Unfortunately, injury has robbed us of Momo but thankfully in recent games Gerrard, Reina and even Zenden have also started to kick in with some good performances.
However, as I mentioned in a previous blog my real worry is in the wide areas. For a team who often plays with two wingers, the quality of our crosses from wide positions has really been deplorable. It would be easy to hang this all on our wingers but I think we must also have a look at our full-backs. Just as wingers are expected to get back and support their full-backs, I think in the modern game it is equally important for the full-backs to get forward whenever possible to support the winger.
Riise and Finnan are two favourites of mine but I don't think they've been getting forward in support as much as they should. Recently we enjoyed an incredible 80% of the possession against Middlesboring and couldn't find a way to break them down. On Saturday, again we enjoyed the lion's share of possession but in the end we had to rely on a Captain Stevie thunderbolt to win us the points.
In our next three league games we face Pompey, Wigan and Fulham. Just like against City and Boro, these are three sides against whom we will have most certainly have a huge amount of possession. In such circumstances our full backs have got to contribute more to the attack. We really should be hitting these sides like a Red tide with wave after wave of attack. Three wins in these games are well within our capability and could see us back in the top four.
My point is, superhero or not, we can't keep relying on Captain Gerrard to come to the rescue and pull our asses out of the fire. It's high time for some of our other players to get out of their comfort zones and take some responsibility. With all the teams around us dropping points, a little winning run now, against very beatable opponents, and we could very well find ourselves in 3rd spot by Christmas. That would be an incredible turnaround after our poor start to the season and a great opportunity to rub our critic's noses in it. If some of our players are truly worthy of wearing a Liverpool shirt, surely this should be all the motivation they need.
That was a blog from 7 years ago and yet it's amazing how some of the points are still relevant today. I wrote another blog many years ago where I picked my all-time Liverpool Top 10 players and on that list I had Gerrard at number 3 behind Kenny and Barnes but I've revised my opinions over the years and if I had to write that same list again today, Gerrard would most definitely be my number 1 and the first name on the team sheet of my all-time 11.
The reason for this is that while I've seen many, many great players wearing the Red shirt in my 40+ years of support, most of the other greats were playing in sides where they were surrounded by other great players. Gerrard on the hand has spent most of his Liverpool career often surrounded by average players, journeymen and complete clowns, but despite this he has still managed to shine as a World Class player, and as I pointed out in that old blog there have been many occasions where he has carried the team on his back.
We've all been guilty at times of taken him for granted but the guy is a bloody hero and a total Legend. Unfortunately he could well prove to be our last legend. We have some talented young lads in the squad now who may go on to become World Class players in their own right but you can bet if they do they will be off quicker than a brides nightie and with the club's current transfer policy seeming to be somewhere between penny-pinching and child abduction, I don't see too many Legends emerging in our future.
So this weekend let's celebrate the one Legend we've got left and I hope him and his family have a fantastic day. I also hope/pray he can give us another few seasons because I shudder to think where we would be without him. So as I asked in the title of that old blog, Is Captain Gerrard a Superhero? Don't talk daft, of course he bloody well is!
On a final note, can I say that it is with much regret that I am currently speaking to my legal team about a possible legal action against the club. Earlier this week the club released a list of banned words and phrases to its staff. But I was shocked to see that this list which by now has appeared in most national newspapers reads remarkably similar to one of my typical blogs, it's bloody plagiarism I tell you! Cheeky Bastards, I'll see you in court Mr. Ayre.
Keep the Faith