Liverpool's former Director of Football, Damien Comolli, says Luis Suarez's desire to leave for a Champions League club is completely understandable.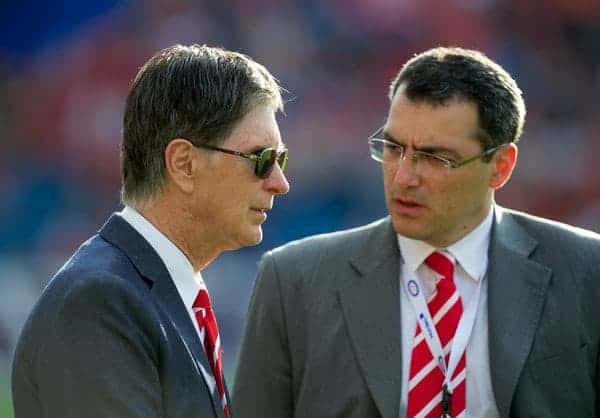 Comolli (above, right), who signed Suarez for £22.7million from Ajax in January 2011, described the Suarez transfer saga as a "messy situation".
When Comolli and then Reds manager Kenny Dalglish signed Suarez, Liverpool weren't playing in the Champions League, and didn't look like qualifying any time soon either.
The club he left, Ajax, were in fact in the Champions League that season, but had crashed out at the group stage by this point with Real Madrid and AC Milan progressing ahead of them.
Nevertheless, Ajax were back in the Champions League the next season as Dutch Champions.
So if Suarez wants Champions League football so badly, why did he leave Ajax for Liverpool?
Comolli says he and the other staff at Liverpool always knew it would be hard task to keep hold of the club's world-class players without Champions League football.
He told BBC Radio 5 Live, "When I was there, we knew it would be hard to keep players like Reina, Agger, Luis if we couldn't get into the Champions League. Luis is extremely ambitious and with all due respect to Liverpool, they're a top eight side, not top four like Arsenal."
This summer, Liverpool's lacking of qualification for the tournament saw them miss out on a priority transfer target.
Armenian international Henrikh Mkhitaryan left Shakhtar Donetsk for Borussia Dortmund – a kick in the teeth for Liverpool and Brendan Rodgers' transfer plans.
This week club captain Steven Gerrard revealed he had turned down the chance to move to Bayern Munich last summer, prompting many fans to compare his loyalty to the lack-of from Suarez.
However that would be unfair. Gerrard is at the later stages of his career, and only a few of years away from completing it as a one-club man. Furthermore, Gerrard is from Liverpool, has ties with the city, not least his wife and children.
Suarez, 26, meanwhile, is at a point in his career in which he, as a football player, needs to decide where to go.
Liverpool's former Managing Director, Christian Purslow, was also talking to the BBC about the saga on Sunday.
"It's disappointing as a follower of Liverpool that the player has so publicly and so early in the close season made it pretty clear that he would like to move on," said Purslow.
"I'm pretty realistic about these things and it's not that unusual for a player of that magnitude to want to play at Champions League level. That appears to be his motivation."