We get the thoughts of the This Is Anfield writers on what Liverpool should do next, and who they would like to see come in as a replacement for Luis Suarez when the inevitable happens.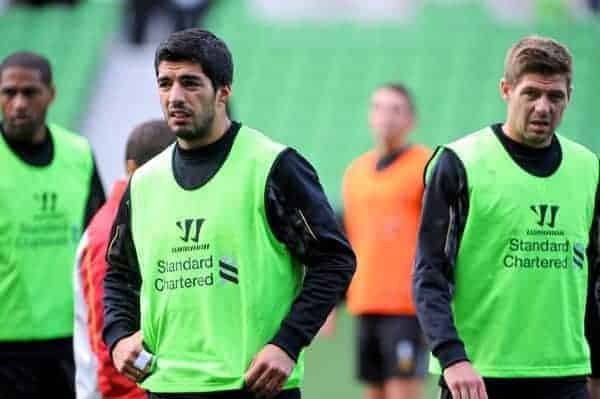 Ben Twelves:
Suarez is clearly hell-bent on leaving Anfield and is prepared to bulldoze his way through forcing a move regardless of the implications. Originally, selling him abroad was my preferred choice but with no apparent interest from Europe's giants and not wanting an unhappy or disruptive player anywhere near the club, a painful transfer to Arsenal is becoming more palatable.

We must be looking to bring in around £45million with add-ons at a minimum. A cash-plus-player deal doesn't inspire me, especially when looking at the realistic options from Arsenal that Arsene Wenger would part with.

The funds received should firstly go towards adding goals and creativity in attacking midfield areas and personally I'd look at signing Erik Lamela from Roma. The exciting Iker Muniain from Atletic Bilbao is also a player I'd love to see at Anfield. The goals would need replacing however and potential striking options that should be considered are Porto's Jackson Martinez, Alvaro Morata of Real Madrid and Benfica's Rodrigo.
↓
John Ritchie:
Liverpool are faced with a dilemma just now. 'Set him free' or stay strong; refuse to sell to a rival and send out a very public message that Liverpool wont be held to ransom by players – even those with the obvious footballing class of Luis Suarez. All too often we hear the slogan 'We're Liverpool, there's no one person bigger than the club' yet here we are with a player trying to force a move away, and doing it in a vile manner which has caused outrage.

Liverpool should hold on until a foreign club comes in with an offer that matches the clubs valuation There's no way we can sell to a domestic rival. That would be suicide for our top 4 ambitions over the next one or two seasons.

If we were to sell, I'd want Liverpool to look towards Serie A for players such as Eric Lamela and Luis Muriel. Both players are on the verge of becoming wonderful footballers and both have the flare to be a Brendan Rodgers player. For an out and out replacement then maybe Liverpool should cast their eye to Leandro Damiao. He would be devastating alongside Sturridge, Coutinho, Aspas and, if Liverpool sign him, Diego Costa. That's a mouth watering attacking proposition good enough to grace any side in the top of the premier league.
↓
Marco Lopes:
Ultimately, I see 3 scenarios that Liverpool could chase, all with their various risks and advantages. I still believe the club has handled the affair well. Given that Suarez hasn't followed the right process and has run to the media like a petulant crybaby instead of being professional and sticking a transfer request in from the beginning, his attempts to force Liverpool into a corner may force a reduction in his asking price. But even if it does, Liverpool must not sell on terms that aren't acceptable to them.

Scenario 1 – Liverpool play hardball – sticking to the principle that Suarez will not be sold to a direct rival, but rather to a club abroad, for a fee of £50m or above (player swap deal not essential, but possibly desired). Suarez is naïve if he thinks Arsenal aren't a problem for Liverpool to sell to. I'd sell to Chelsea or Man City with little fuss if they were interested since they're likely to finish above Liverpool without Suarez anyway. Selling to Arsenal poses a risk because they are one of (arguably) three teams Liverpool needs to fight against directly for a Champions League place.

Liverpool could stick to their position and not sell to Arsenal at any price. This risks the player going down the legal route, but with the end of the window not far off, Suarez runs the very real risk that he could end up suspended without pay, not playing any football and facing a move only in January. We also have to consider the precedent in terms of the case of Gabriel Heinze, a recent example in which a player took on his club legally to force a move – and lost.

Scenario 2 is actually growing on me, and becomes my choice only if a club abroad does not come in at a reasonable price. If no club abroad comes in, or they come in with a lower price then negotiate with Arsenal. They can't have it all their way and they need to realise thT Liverpool have little interest in strengthening a direct competitor – Wenger's big on business, so he should understand that.

I would insist on swap deals involving at least £35m + Walcott (because that replaces the attacking gap in the Liverpool squad), or Monreal (because he's easily an improvement on Enrique).

Scenario 3 is simple. Sell him to Arsenal. Start insisting for the stated price of £55m. The issue with this option is that his actions have affected the leverage Liverpool have over setting the asking price, so it's an issue in being able to protect the full value Liverpool want from the transfer. The other issue is that there are only two winners in that deal – Arsenal and Suarez. As the Torres and Carroll transfers proved, having a big stack of money doesn't guarantee that it will be spent in such a way that strengthens the squad.

In order, my preference is scenario 1, then 2. I wouldn't sell to Arsenal if we received no players in return.

Regardless, whatever option becomes taken above, my targets would be players who possibly come in to fill roles that aren't successfully filled by the targets the club are currently chasing – specifically Diego Costa, Kyriakos Padadopoulos and Aly Cissokho – or other positions of weakness. As cover or an alternative to Coutinho or someone who can play in the front three, Adem Ljacic is a fantastic idea as a player with some attacking midfield ability.
↓
Aaron Cutler
This situation has become extremely volatile for all parties. Ultimately Suarez, however this is eventually resolved, has shown Liverpool a blatant lack of respect and therefore tarnished his reputation. That in itself is upsetting because, for all his baggage, he is an incredible player.

Few Reds would begrudge him a move to Real, a club with realistic Champions League ambitions. Some may even have swallowed his diatribe about the media forcing a re-think at the beginning of the summer. But any sympathy or understanding went out of the window as soon as Arsenal came on the scene.

Since such time the Uruguayan has been whoring himself about like a sex depraved singleton. It is cheap, disrespectful and desperate.

As it stands this face-off is delicately poised. To this point the club and Brendan Rodgers in particular have acted admirably. Yesterday's confirmation that a bid of £40m+ does not demand a sale strengthens our hand further still. Why sell your best player for mere pittance? Pittance of course in a market where Gareth Bale is valued at £100m.

On the one hand many will now want rid of an irritant who has disrespected his manager, teammates and fans. But with one offer on the table we cannot… we must not. Under no circumstances can we sell to Arsenal, it would be suicidal and a symbolic admission that we are a fallen giant. Unless big money is tabled from a foreign force we need to dig our heels in and remain unmoved by the Suarez exit strategy.

He may prove disruptive and the cause of countless headlines between now and January but Liverpool must take that risk. And I think they will. The additional £1 offer from Arsenal was provocative and an attempt at rubbing our noses in it. Though many Gunners celebrated the bid it has ultimately backfired, hardening our resolve. We have held out until now and unless Madrid come along and ease everyone's pain, we should continue to do so.