In his first piece for This Is Anfield, Neil Collins discusses the crazy 90 minutes of Swansea 2-2 Liverpool on Monday night.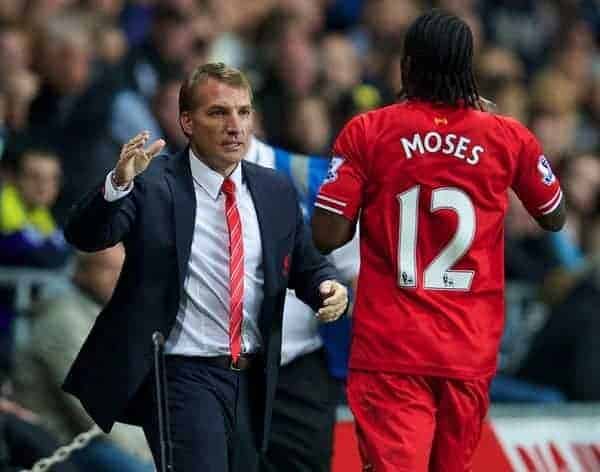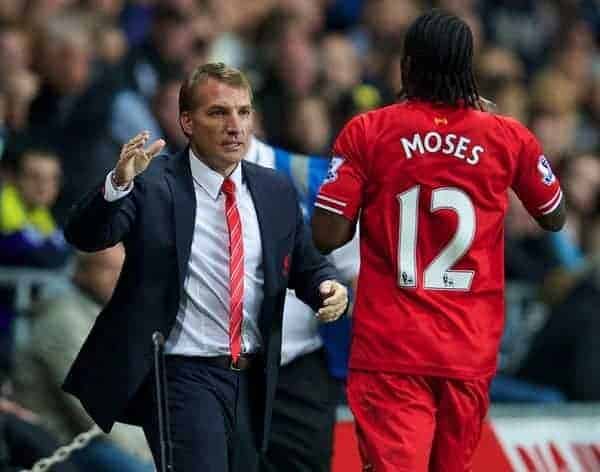 Swansea 2-2 Liverpool
Monday, 16th September 2013
As Scouse band Echo and the Bunnymen once sang 'nothing lasts forever.' Even so, it's still a shame to surrender our 100% record in a game that we were in control of for the first hour. Yet, in the end we left South Wales with our tails between our legs as Swansea almost turned us over. Michael Laudrup's men incredibly enjoyed 70% possession in the second half as Rodgers' Reds struggled to string two passes together. After such a bright start to the campaign, I was left with that familiar sinking feeling at the final whistle. Last season we produced a great display to beat Spurs at Anfield, but were woeful the following week at Southampton. Last night we replicated both sides of our nature with a truly Jekyll & Hyde performance. Likewise, it had to be Jonjo Shelvey who grabbed all the headlines; albeit with an equally unpredictable display.
It seems like an eternity since our last game against the Mancs. I HATE the international break. Unless it's the actual World Cup or Euro tournaments, I can't generate any enthusiasm. As a Welshman, there's nothing exciting about watching your team get their arses handed to them by the mighty Macedonia, whilst the world's most expensive player lounges on the bench. And that England game in Ukraine was one of the worst I've ever seen.
Anyways, Rodgers handed debuts to new arrivals Mamadou Sakho at the heart of the defence, and Victor Moses on the left of an attacking three alongside Coutinho and Henderson behind Sturridge. Touré started on the bench as he was slightly short of match fitness following the injury sustained against Notts County. Yet, I was pleased to see Škrtel given another chance in his place as he hardly gave van Persie an inch two weeks ago. I was slightly worried with Wisdom starting at right-back as he's looked shaky of late, and my concerns were proved correct as he struggled to get to grips with Routledge and Davies all night. Johnson's injury isn't as bad as initially thought, so hopefully he can return quickly as we're short on quality natural right-backs with Kelly still struggling for fitness. Elsewhere the team was the same as in the last three league games, but with Aspas dropping to the bench following some mediocre showings. This demotion allowed Coutinho to move into his most effective central position.
Meanwhile, Michael Laudrup opted for an attacking line-up spearheaded by summer signing Wifried Bony, with danger-man Michu floating in just behind. Either side of the Spaniard were pacy wingers Routledge and Dyer, whilst Leon Britton was paired with ex-Red Shelvey in central midfield. Much like against the Mancs both teams selected identical 4-2-3-1 formations, so I wondered whether the sides would cancel each other out; especially as two out of four league games against the Swans have ended goalless.
There were ugly scenes before kick-off though…as Jonjo came out to warm up! BOOM! You may have heard that one before, but it's versatile enough to use in a myriad of different scenarios. Joleon Lescott getting off the team bus. Wayne Rooney rocking out his new headband. John Terry sneaking out of Wayne Bridge's bedroom (ok, that last one wasn't the most contemporary reference, but I couldn't resist!) I thought of that Shelvey line on the spot as he was doing thrusts, and patted myself on the back for a job well done. But I wasn't laughing a few minutes later.
That terrible mix-tape that Swansea insist on playing pre-match had barely finished when Shelvey broke the deadlock. He began the game like a man possessed and seemed adamant about making us rue the decision to offload him. The 21-year-old started the move too with a mishit volley that wrong-footed Gerrard on the edge of the box. Yet, he quickly regained his composure to glide easily passed Sakho and get a shot away that was blocked by Škrtel. I was stood in the second row dead in line with Shelvey as he hit the rebound and I knew it was destined for the net. Sakho hesitated for a second and by the time Škrtel had regained his feet, Shelvey had coolly lifted his left-footed effort over Mignolet. After surviving over 270 minutes of football without conceding, the Reds lasted just 87 seconds of this game. It was the quickest Premier League goal of the season too. And I feared that more may be on the way as the fledgling partnership of Sakho and Škrtel was already showing signs of weakness. Shelvey didn't take any notice of the 'not celebrating against former clubs' etiquette as practised by Sturridge though. That 'hand-goggles' thing he does has got to be the worst celebration ever. Apparently it's to take the piss out of his brother who wears glasses; much like a huge chunk of the population does. Yet, you would swear the guy has two heads the way Jonjo goes on!? In fairness, he did hold his hands up in apology to the Liverpool fans camped behind the goal.
However, he was holding up his hands to apologise to his teammates a couple of minutes later when he gifted Liverpool an immediate equaliser. Once Swansea take the lead at the Liberty, they can be a very tough nut to crack considering their possession football and raucous support. Yet, the old adage of never being more at risk than when you've just scored came true. I'm not sure if Shelvey was still revelling in his first goal for the Swans, but he was certainly careless in his back-pass to Michel Vorm. He simply didn't notice that Sturridge had lingered in the box, and the striker was on it in a flash to blast into the bottom left corner just 99 seconds after the opening goal. Shelvey looked mortified as he hid his head in his hands, but it can even happen to the best players. Gerrard has come unstuck in the past with Drogba and Thierry Henry (twice with the latter for Liverpool and England), whilst Škrtel and Carragher both came a cropper against Man City and Zenit last season.
Sturridge's anticipation was amazing as he seemed to know where Shelvey was going to kick it before the midfielder had even dinked it back to the keeper. That's 17 goals in 21 appearances for him now, including 12 in his last 10 league and cup games. He's the first Liverpool player since John Aldridge in 1987 to score in the opening four league games. However, Sturridge still has some ground to make up if he wants to match Aldo's record of finding the net in the first eight fixtures.
Laudrup had a bit of a moan pre-game about Sturridge not being fit for England, but then being available for selection for Liverpool. He even claimed that there was a rule prohibiting a player from inclusion in his club's squad if he had been unavailable for his country a few days previously. I find it baffling how Sturridge would feign injury for England with the World Cup looming next summer. Plus, when Sturridge comes out after the Man United game and admits he was scared to shoot during the match because of his sore ankle; he's not going to be joking is he? Remember, Sturridge's only played in one of our pre-season games and had been functioning on 70% fitness throughout the first four competitive ones. Obviously Laudrup was a fantastic player who's been able to implement his own attractive football on his side, and he seems like a good guy. But he's gone down slightly in my estimation for this stab at mind games. If he was trying to put Sturridge off his game, it produced the absolute opposite effect as the striker picked up a goal and was a live wire up front (in the first half at least).
Following the equaliser Liverpool had two corners in quick succession, but the Swans dealt with both of Gerrard's deliveries, whilst Coutinho forced a routine save out of Vorm after a one-two with Henderson. Swansea surged back moments later when Bony's deflected drive was pounced upon by Mignolet, who did well to hold onto the shot with the Ivorian and Michu lurking for a rebound.
The opening proceedings were played at a relentless speed as both sides went at each other hammer and tongs. Liverpool were pressing high up the pitch. Conversely, Swansea were content to allow the visitors possession in their own half, but then swarmed amongst the Reds midfield as soon as they crossed the halfway line.
On 13 minutes, Liverpool managed to thrash a way through the congested central area when Gerrard found Sturridge in the area. And the in-form striker was in no mood to pass up the opportunity as he writhed clear of Williams and Flores, but his shot from a narrow angle flew over the bar. As I've said before, Sturridge can be a bit greedy at times and he had better options flooding into the box.
Down the other end Shelvey was keen to make amends for his error with a shot from distance, but he leaned back too much and it sailed into the stands. The build-up deserved better as Dyer had crossed flanks and linked superbly with Davies, and the Reds were definitely let off the hook by the Londoner's wayward effort. Two minutes later Gerrard whipped a corner to Wisdom, who headed harmlessly over, whilst Davies blocked Henderson's first-time shot after a dummy from Sturridge.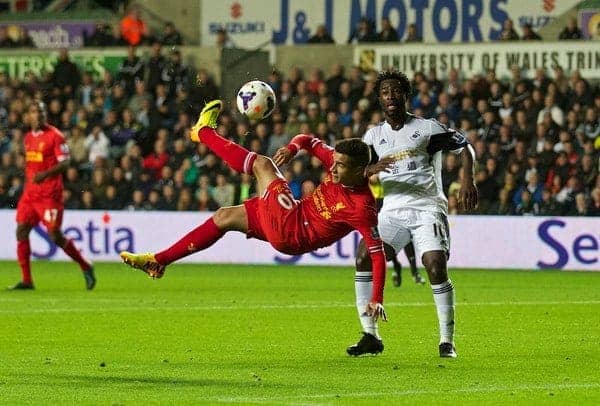 Liverpool then began to turn the screw as more chances were carved out. Moses was seeing plenty of the ball down the left, and his trickery got the better of Dyer and Rangel as he delivered a cross into the six-yard box. Yet, it was slightly behind Sturridge so perhaps he couldn't generate the power he wanted. Regardless, Vorm still pulled off an instinctive point-blank save to prevent a certain goal. Four minutes later Rangel tried to out-do Shelvey with another horrific back-pass which almost presented Moses with a sitter, but the Swansea defence managed to shepherd the ball clear in the nick of time.
I'm a big fan of Michu, but Bony was looking like the host's biggest threat especially as Rangel and Davies were drilling balls from the flanks into him. Firstly, the Swansea No.10 combined with Michu, but couldn't get the ball out of his feet quickly enough meaning his shot bobbled towards Mignolet's grasp. And from the next attack Routledge fed Davies, who burst down the left and drove a ball towards Bony. But the cross was a bit behind the striker who's shot blazed over on the turn. The 20-year-old Welshman may not have got his cross right, but in Ben Davies Swansea have developed one of the best young left-backs in the league. He attacks with pace and has the odd goal in him, and portrays a player with more experience than his one senior season.
Nevertheless, the Reds weathered the storm during a 10-minute period where Swansea enjoyed a remarkable 72% possession. And the hosts would've been gutted to concede a second goal against the run of play; especially Shelvey who was at fault again. Under no pressure the midfielder miscued a simple pass straight into the path of Moses, who sprinted clear and buried a shot passed a stranded Vorm into the bottom left corner. Shelvey's teammates were partly to blame too because the goalie's positioning wasn't the best, but his defenders kept backing off as Moses charged at them. The Nigerian was full of pace and power on the counter throughout the opening 45 minutes before tiring in the second half as the Reds were penned in and he was starved of supply. I was speaking to a Chelsea fan yesterday who was amazed that Mourinho has chosen not to pick him even out wide; let alone allowing him to come to us. His strike rate at Palace and Wigan wasn't very good, but he impressed in his year at Stamford Bridge; scoring 10 goals in 43 appearances. And the Liberty is definitely his lucky ground as he scored his only league goal for them at the same venue last November in a 1-1 draw. He looked particularly flash last night too wearing a pair of radiant red boots, which probably could've been seen from the full moon high above the stadium. In fact, they were even brighter than the steward's jacket who came and stood under my nose after a couple of lads in front of me jumped the barrier after his goal. Even though it went in down the other end of the field.
Yet, Liverpool almost relinquished their lead immediately; just like Swansea did earlier. Mignolet made diving stops from Michu and Dyer, but on the second occasion the ball trickled to Bony practically a yard out. Škrtel robbed him of an inevitable tap-in though with a brilliant sliding tackle to divert the ball wide of the goal-line. The Slovak was in similarly gutsy form to what he demonstrated against the Mancs, whilst Sakho was particularly commanding in the air. However, there was still time for another nervy moment before the break as Rangel found space on the right, and his cross-shot fizzed across the face of goal. It almost deceived Mignolet at the far post and the slightest contact on it would've resulted in an equaliser. A cheer went up from the away end too as a snippet of that bloody mix-tape came on in the dying seconds of the half. They literally can't wait to get that pumping. Swansea also have the loudest tannoy system in the world. I tried to have a conversation on my mobile at half-time, but gave up the ghost after about 10 seconds. We could do with one of them super-duper ghetto blasters at Anfield as George Sephton sounds like he's talking from the bottom of a well at times.
One last observation – Swansea's ballboys are disappointingly young this season. Before you have any more time to dwell on the weirdness of that last sentence, let me explain! Remember the 'world's oldest ballboy' who got kicked in the gut by Eden Hazard? Well, unfortunately he was nowhere to be seen, but in his place were a series of startled-looking and less entertaining kids. And they were all overly keen on throwing the ball back immediately. Rewind to last January and Swansea had this beaver-like kid who laid down on the ball like a beached whale. And that was after he'd boasted on Twitter before the game that he would purposely waste time. In my opinion, he deserved to get punted up into the air. I would've dropped the elbow on him as well. I'm surprised Vince McMahon never called him up for a spot in the wrestling with play-acting like that too. Most unforgivable though was the fact that this boy was 17…SEVENTEEN?! That's old enough to father the team mascot in Swansea! Sorry, I had to get in a derogatory joke as a Cardiff boy…Anyways he's the son of a director at the club and over the summer he put the jacket he was wearing that night up for charity auction. Ok, it's for a good cause but who in their right mind would buy a ballboy's coat (signed by the lad himself) when you can buy the same one from the club-shop for a fraction of the price?! Well, you'll be staggered to learn that the auction ended on eBay in July with a whopping winning bid of £28,600 (plus £7.95 standard delivery). Yeah, I know!? I found the postage expensive too.
Coming off Shelvey looked distraught as teammates came over to reassure him. I must admit I did feel a little bit sorry for him. But then again he scored one and set one up later on, so he still cost us a win. The home support was chanting his name after his early goal, but the away end was then mockingly singing his praises following his two cock-ups, which was a bit cruel really. Yes, his tackling was a bit wild for us, and as we've seen in this game his passing is erratic. But people forget that despite signing for us back in 2010, he's still only 21. I think he always tried his best for Liverpool (even if he didn't always hit the heights) and he had an eye for goal. In his pre-match interviews he said that Rodgers was prepared to keep him, and Gerrard (his old next door neighbour, no less) advised him to stay. Yet, hats off to him for having the balls to seek regular first team football rather than collect a wage at a big club. He may not have produced the most elegant displays for us, but only his performances against Stoke and West Brom last season stick out in my mind as really bad. You can't fault his passion for the game either in that he was still dwelling on his mistakes after the game despite having a massive hand in his side claiming a point.
I floated back to my seat for the second half high on the fumes of some serious herb going down behind a fug of smoke in the bogs. At least the smell of weed masked the stench of stale beer farts that permeated the air during the first half; with people's reactions to said farts rippling through the crowd like a Mexican Wave.
The first half was a great watch for the neutral, but I was hoping we would close the game out in a similar manner to the Villa and United matches. In an action-packed opening period there were 18 shots; 10 for Swansea and eight for Liverpool. I was expecting us to have to absorb some early pressure once again, but was also hoping that Coutinho would be able to unlock their defence on the counter. However, my anticipation of a killer third goal proved unfounded as the Reds infuriatingly sat too deep for the entire second half.
Laudrup blinked first by bringing on de Guzmán for Dyer. I was surprised that the Dutchman didn't start but Britton's ball retention is exceptional, and Laudrup must be given credit for going with two up front instead of packing the midfield. He may be ruing the decision to have started with Shelvey instead of de Guzmán now though! Dyer didn't have his most effective game, but he would still have been disappointed at being hooked as the combined pace of him, Routledge, Rangel and Davies was causing Liverpool problems down the flanks. Swansea have done well to secure de Guzmán (a skilful attacking midfielder) on another season-long loan from Villarreal after an impressive first year. You may remember he scored the third goal against us at Anfield as we crashed out of the League Cup last season. Or considering how inept we were that night, you may have chosen to blank it from your memory?
Four minutes into the second half, Ashley Williams became the first player to be booked following a high tackle on Countinho. A few moments earlier, the Swansea captain had an altercation with Henderson and I think in the aftermath our midfielder flicked a "2-1" gesture with his hands at the home support. He was made to regret that one later on.
In the subsequent melee, Gerrard whipped a perfect ball into the box towards Henderson, who sliced across goal; inadvertently finding Wisdom who very nearly forced home the loose ball. The turning point of the game followed moments later as Coutinho limped off suffering the after-effects of Williams' clumsy tackle. The defender knew what he was doing leaving his foot in too. Bear in mind this is guy who almost killed poor Robin van Persie. And just two days before Christmas too. Dear God, does Ashley Williams not have a heart? Fergie had to leave out his sickly Red Robin on Boxing Day too because it was raining and his striker could've drowned
Rodgers replaced Coutinho with Aspas, and it was at this point that Liverpool lost all sense of shape and urgency. Even more baffling was the boss' decision to move the Spaniard central and shift Sturridge out to the right. Why would Rodgers put 5ft 9in Aspas up against a brick like Ashley Williams? And despite his camp name, Chico Flores is hardly Wayne Sleep is he? To say that Aspas is lightweight is an understatement. He makes Yossi Benayoun look like big Jan Mølby. I was astonished to see how rake-thin Aspas was when he ran into the area. He requires some timber quick, and he looks like he's desperately in need of one of my mam's dinners. Seriously, his arms and legs are like pipe cleaners. If you're on the short side as an attacker, it's useful if you're blessed with explosive pace like Sterling or Michael Owen back in the day. He may have had a decent pre-season but he's faded quickly since and his toothless display last night when we needed his fresh legs pissed me off. He more or less, snatched an effort off Sturridge with the last kick of the game too, but got tackled before he could get a shot in. At least Sturridge packs a bit of muscle and Rodgers quickly moved him back central after Aspas did sweet F.A. Even the inexperienced Luis Alberto may have been a better option to bring on as it least he's a six-footer. Admittedly, half of that length is taken up by his pencil-head though.
Perhaps I'm being a tad unfair to Aspas and Alberto as it's such early days (especially in the case of the latter who I've just read has scored a hat-trick in an Under-21s game with Sunderland tonight). But I would've preferred to persevere with Fabio Borini, who after two major injury setbacks was showing signs of sharpness at the end of last season and in Euro Under-21s tournament. I've got a couple of mates who are Swansea fans and they speak very highly of the Italian, who had a successful loan spell with them in 2011 (scoring six goals in nine appearances), so I hope we haven't seen the last of him. I may be in the minority here, but we've persisted with worse strikers in the last few years. Think Voronin, N'Gog and Le Tallec… *wipes an outbreak of cold sweat from brow*
With the exit of the Brazilian playmaker, Swansea upped the tempo once more and switched into full 'Swanselona' mode around the hour-mark as the Reds' energy levels became sapped from chasing shadows. By the end of the game Swansea had completed nearly 200 more passes than Liverpool (628 to 432) with an 88% accuracy. The atmosphere cranked up a few more notches too as the hosts gained a foothold. And the home crowd was suddenly all over the ref and a sarcastic cheer went up when a call went their way. I'm not really sure what all the uproar was about to be honest as Williams' tackle on Coutinho was a certain yellow card. Plus, Michael Oliver booked both Lucas and Shelvey for their parts in a petty squabble over a restart, so there can be no real complaints there neither. Henderson was cautioned five minutes later as well.
A pocket of support in the corner next to the Liverpool fans was unrelenting in chants of 'Michael Laudrup's Barmy Army' carried along by an incessant drumbeat, in addition to the occasional cheeky dig at their old manager. They still insist on singing 'Hymns and Arias' though, which is a rugby song; NOT a football song. Nevertheless, they sensed the tide was turning and the equaliser duly arrived on 64 minutes with Shelvey at the heart of the move for the fourth time in the evening. His deft flick of the head from Britton's chip cushioned the ball into the path of Michu, who slotted into the bottom left corner. The home crowd sang, "Miguel Michu, he scores when he wants", but that should perhaps be changed to "he scores when he can be arsed" as that was his first league goal of the season. A slow start by his standards, but huge credit to the scout who spotted him at Rayo Vallecano. £2m for one of the best strikers in the Premier League was an absolute steal especially as Arsenal reportedly offered well over 10 times that total for him in the summer. I still hate that celebration though, which Diomansy Kamara was randomly doing years ago anyway.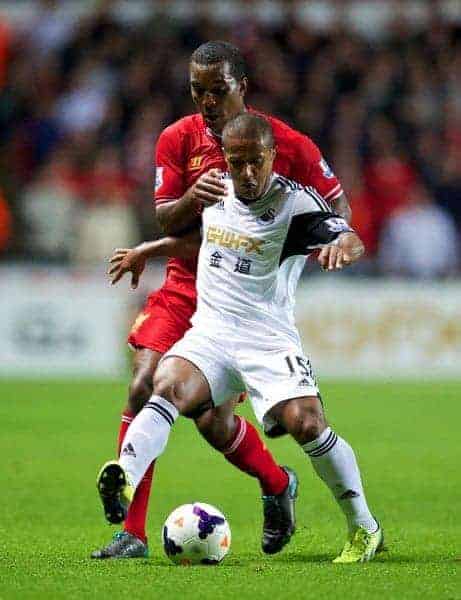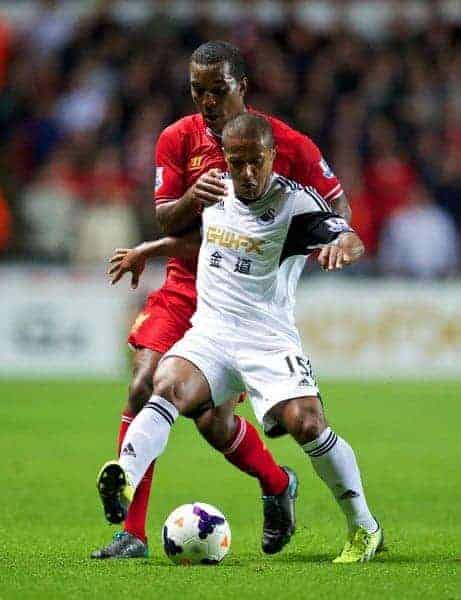 Liverpool were reeling and Wisdom was the third Reds player booked after he clattered Davies on the left after the Welshman had bettered him for pace. Within three minutes he was hooked for the far more defensively steady Touré, who was forced into an unfamiliar right-back role. Likewise, Swansea made a change bringing on new signing Alejandro Pozuelo for Bony, who got smashed in the back by Mignolet's knee as the keeper punched away de Guzmán's cross.
Pozuelo was straight into the action, but Sakho halted the Spaniard in his tracks with an expertly timed interception. Then Lucas needlessly barged into de Guzmán within shooting range and I feared that a second yellow would be shown, but a free-kick was deemed sufficient. Shelvey was determined to score again, and Mignolet had to carefully watch his driven set-piece all the way before holding onto it.
The pace of the entire game dictated that the players would fatigue eventually and that was particularly true in the closing quarter-hour as both sides had tired efforts at goal. Michu spurned Enrique's headed clearance wide on the volley, whilst Gerrard wastefully chipped a free-kick over.
Rodgers' final throw of the dice was to replace Moses with Sterling. I was pleased to see Rodgers go for the win by injecting pace into our stagnant counter-attacks instead of consolidating the line-up defensively by bringing on Kelly. Unfortunately, Sterling was introduced too late to have any impact and it was Swansea who still looked the most likely to snatch victory. And it was the substitute who almost cost us when he brought down Rangel just outside the area. We've become accustomed to late heroics from Mignolet in recent weeks and this occasion was no different as he excellently palmed de Guzmán's free-kick around the post. The Belgian then fisted the subsequent corner clear as the game entered injury time.
A collective groan went up around me when the fourth official indicated a minimum of five additional minutes, but I hoped it would spur us forward for one last chance. And practically on the final whistle both Sturridge and Aspas closed in on goal.
Unfortunately, they were practically trodding on each other toes and if one of them could've altered their run into a central position we could have grabbed a winner. But if my auntie had bollocks, she'd be my uncle. Flores got across with a magnificent last-ditch tackle on Aspas, and the match ended all square.
Sturridge and Henderson were hunched over for ages at the end, dejected that they weren't able to snatch a late winner. The bloke next to me was shouting to them "heads up guys", but I think in a way it's encouraging to see our players so frustrated at not picking up maximum points when a draw was probably a fair result. In my opinion, Rodgers has done a fine job in getting rid of high profile players on big salaries who had become complacent or simply weren't good enough. And he's replaced them with skilful ones who have high work rates and the versatility to change positions throughout matches as required. Also, the way Rodgers laid down the law to Suárez over the summer and dug his heels in over a transfer was expertly handled especially in an age of unrivalled player power. It's no coincidence that the boss has begun emphasising that there is no main man in the squad when the Uruguayan is due to return after the Southampton game. That ban has gone quickly and the team has got by admirably in his prolonged absence. Suárez shouldn't just be slotted straight into that central position because Sturridge's goalscoring and attitude has been first class ever since he arrived in January. Interestingly, the Swansea fans had a chant with the same tune as Suarez's song. Yet, other than an isolated voice or two, no Liverpool fans took up our version on behalf of the striker. It will be intriguing to see the reaction Suárez receives on his comeback, but football is a fickle game and if he scores a winner against the Mancs in the cup he will go a long way to being forgiven.
You could say that our Man of the Match was Shelvey who showed his pretty and ugly sides (no, I'm not going to make another joke here…It would be like tapping in an open goal and he had a bad enough night anyway!) Therefore, I'm going for Sturridge as our star man once again. His movement all night was outstanding, and even when he didn't receive so much of the ball in the second half he dropped into areas where he could obtain it. He moved out wide late on and still caused a threat, which says to me that both him and Suárez can be accommodated into the front three despite what pundits may say. And he just looks like scoring every time he gets a sight on goal. Special mentions must also go to Škrtel who has played his way back into first-team contention with his last couple of displays, and Mignolet who got us out of jail again with late saves. On the other hand, Sakho had an uncomfortable debut. Shelvey got passed him far too easily with a simple drop of the shoulder for the first goal after he had failed to clear initially, and then he was slow to cover for the grounded Škrtel. Plus, he was out of position for Michu's goal. Wisdom was definitely the weak link in the team, whilst Gerrard (on his 400th appearance as Liverpool captain) wasn't at his influential best and failed to track Shelvey's run for Swansea's second.
Likewise, Coutinho was strangely subdued and he hasn't been firing on all cylinders this season. However, he's crucial for us in finding space in the attacking midfield zone. And even with him having a quiet match, our game-plan went out of the window as soon as he was brought off. After the game Rodgers said, "Probably young Coutinho going off disrupted the flow of our game. They obviously got the second goal, which we could have defended better on, and in the last 20-25 minutes they had the momentum and the crowd were up, so we had to show our resilience and character. We did that." Let's hope that Coutinho's shoulder injury isn't a serious one…
A point at the Liberty is not to be sniffed at especially as we were under the cosh for the entire second half. On another day (and without two gift-wrapped goals from an opposition player), we would've lost this game. Swansea definitely deserved something out of this game and I predicted a 1-1 draw, so I'll take this result. Picking up any points when you're not playing well is vital, but I'm hoping our second half performance will act as a wake-up call. Rodgers seemed content enough in his post-match interview, but I would like to think he gave them a bit of a stern warning too. It's pointless haring out of the traps in the first half and then sitting back completely in the second. Yet, the stats speak for themselves – we haven't scored a goal in the second half of a league game this season. And the fact that we've scored only five in four games demonstrates that we haven't got enough goals to be out of sight by half-time in matches.
We've started well and it's crucial that we don't let signs of complacency creep in. Southampton at home is exactly the kind of game we need next to gauge where we are. I didn't agree with them sacking Nigel Adkins last season, but Mauricio Pochettino has transformed them into a bit of a surprise package. Saturday's game could be a banana skin as we only beat them 1-0 at Anfield last season, and were embarrassed 3-1 away when we went to St Mary's thinking we could win without trying. Plus, Rickie Lambert is in fine form for club and country. Yet, I think providing we reproduce our first half performance against Swansea and are prepared to be patient; then Southampton won't cause us too much trouble. I'm predicting a 2-0 win.
Starting XI: Vorm, Rangel, Flores, Williams, Davies, Britton, Shelvey, Michu, Dyer (de Guzmán 46), Routledge, Bony (Pozuelo 66).
Subs Not Used: Tremmel, Amat, Tiendalli, Cañas, Vázquez.
Goals: Shelvey (2), Michu (64).
Booked: Williams (49), Shelvey (55).
Liverpool 2
Starting XI: Mignolet, Wisdom (Touré 69), Škrtel, Sakho, Enrique, Lucas, Gerrard, Henderson, Coutinho (Aspas 55), Moses (Sterling 81), Sturridge.
Subs Not Used: Jones, Alberto, Ibe, Kelly.
Goals: Sturridge (4), Moses (36).
Booked: Lucas (55), Henderson (60), Wisdom (66).
LFC Man of the Match: Daniel Sturridge.