Liverpool returned to the top of the Premier League and continued their unbeaten start to the season, but dropped their first points of the campaign and struggled in the second half.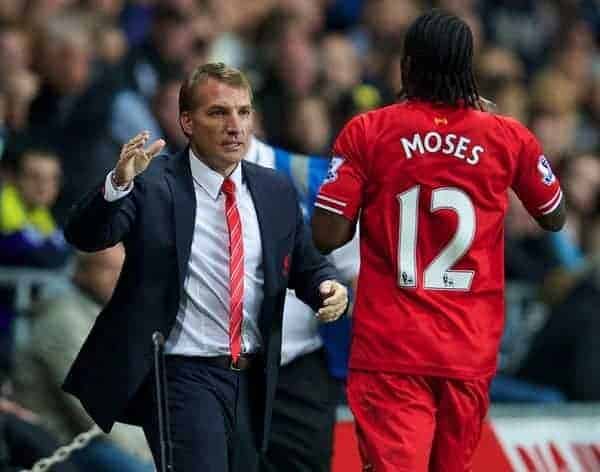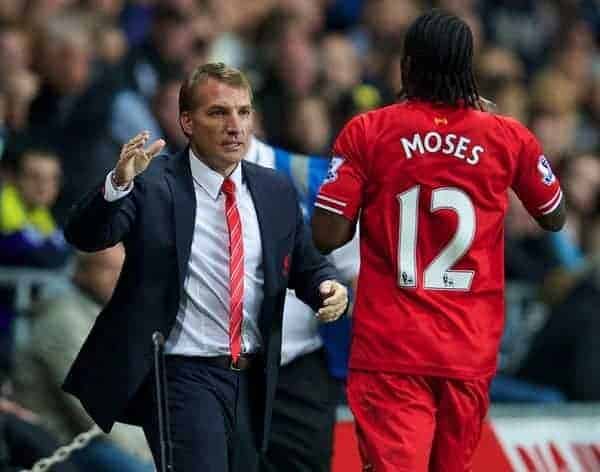 Here's the best of the reactions:
Positives- Moses/Sakho will be good. Unbeaten. Top of league. Luis back soon. Negatives- Aspas. Really miss Glenjo. Coutinho injury. Fitness

— Matthew Sproston (@spros1) September 16, 2013
A big difference for me is that last season a point at Swansea felt like a victory, now it feels like a defeat.

— Thomas McMahon (@TomMc_Sports) September 16, 2013
Match of the Day pundit Gary Lineker praised the mental strength of Jonjo Shelvey – who had a hand in all four goals (Jamie Carragher joked on Monday Night Football – "Without him it was 0-0"):
Nice words from Jonjo Shelvey in his post match interview. He should hold his head high having showed great mental strength in the 2nd half.

— Gary Lineker (@GaryLineker) September 16, 2013
Some referenced the fact that Liverpool are yet to score in the second half this season – with their performances dropping dramatically after half-time.
Playing for half a game in every game and #LFC are top of the league. What will happen when we play a full 90?

— AnfieldIndex (@AnfieldIndex) September 16, 2013
We cannot defend so deep in the 2nd half of games

— Phil Thompson (@Phil_Thompson4) September 16, 2013
The Reds were much less effective after Philippe Coutinho was replaced by Iago Aspas, as demonstrated by FourFourTwo Stats Zone:
Liverpool's final third passes before and after Coutinho was subbed off on 55 mins (48 completed before, 4 after) pic.twitter.com/XWJClPHo7f

— FourFourTwo (@FourFourTwo) September 16, 2013
This is why we fell back in the second half. Coutinho opened them up completing 14-19 attacking third passes. pic.twitter.com/hcYRLwuKyT

— Ritchie (@JohnRitchie84) September 16, 2013
Coutinho was replaced by Aspas – who struggled to get into the game. Many noted how the Spaniard doesn't seem physically capable of playing centrally:
Iago Aspas doesn't look familiar at all in that position, would look much better up top or wide, don't judge him yet, could still be useful!

— LFCTS (@LFCTS) September 16, 2013
Jamie Carragher provided a superb analysis of Swansea's second goal on Monday Night Football:
Absolutely superb analysis by Carra on the second goal re: Sakho and Skrtel. Talk about an education.

— Matt Ladson (@mattladson) September 16, 2013
Carragher explained how Sakho stepped out but didn't retreat. When he didn't, Skrtel and Wisdom – who clearly aren't used to this and weren't expecting him to do so – failed to react and shift across, thus leaving a huge gap between Skrtel and Enrique.
Sakho: 15 (!) Clearances, 40/42 passes, 2 tackles, 1 interception #shaky #QuiteGood #YouDecide #LFC

— Dan Kennett (@DanKennett) September 16, 2013
Another talking point was Simon Mignolet's distribution:
via @StatsZone app: Simon Mignolet's passing down the middle was a waste of possession tonight #LFC http://t.co/ZR3IlrqF4x

— Andrew Beasley (@BassTunedToRed) September 16, 2013
Meanwhile, there is only one game left of Suarez's ban:
PL record since Suarez ban. P8 W6 D2 L0 F15 A3 GD+12 Pts20 (and 6 clean sheets).

— Chris Steel (@chris7steel) September 16, 2013
Overall, there are certainly reasons for optimism:
2 of the back 4 changed due to injury, still no Suarez. Lessons to be learned from tonight but can be a good season for Liverpool.

— Steven Horton (@SteHortonLpool) September 16, 2013