Luis Suarez is still a Liverpool player and now he is returning to action with Liverpool, Oliver Smith looks at the enigma of the Reds' world class number 7.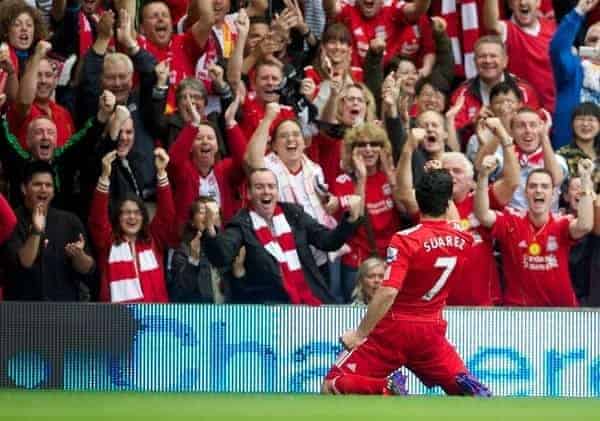 That's a sentence I certainly wasn't expecting to be able to type after the close of the transfer window when speculation regarding the Uruguayan's future started in June. The assumption was that player power would inevitably prevail once again and, at best, the club would sell their star striker to an overseas club for an exorbitant fee that would finance reinvestment in the squad to try and find replacements for the simply irreplaceable number seven.
Now we're approaching the end of September and not only is Suarez still a Liverpool player, his ten game ban for foolishly and absurdly biting Chelsea defender Ivanovic's shoulder has been served and he is free to pull on a Red shirt once again. It couldn't have come at a better time, either, as Liverpool appear to be struggling without the creativity of key playmaker Philippe Coutinho.  However, Suarez's return raises a number of questions that are troubling both boss Brendan Rodgers and Kopites.
Perhaps the biggest question is what reception will he receive from the fans? Liverpool supporters are tremendously loyal and always back their team to the hilt, but once we are betrayed that love and support is instantly withdrawn. Just think about how our perception of Fernando Torres changed overnight when he jumped ship and joined rivals Chelsea. He suddenly went from our adored star striker to a despised traitor.
That process happened for many supporters when Suarez so publically and shamelessly pined for a move away from Anfield. No longer was he the indispensable super striker who Kopites would support through thick and thin, no matter how bizarre and iniquitous his misdemeanours. He was now the Judas who was willing to come up with any excuse to try and justify his brazen attempts to engineer a move away from the club who arguably made him the world class talent he is.
With Suarez unexpectedly remaining on Merseyside due to the stubbornness of John Henry and Brendan Rodgers, many Reds are unsure as to how to feel about Suarez. There's a desire to forgive and forget his previous offences and move on, providing him with just as much support as any other Liverpool player.
At the same time, though, that desire is tempered by the knowledge that, if Suarez had had his way, he wouldn't be playing for Liverpool anymore, and that fact will make Kopites understandably cautious about welcoming Suarez back with open arms. Yes, he's a great player, but it's hard to have affection for someone who has spent the summer trying to stab you in the back and you strongly suspect may well betray you in the future if he gets the chance.
On the pitch, an equally puzzling question is posed by Suarez's return. Where will he play? With Daniel Sturridge banging in goals left, right and centre- the 24-year old has scored six in six so far this season- it would seem harsh to move Sturridge out onto the wing again in order to accommodate Suarez through the middle. The former Chelsea striker is revelling playing in his preferred position and his form justifies keeping him as the main man in the centre of attack.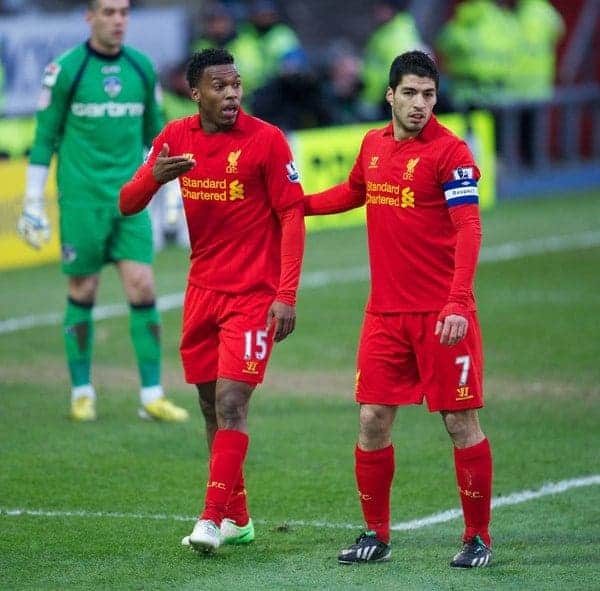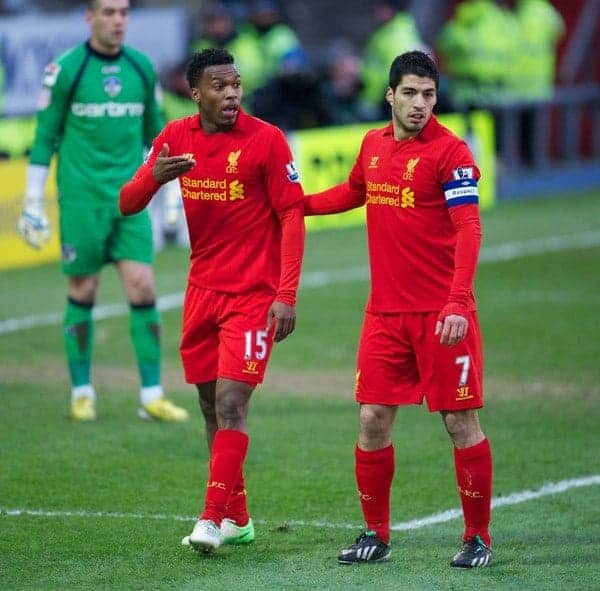 The question has perhaps been answered, though, by the six week absence of Coutinho due to a shoulder injury. The creative midfielder had arguably been doing as well in behind Sturridge as Sturridge has been doing up front, so Suarez may have had to settle for a place on either the left or the right of an attacking triumvirate. However, with Coutinho on the treatment table, Suarez can slot into his position in the meantime. In a slightly withdrawn role from Sturridge, Suarez may be given space to pull the strings in attack. If he isn't, he'll almost certainly drag a central defender out of position or occupy the time of an opposing side's defensive midfielder. It'll be interesting to see what roles they will play in when they are all fit. It will also give Brendan Rodgers a welcome selection headache.
It remains highly questionable whether Suarez will be as committed to the Liverpool cause as he appears to have been in previous seasons. Having set his heart on leaving Liverpool, he will almost inevitably lack the zeal and motivation of players such as Jordan Henderson, whose euphoric celebrations after scoring in a pre-season friendly versus Olympiacos showed the type of love for the club supporters expect from the players.
Nonetheless, Suarez may still perform at the world-class level we have come to expect from him, not out of love for the club, but rather from a love of his country.  Suarez wants to be in Brazil with Uruguay for the 2014 World Cup and he knows that in order to get into their squad he has to keep on firing in goals and performing well for Liverpool.  That may benefit the Reds, even if his heart isn't in it. It may also prevent him from pulling off one of his stupid stunts again, although we can never know for sure with Suarez.
The most difficult task facing Brendan Rodgers regarding Suarez is not integrating him back in the team or managing to get him forgiven by the fans. Good players will find a way to play together and, although his reception will probably be muted and frosty at first, the supporters will surely forgive him when he's scored a couple of crucial goals, even if they will never love him in the same way again.
No, the most difficult task facing Brendan Rodgers is persuading Suarez that his long term future is at Anfield. At the moment, Suarez has to stay at the club because he signed a contract and the Reds are quite rightly demanding he honour that contract. Convincing Suarez that he should want to remain a Red is an altogether different and more difficult task.
It will require securing Champions League qualification this season and continuing to purchase top-quality players to build and grow the squad into a competitive one ready to rival the likes of Spurs, Arsenal, City, Chelsea and United.
Ultimately, that's what Rodgers has to do if he is to solve a problem like Suarez.