Rejoice, the international break is finally over… the bad news is, Liverpool aren't in action until Monday night. Ben Twelves takes a look at who might be the centre back pairing going forward – not an easy choice for Brendan.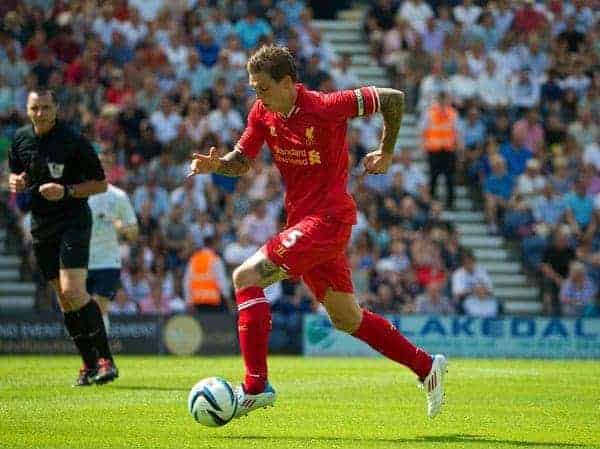 An exciting end to another productive transfer window saw Brendan Rodgers add some much needed defensive reinforcements as his squad continues to take shape. The arrivals of Mamadou Sakho and Tiago Ilori at Anfield have boosted the centre back options considerably in not only quantity, but more importantly, quality.
Having started the season with only two real centre back options in Daniel Agger and new fans' favourite Kolo Toure (seeing as Martin Skrtel seemed very much a last resort), we now have five (or four depending on how you look at Ilori) first team centre halves at our disposal, not to mention back-up alternatives Andre Wisdom and Martin Kelly waiting in the wings.
With options comes decisions and there is certainly some tough ones to make coming up for manager Brendan Rodgers. A truly excellent start to the season has seen the three central defenders who have played a part so far all keep clean sheets, meaning the manager will certainly face a selection headache, albeit a nice one, ahead of the next game away at Swansea. The partnership at centre back isn't just something that needs to be considered for the next fixture however, but also for the future.
I have to be honest – I am genuinely glad I'm not the one who has to select the centre back partnership going forward. Cult hero Kolo Toure has undoubtedly been a revelation since he joined the club playing alongside Daniel Agger and it could be argued that while Martin Skrtel produced an outstanding performance and rightly collected the man-of-the-match award in our 1-0 win over Manchester United, he was only in the team due to an injury to Toure in the first place. Even if it is the case that the Slovakian only played due to Kolo's absence, for me you still can't take away from the fact that he was superb and because this, do we necessarily need to change a winning team even if 'first choice' options are available?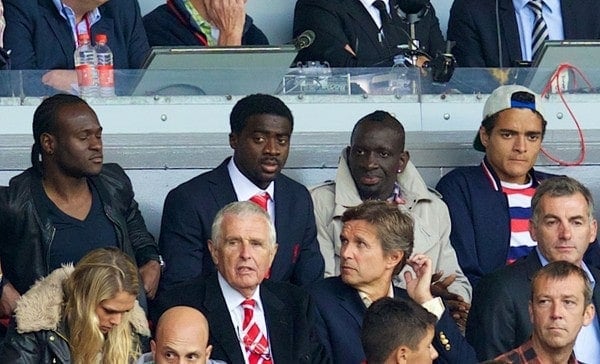 Mamadou Sakho was Liverpool's most expensive signing of the summer after joining for around £15 million from PSG and has become Rodgers' joint most costly recruit during his time at Liverpool so it is pretty obvious that he isn't just going to warm the bench. He may have to for the time being however with the form of Toure and Agger so far and some may feel it is up to Mamadou to force his way into the starting eleven.
Ilori, while being bought with the future in mind, will no doubt receive a certain amount of game time throughout the season as he is introduced to the Liverpool system and English football. Andre Wisdom may benefit from a loan move as would Martin Kelly, but with Glen Johnson now injured, both of those could remain at the club to cover the right back position.
[poll id="140″]
Decisions
Our Monday night trip to South Wales will see the team sheet eagerly anticipated as we wait to find out who Rodgers' selects at centre half. Whatever the manager decides to go with, it will either be spot on or horribly wrong with very little middle ground being found – such is the nature of football fans.
While Skrtel has provided food for thought amongst fans with his last showing, I don't think it will be the same for the manager and for that reason, Agger and Toure is what I think the centre half pairing will be. If Toure still isn't fit, I would expect to see a debut for Sakho in favour of keeping Skrtel in the team. Whether that is right or wrong I don't know. It's too close to call.
Thinking about the future situation logically, Agger is likely to be partnered by Sakho at the heart of defence and that would be what I'd pick. Agger being recently appointed as the new vice-captain and Sakho the expensive new signing is enough to suggest that will be case. Kolo will offer experienced back-up and Martin Skrtel will drop back to the last resort. This would leave Ilori, Wisdom and Kelly as the younger players competing for first team involvement unless of course they depart the club on loan.
Something that hasn't been discussed is whether Sakho might actually replace Agger. He is left footed like the Dane, so playing as the left sided centre back would be more natural to him than playing on the right side of the two so he could be a direct replacement if needed. If that was to happen, you could play Toure or Skrtel as the right sided partner to Sakho so you still retain the balance of a right and left footer. It's very unlikely that Agger will make way but it certainly is another alternative.
What we can clearly see is that we are almost spoilt for choice at centre back. The best part about it is that we have options of genuine quality that wouldn't cause any reason to worry should they feature in the side. Even if the starting central defensive partnership isn't a nailed on guarantee, the fact that Rodgers has some fantastic defenders options is.