Has the arrival of much needed reinforcements to Liverpool's back line raised more questions than answers? Dan Holland looks at the options Brendan Rodgers is faced with.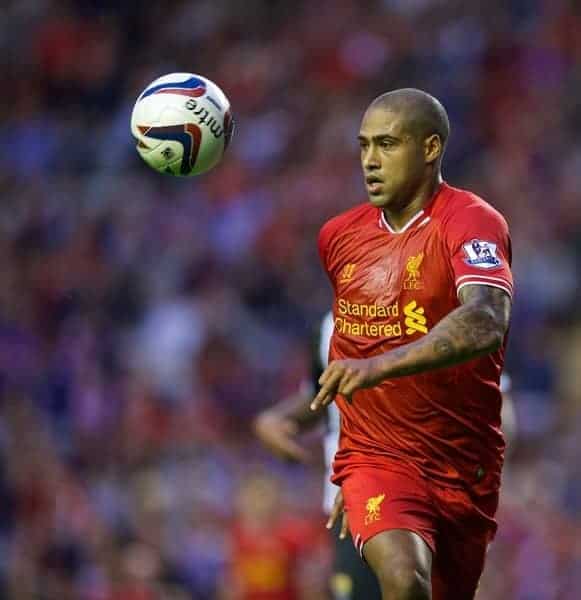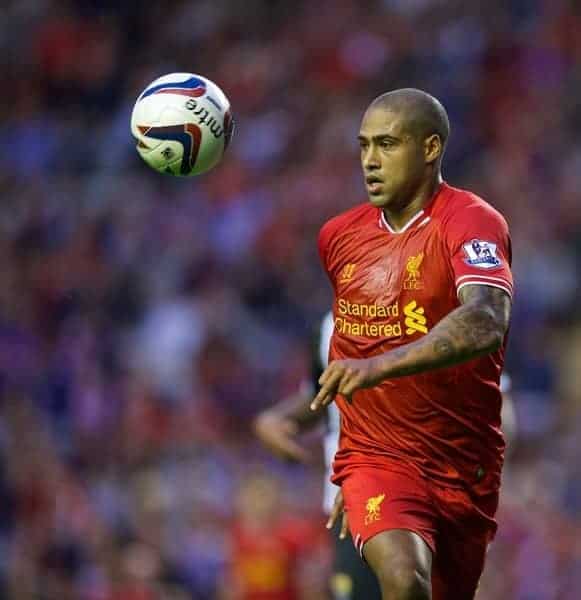 As we entered the summer most Liverpool fans knew that one area that desperately needed strengthening was at the back. The retirement of Jamie Carragher, the drop in form of Martin Skrtel, rumours of a departure and more recently a long term injury to Sebastian Coates, left Liverpool short of numbers and more importantly quality at the back. The arrival of Kolo Toure, Tiago Ilori, Mamadou Sakho and Aly Cissokho has undoubtedly solved that problem but with it brings a number of questions. Who is our first choice centre back pairing? Who is first choice left back? Who is back up to Glen Johnson?
As the season begun the Liverpool back line looked like this; Glen Johnson, Kolo Toure, Daniel Agger and Jose Enrique and as we all know in the first two games we kept clean sheets despite facing forwards such as Peter Crouch, Kenwyne Jones and particularly Christian Benteke. These strong, tall and physical types of forwards have in recent years been our achilles heel. Leaving the Notts County game to one side, our next game was against United, one enforced change at the back saw Skrtel return at the expense of Toure who picked up an injury in the aforementioned League Cup game. The result was again another clean sheet and an assured defensive performance with Skrtel and Agger making Robin Van Persie appear average.
Unfortunately Glen Johnson picked up an injury in the United game and Daniel Agger suffered a freak injury in the gym meaning another two changes were needed to the back four ahead of our game at Swansea. The fact we put in our most 'shaky' defensive performance of the season in South Wales is no coincidence, hot prospect Andre Wisdom replaced Johnson at right back and new signing Sakho played alongside Skrtel leaving only Jose Enrique as a constant along the back line this season and hearing Carragher's comments on the Spaniard before Mondays game I'm not sure that is such a good thing. In Carras new role as a pundit on Sky Sports he was discussing with Gary Neville the contrast in styles of 'English' defenders to that of the continental players in the same position, he said of the left back, "I stopped talking to Enrique in the end, I had no idea what he was going to do and he didn't listen to me anyway."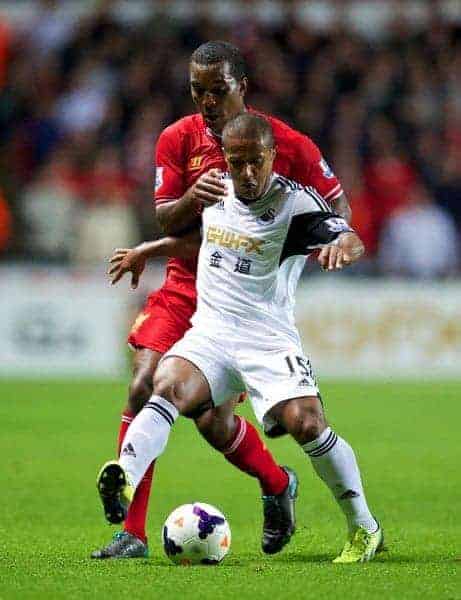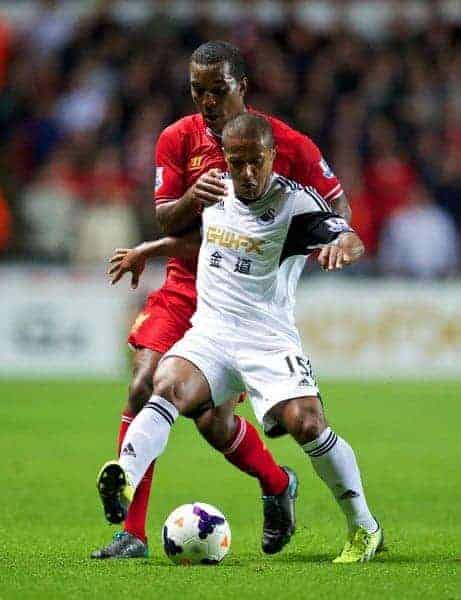 On Monday night against Swansea, in my opinion, Wisdom got found out as a full back. He isn't the most mobile, got caught square against his opponent on a number of occasions and gave away several free kicks. I rate Andre as a player but he looks far more assured as a centre back and I expect to see him in that position for a number of years. Skrtel was for me Man of the Match but alongside him Sakho showed he still has a lot of learning to do about his team mates and also English football. Don't misunderstand me I know Sakho is quality and will prove just that in a red shirt but he needs to learn and fast. Enrique did ok, without standing out as a top player as he has done on a sporadic basis. Martin Kelly and Kolo Toure both took their place on the bench after returns from injury.
Moving forward what options does Brendan Rodgers have and how will we line up when/if everyone is available and also this weekend against Southampton where an immediate return to winning ways will be made a lot easier if we are tighter at the back especially with Rickie Lambert full of confidence and keen to enhance is international prospects. I'll deal with one position at a time.
Right back
Our undoubted first choice is the much maligned Glen Johnson, his absence against Swansea for me confirmed how much better he is than anyone else we have that can occupy this role. Great going forward, quick and experienced, Glen has been first choice for club and country for a number of years now and I see no reason why this should change. The more pressing question is who replaces him when unavailable. The options are Andre Wisdom, Martin Kelly, Kolo Toure or John Flanagan. As previously mentioned I have my doubts about Wisdom in this role especially when faced with a 'tricky' winger, what he does add is another tall and strong player when it comes to defending set pieces but surely that isn't enough to warrant selection. Toure replaced Wisdom at the Liberty Stadium and didn't look totally comfortable, I know he has played this role before but I think his strengths at the heart of the defence make it a waste of ability to be stuck at full back and he would offer very little going forward, which now is as vital a part of a full backs make up as is the defending element. For me Flanagan isn't good enough for a top Premiership side and will probably end up being loaned out in January, I think BR shares this opinion as his opportunities have been limited.
This leaves Martin Kelly, again a centre back by trade and also dogged by several injuries in the early part of his career. Martin has had a full pre-season and his match fitness is nearly back, he for me is the best alternative to Glen Johnson. He is relatively quick, mobile, strong in the tackle, comfortable on the ball and also good in the air. Before his lengthy lay off he made several appearances in the right back role and in fact started last season in that very role showing he was very much in Rodgers thoughts. I would start Kelly against Southampton and give him a good run in the side whilst Johnson makes a full recovery.
Centre Back

We now have an embarrassment of riches in the centre back position with Slovakian international Martin Skrtel, Ivory Coast international Kolo Toure, French international Mamadou Sakho, Danish international and our vice-captain Daniel Agger and England U21 captain Andre Wisdom all challenging for two shirts. You could also add Tiago Ilori to that list but I think for now we can leave him to one side as he young and inexperienced, after a year of Under 21 football and being around the club he will come in to contention but not this season. All of the others have very valid claims however; do you keep an £18 million defender on the bench? Last season Skrtels form was patchy but he has put in two very assured displays this term, so can he be dropped? Agger has been made vice-captain for a reason and against Swansea we missed his organisational skills and tackling ability in and around the box. Toure has fast become a cult hero at Anfield, this alone isn't reason to pick him but his ability certainly is. He was outstanding against Stoke and Villa and his winning mentality to me was key in seeing those games out. Wisdom has less of a claim but to argue his case he had a very encouraging pre-season at the heart of our defence. So unless we are playing with 4 centre halves against the Saints, Rodgers has a difficult decision.
I would revert back to what we started the season with and ease Sakho in to the team if in deed he is needed or deserves a place. I think Agger and Toure as a partnership give us everything we need and seem to have click as a pair which is obviously vital so for me they are first choice. If Agger doesn't make it due to his gym injury I would reward Skrtels recent form and put him alongside Kolo.
Left Back
This position has caused Rodgers a headache in his time at Anfield with a number of players occupying the role at one time or another. Even Stewart Downing was deployed there last season as well as Glen Johnson and Jose Enrique. As I've alluded to already I am occasionally impressed by Jose and think he shows he can be a player but a lack of concentration can sometimes be his undoing. He however at present is the man in possession of that left back role. Is he secure in that role? Is he the right man? Only time will tell.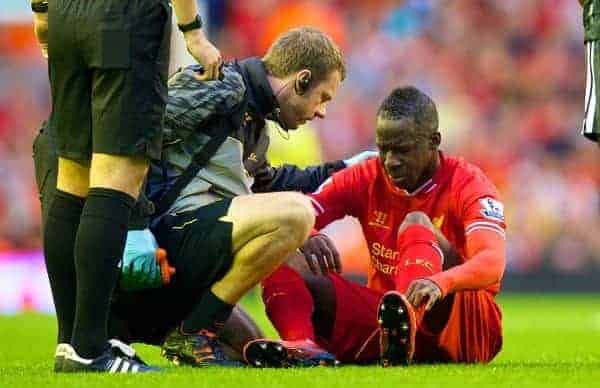 Cissokho faces another month on the sidelines and to be honest I haven't seen enough of him to say whether he will be competition for Enrique. I would play neither Enrique nor Cissokho in the left back role though, my selection for this weekend and the season going forward would be the new arrival, Sakho. He has played left back before for his previous clubs and see no reason why he can't do a job for us in that position. In playing left back Mamadou would have a hands on learning experience on what the Premier League involves and the importance of holding your position and not getting sucked out of position. There is a wider margin for error at full back so the impact on the team would be less severe. He would also add much needed height to the team which for me could cost us dearly in a number of games. If we had a back four of Johnson/Kelly, Toure, Agger and Sakho we would have four players of 5'10" plus giving us much needed aerial ability in both offensive and defensive areas.
In summary, I think it is fantastic that we have a wealth of options now but it also puts team selection under the microscope as when you have no options you can only pick what you can pick but when you could potentially have to choose four players from 10 very viable options it is key to get the blend and personnel right. So good luck Brendan but if you're reading this you need to pick Martin Kelly, Kolo Toure, Daniel Agger and Mamadou Sakho mark my words!