Scott Taylor continues his look at Liverpool youngsters who didn't quite make the grade at LFC. This is a more recent name – a player who left the club only this summer.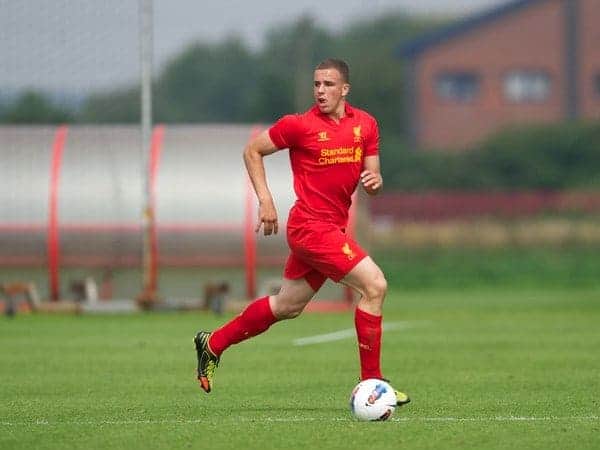 Niall Heaton is a name that many of you will know since he played a major part in Steve Cooper's Liverpool Under 18s' successful campaign last season, making 16 appearances for the Under 18s.
Heaton is a left sided central defender and regularly partnered either Lloyd Jones or Daniel Cleary in defence. The Englishman did find competition in starting games last season due to the significant progress of Lloyd Jones and the ever present Cleary being consistently named as the starting XI. However, it did come as a surprise that Heaton was told to find a new club at the end of the 2012/13, because he was still a very capable central defender and he still had one year left on his current deal with Liverpool. The reasons why Heaton was released are unclear, it could be down to the fact that he was in competition with both Jones and Cleary for only 2 places available, but also it could be down to the addition of Hungarian centre back Kristof Polgar, who spend the last half of the 2012/13 season with the Under 16s.
It was inevitable Heaton was due to be released in the final few games of last season, as Corey Whelan, an Under 16 centre back, replaced Lloyd Jones, who was promoted to the Under 21s, a real shame as Heaton was and still is a very good talent, because the 16 year old did represent England at Under 16 level and did compete in the Victory Shield for his country.
Unlike many Under 18 players, Heaton did not come through the ranks at Melwood from a very young age, instead he joined the Reds from Bradford as an Under 15 player.
Heaton was recognised because of his height, and would have been a perfect replacement for the towering Jones this season, but the club did not agree and released him. He is also capable of running long distances in quick time, exactly what a modern day central defender needs to do. As well as a footballer, Heaton is also an athlete. He smashed records in both the long jump and the 800 metres. He jumped an impressive 5.07 metres in the long jump and ran 800 metres with a time of 2min 34.31sec, which showed he was tall and fit at the same time.
After being released by the Reds, Heaton spent a month out of football, before returning to childhood club Bradford City, who he left as a 14 year old to try and become a great player for Phil Parkinson in the future. He wanted a move back to Bradford after he was released and he turned down offers from a host of premier league clubs to join his boyhood club. He signed as a second year apprentice with an option for a professional contract and the end of the 2013/14 season. What will help Heaton is that he has played at a club like Liverpool and developed his skills in order to improve as a player.
The 16 year old, from Yorkshire will be missed at Liverpool because his experience would have been key in a very young Under 18s squad this season, having played a year of Under 18s football before his release, but his departure does mean that fellow England Under 16 centre back Tom Brewitt will have the chance to develop hopefully into a very good centre back.
I for one hope that Heaton shines at Bradford and can help return the glory days to the League One side in the future, as the player has all the right attributes and the correct attitude and mentality to succeed as a footballer at Bradford or any other club.
Previous 'Where Are They Now':
Thanks for taking the time to read this feature and if you enjoyed reading it, please be sure to share this and let me know if you think Heaton will be a success despite leaving Liverpool. Also, I am running out of ideas of who to cover on upcoming editions of Where Are They Now, so be sure to leave your comments below suggesting players I should cover. Finally, for more information of Academy players, be sure to follow me on Twitter (@scotttayloruk) and visit my personal blog here.
Until Next Week Reds…