After a summer of failed transfer attempts for Liverpool, Tom McMahon looks at whether on-loan Victor Moses has enough carry the Reds forward this season.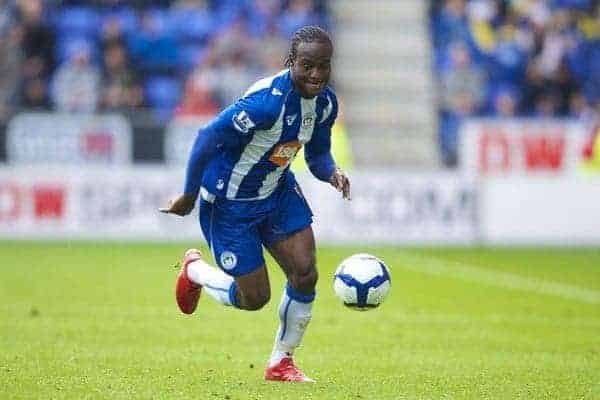 After the conclusion to Liverpool's disappointing 2012/13 campaign, the club proactively delved straight into the transfer market to improve the squad. With the free transfer of Kolo Touré and the pursuit for acquisitions such as Iago Aspas, Tiago Ilori, and Luis Alberto as early as May, it was clear that it was going to be a busy summer transfer window for the club.
News spread swiftly that Shakhtar Donesk's prolific attacking midfielder Henrikh Mkhytaryan was Liverpool's main summer transfer target. The majority of the supporters were ecstatic. With the club willing to spend a reported £20+ million to secure his signature it was a significant statement of intent. After several falsely reported medicals from Eastern European journalists followed a dramatic transfer soap-opera, Mkhytaryan opted to join Champions League runner-up Borussia Dortmund instead.
Most supporters felt deflated by the saga, but it at least showed that Liverpool had the financial backing to add a marquee signing to an already exciting front-line. Shortly after, the controversial Diego Costa was pursued for £21.8 million – his reported release clause. Once again, Liverpool were declined, with Costa choosing to stay at current club Atlético Madrid instead.
Then in a bizarre executive U-Turn, Anzhi Makhachkala chairman Konstantin Remchukov decided to put the majority of his star-studded squad for sale. Could this mean that Willian, popularly regarded as one of the world's most exciting forwards, is available?
Surely enough, credible sources stated that Liverpool were 'optimistic' on signing the Brazilian, with the board reportedly willing to spend upwards of £30 million for his signature. Unfortunately, it just didn't come off . After another transfer saga filled with hysteria, twists and turns, Willian eventually signed for Chelsea. It seemed that another target was missed.
Ironically, this set of events was what triggered Victor Moses' loan move from Chelsea to Liverpool.
With the transfer deadline passing, most supporters chose to focus their praise on the defensive coups of Mamadou Sakho and Tiago Ilori – arguably two of Europe's most promising centre backs. While the pair look like exciting prospects for the future, it seems that Victor Moses' addition has gone under the radar. But could Moses be the vital cog needed to help build an exciting attack capable of unlocking those stubborn defences?
Liverpool currently have a blossoming front-line, graced with the talents of Luis Suarez, Daniel Sturridge and Philippe Coutinho. Despite their combined flair and promise, the team still struggles to break teams down consistently. Liverpool looked impressive during periods of last season, scoring seamlessly against the likes of Wigan Athletic, Swansea and Newcastle . However, in other matches the team failed to score at all. Infuriating affairs such as the 0-0 draw to West-Ham United at Anfield, followed by another goalless draw to Reading at the Madejski Stadium showed that breaking down weaker teams is still an area of concern, despite January's attacking reinforcements.
What Victor Moses adds to Liverpool's group of forwards is a direct threat from the wide areas. The talented trio of Suarez, Sturridge and Coutinho all perform to their optimum in the central areas of the field, which influences them to naturally gravitate into narrow positions. This can compress the oppositions defence, starving Liverpool's forwards of space to operate and thrive in. Moses however, is most comfortable in wide positions. He prefers to use his extraordinary acceleration, ball control and 1v1 ability to create space against the fullback, either by sprinting forward or cutting inside on his stronger foot.
This threat allows anxiousness and hesitation to creep into the opposition's play. The marking players will be forced to track Moses' threatening runs, which creates more space for the likes of Suarez and Coutinho to play into. The signing of Mkytaryan, a central attacking midfielder, wouldn't have provided such width; his presence would have forced the flourishing Philippe Coutinho into his unfavoured left-midfield position.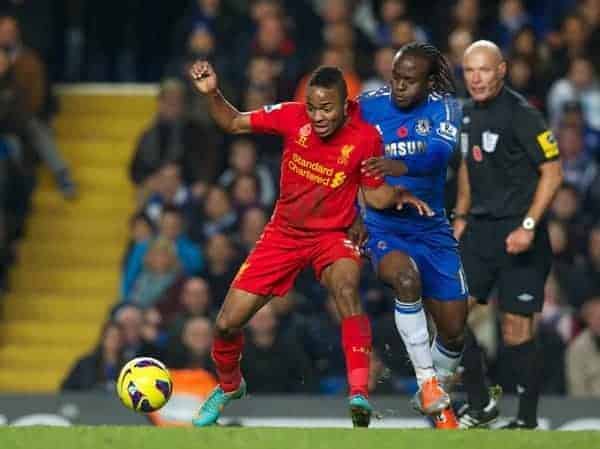 'Unlike Coutinho, Moses prefers to do the majority of his work in a wide position, relishing the opportunity to take on full backs before cutting inside onto his stronger right foot. Give him space, and he'll exploit 1v1 opportunities with ease. He has tremendous feet, wonderful balance, and a great change of pace. He is a natural with the ball, and would be a real asset to Liverpool.'

Crystal Palace season ticket holder David Matthews speaking to This Is Anfield
It is clear that one of Brendan Rodger's main principles of play centres around physical mobility. As mentioned, Moses certainly isn't cumbersome in his movement. But despite his natural agility, he possesses superb physical strength , something many of Liverpool's slight forward's lack. Suso, while very talented on the ball, was not able to impose himself against Stoke City last season. New recruit Iago Aspas was also bullied off the ball easily this season against Aston Villa.
Physical strength certainly isn't everything in football, but Moses' stocky frame is a significant asset upfront. Using his strength, he can help the ball 'stick' in forward areas, becoming a focal point for the backline to pass to during the more frantic and combative affairs this season. The potential coup of Willian -with his 5'8 slender frame- may have struggled in the physical department.
Moses has more to offer than just his mere physical assets too. It is clear that Victor is also mentally robust. The Nigerian winger was just 11 years old when his parents were murdered in religious riots in Kaduna, causing him to escape to England as an asylum seeker. Many would have flaked in such circumstances, but Moses was determined to carve a successful career for himself as a professional footballer.
Such resolve and ethic will be invaluable to the dressing room. A focused attitude helps synthesise the groups 'winning mentality' – something Rodgers continuously alludes to during interviews. Moses speaks with quiet determination and humbleness during interviews, it would be a farcical to suggest that he would be a disruption to the team. The same cannot be guaranteed for live wire Diego Costa, carrying a reputation of controversy on and off the pitch, such as spitting at opponents and turning up to preseason training overweight for Atlético Madrid.
'He is going to be as good as he wants to be. You just have to admire his mentality. Nothing fazes him, and the best is yet to come, that is for sure.'

Former Wigan Manager Roberto Martinez on Victor Moses' Mentality 09/11/12
As an individual, Victor Moses may be an underwhelming signing for some. What he is however, is a fantastic asset to the team. Signing Moses, who fits into Rodgers profile of player, may be a lot more beneficial to the team than a reputable name shoe-horned into the starting 11.
Some supporters are disgruntled with the loan factor of his transfer. However, with Chelsea bloated with the young talents of Eden Hazard, Oscar, De Bruyne, Schurrle and Willian to contend with, is there a path back for Moses? Factoring in Chelsea's reputation of stockpiling youth every summer, demonstrated by the signing of Christian Atsu before his immediate loan, and his future at Stamford Bridge looks bleak. Should Moses perform this season, it is likely that he will sign permanently.
Football is a team game for a reason. While there's a need to develop tactics to complement the more talented members of the squad, the Victor Moses' of this world should not be overlooked. His versatility and burst of pace from the wide areas could provide the right attacking balance to Liverpool's attacking mantra. Kolo Touré, like Moses, had fallen out of favour in a cash bloated squad despite his impressive displays last season. Touré was mocked upon signing by some sections of the fan-base, but has soon grown into one of the most influential players for Liverpool this season.
'I knew him from that period when I was there as a youth coach. I know what I'm getting. He's got the profile that suits our game in terms of his technique, his quality and he's a humble guy.'

Brendan Rodgers speaking to LFC.com before Monday's match against Swansea
Victor may not be the most talented or exciting forward that the club has been linked with this summer, but that doesn't suggest that Moses isn't the arrival that leads Liverpool into the Champions League. With the arrival of defensive reinforcements, the teams promising start to the season and with the club holding onto the prolific Luis Suarez, there's even a chance that he will.