Liverpool Football Club was officially sold to New England Sports Ventures (now Fenway Sports Group) on this day three years ago.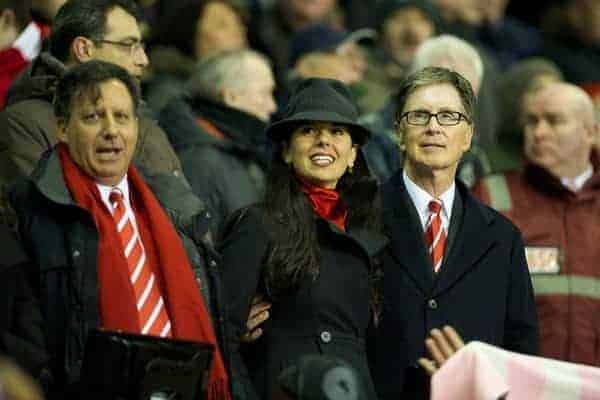 John Henry's purchase of the club, for £300m, was finalised after a sensational court case that lead to former owner Tom Hicks claiming a "epic swindle".
A year ago today, FSG announced their intentions for the club to remain at Anfield and redevelop the stadium rather than move to a new stadium.
We got the views of supporters on how they think the owners are doing at the club.
@thisisanfield always room for improvement and hindsight makes everything easier but current state/position of #LFC is testimony to them!

— Will Speed-Evans (@willspeedevans) October 15, 2013
@thisisanfield Henry/FSG deserve praise for their intentions, keeping Suarez, restructuring & stabilising the club. On the right road.

— Matt Ladson (@mattladson) October 15, 2013
@thisisanfield first year was understandably underwhelming, fantastic ever since.

— Charlie Loynes (@charlieloynes) October 15, 2013
@thisisanfield really happy with the way there building the team loved the way they handled the Louis situation but we need the stadium done

— andrew thompson (@andysredmen) October 15, 2013
@thisisanfield Happy yes. They are building for the future slowly but surely. Ground development a must now.

— steven harris (@theplanetharris) October 15, 2013
@thisisanfield Hell yes! Cleared our debts, actively working towards Anfield redevelopment, creating a financially stable Liverpool… great

— Daniel Shum (@Sturridge15Fan) October 15, 2013
@thisisanfield compare where we are now with where we were 3 years ago, the answer has to be yes

— Tom Harris (@tomh893) October 15, 2013
@thisisanfield seem to have learned their lessons pretty well as they've gone- e.g much better in last two transfer windows.

— Tom Palmer (@TomMPalmer) October 15, 2013
@thisisanfield They've made a fair few mistakes, and taken far too long on the stadium. But they've learned from them very quickly!

— Stats FC (@StatsFC) October 15, 2013
@thisisanfield slowly slowly catchy monkey. They've brought stability to our great club.

— Michael Blay (@blayster1969) October 15, 2013
Mostly praise for the owners, rightly so.
While FSG made some (costly) mistakes in their first year to 18 months of ownership, they have since done some superb work to show they have clearly learnt from their mistakes.
The brave appointment of a young, progressive manager, the installation of a modern way of working with a transfer committee, the desire to redevelop Anfield, the transfer policy and the handling of the Luis Suarez saga this summer stand out as the main positives.
Most Liverpool supporters would agree that they would like to see faster movement on stadium development, but the complicated issue of compulsory purchase orders means this is somewhat out of their control.
What do you think of the owners? Let us know in the comments below.