Liverpool boss Brendan Rodgers showed his sense of humour by responding to Alex Ferguson's claim that they are eight players short of becoming genuine title contenders.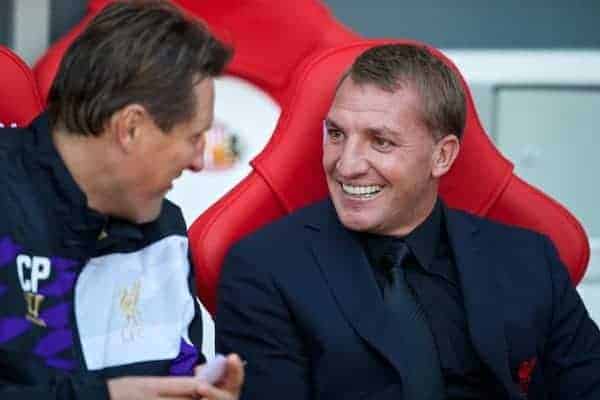 Rodgers was speaking at the official opening of the new Anfield museum on Wednesday night when he was discussing the club's good start to the season.
"In terms of points, we've done well" said Rodgers. "Obviously we want to be better and improve."
"The players are giving everything. Considering we supposedly need 8 players to win the League, I think we're doing alright."
Earlier this week, in his autobiography, former Man United boss Ferguson claimed Liverpool were eight players short of being genuine title contenders, along with multiple other claims that made him sound like the bitter old man he is.
In an interview with talkSPORT on Thursday morning, Rodgers was asked to respond to criticisms of Steven Gerrard by Ferguson, who claims in his book that the Reds captain is not a "top, top player"
"I think everyone who's seen the comments will think they are harsh," he told the the radio station's breakfast show. "I've watched Gerrard for many years and recognised he's a top player but it's only when you come in and work with the man that you realise how professional he is on a daily basis.
"His performance level at 33-years of age shows he's a top, top player. He's a great talent, a wonderful player and I don't think anyone could argue against that."
Ferguson, the definition of a hypocrite, tried to sign Gerrard and had previously said this of the Liverpool captain:
Last quote on Gerrard, 2004, from Ferguson himself. Words in book are laughable. Cheap publicity drive. Horrible man pic.twitter.com/z8k5Ud4jYt

— KOPART (@LFC_KopArt) October 23, 2013