Neil Collins provides some reportage and analysis of Liverpool's 4-1 victory over West Brom at Anfield on Saturday, including the magic of Luis Suarez.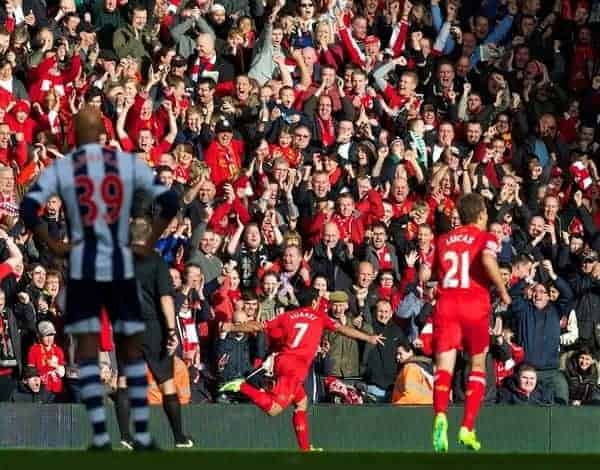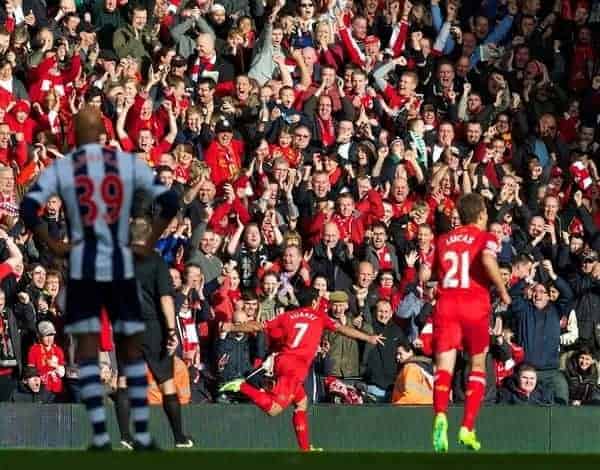 Before kick-off yesterday, West Bromwich Albion were one of the only teams left in the Premier League that Luis Suárez somehow hadn't managed to score against. Yet, 90 minutes later the Uruguayan went home with the match ball having bagged one of the finest hat-tricks you're ever likely to see. Well, apart from the two hat-tricks he'd already scored against Norwich and the other one he hit against Wigan last season.
I actually thought this had 'banana skin' written all over it, especially as Arsenal had won in the midday kick-off. Last Saturday we could only draw with 10-man Newcastle, and then had the prolonged agony of watching Arsenal, Chelsea, Man City and Tottenham all claim maximum points. This time however, Rodgers' Reds produced arguably their best finest all-round performance of the season from start to finish as they battered the Baggies, who were lucky not to be on the receiving end of six or seven. The win was all the more impressive given that West Brom did the double over us with ease last season. Rodgers' pre-match pep-talk at the Hawthorns on the opening day last season (shown on Being: Liverpool) led to a million unfair David Brent comparisons as they hammered us 3-0. And the return game wasn't much better as a late rally from West Brom snatched a 2-0 win after a late penalty miss from Gerrard in front of a stunned Anfield. Bear in mind too that the side we faced yesterday defeated the Mancs at Old Trafford only a few weeks ago, and then held the league leaders Arsenal to a draw. Not even the opinions of an angry retired Glaswegian could affect our preparation and mentality this time though. Apparently, Gerrard isn't a 'top top player' (even though he tried to sign him a few years back) and Henderson runs a bit funny. I'm surprised he didn't comment on Suárez's buck teeth or the fact that Skrtel's skinhead makes him look a bit unpleasant too.
Rodgers persisted with his variation on a 3-5-2 formation with Johnson and Cissokho providing width as wing-backs. Lucas returned after the birth of his daughter in place of Moses, whilst Henderson was slotted into the advanced role to interchange with Gerrard as required. Meanwhile, Steve Clarke opted for an ambitious line-up with Sessègnon and Amalfitano feeding Anelka and Anichebe from the flanks. There was an emotional moment pre-game warm-up when encouraged by the pleas of Colin Pascoe and Mike Marsh, Jordan Henderson broke free of his callipers whilst running down the touchline like Forrest Gump. There was not a dry eye in the house from the smattering of fans filtering into Anfield.
Anyways, much like the Palace game two weeks ago, Liverpool were in no mood to be patient and came flying out of the blocks. What was different about this performance though was that the Reds sustained the same levels for the entire game. Suárez and Gerrard both dragged early efforts wide, whilst Cissokho and Johnson looked dangerous driving down the wings. Liverpool had an early penalty shout turned down by referee Jonathan Moss, but Suárez's theatrical fall didn't help. He fell to the floor like Ric Flair used to after a chair-shot in the wrestling. There was a slight tug on his shirt by McAuley, but West Brom had more of a claim down the other end a few minutes before when Skrtel had a handful of Anichebe's shirt as the lumbering forward lost his footing. Nevertheless, I feared that Suárez was going to revert to past form by dwelling on his misfortune. He remonstrated with the ref on his knees as he looked up to the heavens, but the appeals from his teammates were muted as they played on. His reputation goes before him because sometimes he does go down too easily and in the case of the Stoke game last season, he bizarrely admitted to diving in the media. Yet, too many times in the last campaign he was also beaten black and blue by the likes of Robert Huth as the ref turned a blind eye. And it wasn't til around Christmas that he was finally awarded a penalty; coincidentally at Stoke.
Previously, Suárez would've still been thinking of his injustice and thrashed his subsequent effort into the stands. However, if he felt wronged here, he certainly produced the right response. On 12 minutes, he received Touré's pass with no immediate danger, but seconds later the ball was in the net. The Uruguayan skipped passed Yacob and then executed his trademark nutmeg through Olsson's legs with deceptive ease. He was back on the ball in a flash and drilled a right-foot shot into the bottom left corner beyond Myhill's dive. Suárez wheeled off in delight and skidded on his knees in front of the Anfield Road End, as the confused West Brom defenders gazed at each other wondering what just happened. You would think by now that defenders would've sussed out Suárez's nutmeg by simply closing their legs. But like Sturridge, he runs at them with such pace that they can't help but back off. And they know the inevitable trick will happen, it's just a question of knowing when to commit to a tackle before it's too late.
The Reds are reaping the benefits of digging their heels in over the summer as Suárez is simply to good a player to lose. That £40m+£1 bid from Arsenal is looking more insulting by the day. John W. Henry asked 'what they were smoking at the Emirates' at the time, but following that goal yesterday he simply Tweeted, "Luis. Magician." If the American owner was impressed with that, there was even better to follow five minutes later.
Suárez isn't renowned for his heading ability and you could probably count the number of goals he's scored with his bonce for us on one hand. He headed goals in both Chelsea games last season, but he'll probably not score a better one than this for the rest of his career. After a neat one-two with the Uruguayan, Cissokho fired a quick ball with his instep across the edge of the area. Normally, I would've said it was a poor ball because he should be arrowing that ball to around the six-yard box. But on this occasion he superbly picked out Suárez, who met the ball with pace and his header flew into the top corner from 18 yards. Most of the time you can use the momentum on a cross to generate power, but this was still a bullet header from Suárez. It reminded me of an amazing header from another guy called Luis. Anyone remember Garcia's goal in the Champions League against Anderlecht a few years ago? He was running away from goal but still managed to propel a header into the top corner. Unbelievable for someone so small.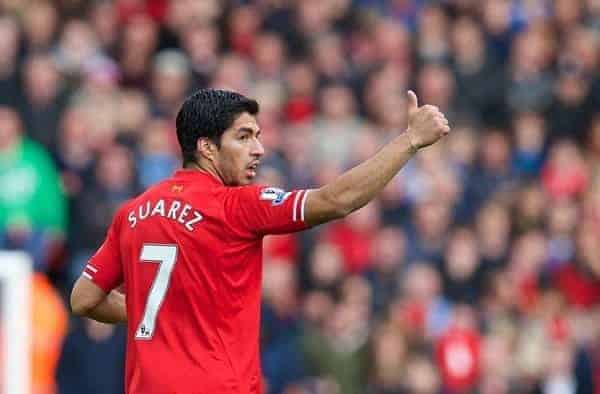 With less than half-hour on the clock, Suárez was already in sensational form; playing a different game to those around him. His next trick was a well worked free-kick when he shaped to shoot. Yacob brought down Gerrard 25 yards from goal, and it looked like our striker was going for a curler, but he rolled the ball down the right of the box for the skipper to run onto. Gerrard cut the ball back in a crowded penalty area, but the last person we wanted anticipating that ball was Škrtel. The Slovak saw his name up in lights at the possibility of grabbing his first goal of the season. Instead though, he shit his pants and managed to scuff the ball onto his standing leg. Great block from the big defender though. On himself.
I feared the worst moments later when Johnson hit the deck clutching his knee under a challenge from Anichebe. We've missed Johnson in the last few weeks, especially with this new wing-backs set-up, but fortunately he was back on his feet soon after. Incidentally, that was pretty much the only involvement Anichebe had throughout the first half. I can't believe the blue half of Merseyside used to refer to this guy as 'the Evertonian Ian Rush'. Without a hint of irony too. Rushie hit 346 goals in 660 appearances for the Reds, whilst Anichebe managed 26 in 168 for the Blues. He's more like the 'Evertonian Emile Heskey.' I find it astounding that West Brom were willing to let goalscorers like Odemwingie and Lukaku leave, and have Shane Long on the bench behind this guy. In saying that Odemwingie was never going to have a future at the club after turning up at QPR's training ground on January deadline day. There's a priceless pic of him on the net turning up at the Vatican on the day the Pope resigned too.
Suárez very nearly wrapped up his hat-trick and put the game to bed with 10 minutes of the first half still to play. He added an adeptness from set-pieces to his arsenal last season with five goals from direct free-kicks, and he had no hesitation in fancying his chances with this one from 25 yards out. Sturridge was fouled and Suárez stepped up, but his curled effort whistled just wide of the upright. The shot was agonisingly closed, hitting the stanchion and trickling behind the goal leading to a premature roar from the Kop.
Similarly, Henderson went for a curler into that far top corner as well five minutes later, but his attempt was inches over. But for a vastly experienced player, Gerrard really should be playing the ball onto Hendo's swinger rather than onto his club foot. As you know he wears one of them built-up shoes on his right foot, so it was inevitable that he would get too much purchase on his shot. I would've preferred Jordan to have put his laces through it because his jackhammer would probably have broken the net; taking Boaz Myhill and a deflated football along with it. Moments earlier Henderson had tried to play in Sturridge, but over-hit his pass. He has got a bit too much swing in those bow legs at times. Maybe some work-out sessions with fellow weakling Iago Aspas could be in order? He may resemble Walter from the Beano at the moment, but I'm convinced that the Spaniard is going to come back looking like Arnold Schwarzenegger. Or failing that, Jodie Marsh.
I was surprised to see Steve Clarke start with team captain Chris Brunt on the bench, alongside winger James Morrison and talented England youngster Saido Berahino; who scored the winner at Old Trafford a few weeks ago. Nevertheless, Morrison was introduced for an injured Morgan Amalfitano, who was ineffective despite scoring and running rings around the Mancs last month. Morrison has been one of the most underrated players in the Premier League in the last few years. He's hardly prolific, but when he does score they're usually screamers, and I'm amazed he hasn't been snapped up by a bigger club. He certainly caught the attention of football expert Garth Crooks, who last year said 'this is a player Roy Hodgson should now be taking a keen interest in'. The only problem with that is that he'd played for Scotland for the last four years at the time with 23 caps. Doh! By the way if you ever fancy having a change from Jeff and the boys' entertaining take on the action on Soccer Saturday, and require a remedy to insomnia; tune into BBC's Final Score. Trust me, you won't need the Horlicks. Half hour in the company of 'Girth' and sexy Martin Keown should do the trick. I still love his King Kong roar into the face of a bewildered Ruud van Nistelrooy 10 years on though.
Former Red, Nicolas Anelka mounted a rare counter-attack for the visitors on the stroke of half-time and very nearly gave them an undeserved way back into the game. The Frenchman hared onto a through-ball and dribbled passed Mignolet, but he didn't strike the ball cleanly which allowed Škrtel to track back and hack clear off the line. A great block by the Slovak. At the right end this time too. Morrison swang in the corner and Mignolet was called upon to tip away Anichebe's header. In the subsequent scramble, Škrtel bundled over McAuley, but the ref waved away the appeals again. A few minutes before he also refused a handball in the box from Gerrard's cross. On a different day both our shouts could've been given. Yet, West Brom's were probably more definite claims, which made Moss' decision to award them a pen for the feeblest of fouls in the second half all the more baffling. Perhaps he felt the need to even the score from missing the earlier two, so we can't feel too aggrieved in that sense. But it still ruined our hopes of a first clean sheet since the Mancs game at the start of September. And even so, it was never a pen.
I feared we would sit back and defend our lead in the second half; much like we did against Swansea and Palace. But any concerns I had proved unfounded as the Reds tore into the Baggies again from the opening whistle. A minute after the restart Yacob chopped down Sturridge, who thumped the free-kick himself from the right edge of the box. Initially it appeared to be going miles wide, but the amount of spin he put on it was incredible as it swerved massively at the last moment. It reminded to a lesser extent of that incredible Roberto Carlos goal in Le Tournoi in 1997, but unfortunately it didn't have quite the same bend.
Soon after, Henderson went close to grabbing the goal that his performance merited. Not wishing to repeat the mistake Gerrard made earlier, Suárez played the ball onto Henderson's less clumpy left foot, but his shot went over. Regardless, not a bad effort for a guy with pigeon toe. A minute later Cissokho was left counting the floodlights as an errant ball smashed him in the face. Apparently, Rodgers' was straight on the phone to Old Trafford asking for Rooney's old headband. It's been chucked in the bin now unfortunately, but the manufacturer (aka. Petr ?ech) said he would make him one from his collection of old crash helmets.
Claudio Yacob then tested the ref's patience one time too many times, but then had the nerve to claim it was his first offence. Moss proceeded to pull out a yellow and point to about half a dozen different areas of the pitch where Argentine had committed fouls. All afternoon Gerrard's deliveries from set-pieces were superb ('top top' you could say) and this time he picked out Suárez at the near post, who glanced a header into the far corner.
Sturridge was delighted to see his teammate complete his hat-trick, but you could tell he was desperate to get in on the action himself. He could only blast into the Kop though following a great run from Johnson. And within seconds he was even closer. Škrtel's clearance found Sturridge in space down the right flank as he charged goalwards unchallenged. Olsson backed off allowing Sturridge to slam a left-footer goalwards with no backlift whatsoever, but it rattled the frame of the goal. The shot threatened to unhinge the posts, and the crossbar may still be reverberating.
Rodgers introduced his first change shortly after the hour by bringing off Johnson, who got another impressive performance under his belt following injury. Martin Kelly replaced him for his first league appearance since getting crocked against the Mancs over a year ago. It will be nice to see more of him in the coming weeks because he's a great young player, but I can't see him getting into the current set-up unless there's injuries or Johnson is reverted to left-back in place of Enrique. We may have a frailty at defending set-pieces, but the continued good form of Škrtel, Touré and Sakho means that Agger isn't getting a sniff at the moment either.
As I said earlier, the ref then handed West Brom a lifeline by awarding a soft pen a couple of minutes later. Billy Jones (who sounds like he should be in a Just William book) dribbled down the right of the area, sandwiched between Lucas and Cissokho. The Frenchman didn't make any contact other than perhaps the very slightest nick of the heel, and Jones fell to the ground as he came together with Lucas. The fact that there was barely an appeal from the West Brom players spoke volumes; other than a half-hearted protest from Anichebe in the centre. Moss wasn't going to give anything, but the linesman flagged even though he could never have been 100% certain. Morrison's spot-kick was fairly central, but he put plenty of power behind it as Mignolet dived the wrong way.
The goal gifted West Brom a foothold and Steve Clarke sensed a change in the air; throwing on Brunt and Long in place of Yacob and Anelka. The substitions injected energy into the visitors' attacks. Anfield suddenly became edgy that a second goal would result in an unexpectantly tense finale as Brunt twice went close. But any fears were put to bed for good when Sturridge finally grabbed his goal, which was arguably better than any of his strike partner's. Henderson and Mulumbu tussled for the ball, and the latter inadvertently flicked the ball into Sturridge's path. The 24-year-old took a quick glance at Myhill off his line and lobbed him from 20 yards.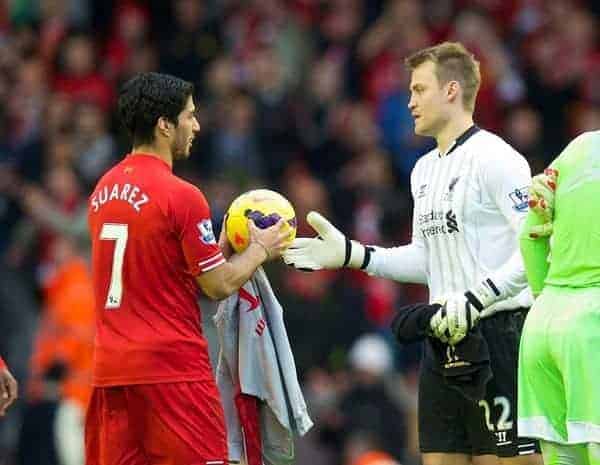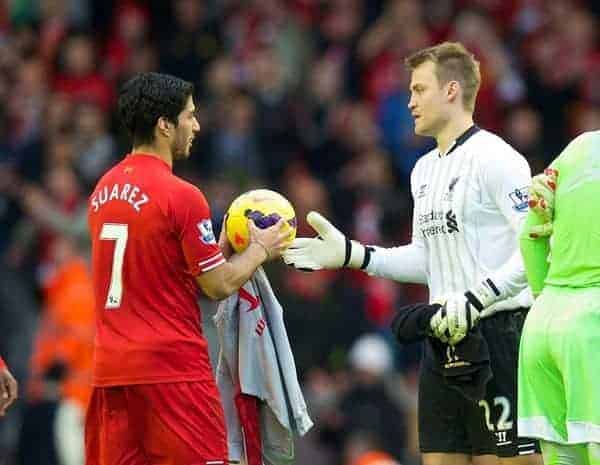 Suárez wasn't prepared to sit in admiration of his strike partner's skills for too long though as he tried an equally ridiculous effort five minutes later. Gerrard whipped yet another inch-perfect cross from the right. Olsson miscued his headed clearance and Suárez plucked it out of the air with an audacious overhead kick, which thundered off the bar. It's safe to say that Myhill didn't have the best of games, but he pulled off an excellent instinctive save to tip the ball onto the bar here from point-blank range. Conversely, Mignolet had a quiet afternoon but was still on his toes to make a fine reflex save from Morrison in front of goal, as West Brom admirably battled on.
Fittingly, Gerrard was substituted late on for Allen to milk the applause and Suárez was given a standing ovation when he was replaced in injury time by Alberto. I was surprised that Henderson wasn't brought off in the late stages too as I would hate to think of an attack of gout attacking his fragile legs. Inconsiderate of Rodgers really.
Jokes aside, Henderson was brilliant yet again and he was absolutely tireless in the that central midfield zone. Operating in the hole really hasn't suited Moses despite a bright start, but I was pleased to see Rodgers give Henderson the advanced role. It would've been easy to give it to Gerrard, but the captain himself has admitted this week that he's not 21 any more, and he's had to adapt his game and pick his runs more wisely. Gerrard has pulled the strings magnificently in that withdrawn central midfield role this season, whilst Henderson thrived in this game by being granted more freedom. He's growing in confidence and maturity all the time, and his dignified response to Fergie's comments post-match was understated and dignified. And the only thing missing from Gerrard's performance was a goal on his 450th league appearance. I was desperate for him to score so that he could unveil a t-shirt with 'top top player' on it; albeit with the repetition of the word 'top' spiralling around his back. It was great to see Rodgers stand up to Fergie last week and then reiterate his support of both players in his post-match pressconference too.
Whilst acknowledging the performance of our midfield, all the talk should rightly go to the S.A.S partnership. Sturridge hit his 10th goal in 11 appearances this season, and he's now only failed to find the net against Southampton and the Mancs (in the League Cup). And staggeringly, Suárez is now only two goals behind his teammate for league goals despite only returning at the end of September. I'm not relishing our visit to Arsenal next weekend as we rarely get much at the Emirates. Plus, with the likes of Wilshire, Ramsey, Arteta, Cazorla and Özil; they've probably got the best midfield. Giroud has improved loads up front too. Nevertheless, we can go there full of confidence; and they will be hardly looking forward to facing us either with Suárez and Sturridge in this kind of form. There was a time when we used to win home and away against Arsenal quite regularly back in the 90s. Since then though, we've only beaten them twice away with a 1-0 win way back in February 2000 thanks to a Titi Camara goal, and then a 2-0 win in August 2011. But even then we needed an Aaron Ramsey own goal and an Emmanuel Frimpong red card to help us on our way against a severely understrength Gunners side. Yet, with S.A.S partnership on fire; fed by the likes of Gerrard and Henderson; we can be a match for anyone. And with Arsenal's defensive lynchpin Mathieu Flamini potentially missing out through injury, there may just be enough room in front of the back four to exploit. And in the returning Philippe Countinho we have a playmaker at our disposal capable of unlocking the meanest of defences.
I was at the Emirates in October 2009 for a League Cup defeat when a banner was unfurled in the Liverpool end to mark the debut of one Alberto Aquilani. He was decked head to toe in Gladiator-style armour like Russell Crowe and next to him in italic letters it said, 'A Hero Will Rise.' Well, it seemed a good idea at the time. Whilst Coutinho hasn't quite hit the heights this season, he'll be chomping at the bit to get back out there. Hopefully, the rise of our new hero won't be a false dawn this time around. My head says 1-1, but the with the Brazilian back in the mix; my heart says we'll snatch a 2-1 win.