Liverpool travel to The Emirates to face Arsenal on Saturday for the late kick-off. The match will provide a real test of Liverpool's early season form. Rory Fitzgerald provides his in-depth analysis of the opposition.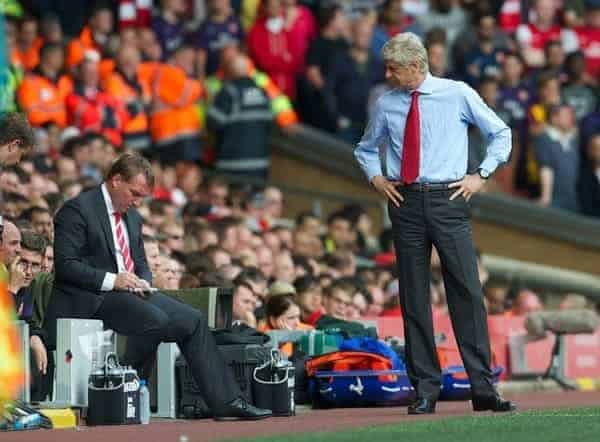 Counter-attacking Arsenal
In recent seasons, Arsenal were a team that played football that was pleasing on the eye. However, at times they were criticised for trying to score the 'perfect goal' as they would take too much out of the ball which meant they lacked penetration. They would look to wear teams down and push and probe in their attacks.
However, recently they have become a team more willing to embrace the counter-attack. They have moved away from playing football in a congested midfield with slow sideways passing and are now attacking with real pace and purpose. A number of Arsenal's goals this season have come from moving swiftly up the pitch after winning back possession. Below are a few examples of Arsenal breaking swiftly when the opportunity arises. It's a tactic which is serving Arsenal well so far, as they have the players that can run with the ball, pick a pass and have the touch and awareness to play in their colleagues.

Arsenal's almost perfect goal against Norwich is shown below. First, they get numbers behind the ball with Giroud and Ozil coming back and force Norwich into making a stray pass by overloading their own defensive third to squeeze the space. They then break up the pitch by continuously passing the ball forward, the only square pass was when Carzola squared to Wilshire outside the box just before he engaged in the double one-two with Giroud. In the space of 18 seconds, Arsenal managed to choke the space for Norwich and then get 7 players up the pitch to give options to the man on the ball including having both full backs out wide to provide width.

Other goals that Arsenal have scored by dispossessing the opposition and immediately playing forward passes with runners supporting the man in possession;
– Fulham. Ball won back in the left back area and clipped up to Giroud who takes it down and lays it off for Walcott who passes to Carzola who then pulls it back for Podolski to smash in.
– Palace. Under pressure, Arsenal clear the ball to Giroud who is just inside Palace's half. With Palace pushing for an equaliser his 1st instinct is not to control the ball to relieve pressure but to pass it down the line for Ramsey who is running off him. Ramsey clips the ball into Giroud to head home to make it 2-0.
– West Brom. Mulumbu gets dispossessed about 25 yards from Arsenal's goal. From there, the Gunners pass the ball forward always trying to get behind WBA before they re-group. With men getting behind the ball, Wilshire equalises with a deflected shot. This is not the greatest example but it still rewarded the team with a piece of luck.
– Norwich. Both Wilshire and Ozil's goals came from direct running and passing up the pitch.
Out of Arsenal's 20 league goals, I would class 9 of them as goals scored by moving the ball with continuous vertical passes up the pitch from defence and scoring a goal inside 15-20secs, though with most of them as quickly as 7 to 13 secs. This style is reminiscent of Wenger's best teams of countering in waves with Patrick Vieira saying that he would always break forward when Bergkamp was given the ball on the counter-attack because he would always pick the right pass. Bergkamp recently said of Ozil that "Behind every pass there must be a thought…..you see that with his control and his movement and that's what I like".
Full backs
With the injuries to Walcott, Oxlade-Chamberlain and Podolski, Arsenal have been filling the five midfield slots with players that are more comfortable playing in the central areas rather than out wide. As such, with the likes of Ozil, Carzola, Ramsey, Wilshire and Rosicky getting games behind Giroud. The graphic below shows that Arsenal play more football in central areas than most teams, though 32% on the face of it is not a huge number, what is more telling is that alot of their play seems skewed to the right.

With no proper outlet in wide areas, this is placing a huge burden on the shoulders of Gibbs and Sagna to get through a great deal of work during games as they are the players that have to provide the width. Recently this was acknowledged by Carzorla who said:
"I believe that full backs have a pivotal role in our team, Jack Wilshire, Tomas Rosicky or myself are not sticking strictly to the touchline. Therefore we open up spaces so our full backs have a corridor where they can go up and down. Our ball possessions are long but they can break through by surprise. That's why full backs are really important for our team. You can see that every game".
Below are a few examples of just how high up the pitch Gibbs and Sagna are willing to go which helps to overload the opposition with numbers in the final third. However, as shown later on, its also an opportunity for the opposition. It;s no surprise that both full-backs were rested against Chelsea in the League Cup given the work they are required to get through.

Finding Space
I believe that the best opportunity to find some space will be behind the full-backs when we win back possession and I believe it was part of our tactic when we went to The Emirates last season. Here is a look at where our longer passes were aimed and the heat map of both Sagna and Suarez. This was one game in which Suarez's roaming tendencies were curtailed and he remained on our left. It's hard to think that Rodgers did this for defensive reasons but rather he put our best player in a position where he was likely to find the most space when Sagna went forward.

Here is an example from that game last season. The run by Suarez and the ball played by Henderson without looking would suggest that there was specific plan of attack at the break downs and that the aim was to exploit the space behind Sagna when he got forward.

Here is an example of how West Brom almost capitalised on the void left down Arsenal's right. Anelka found himself in oceans of space and shot across the keeper but wide of the post which could have put WBA 2-0 up. As noted above, with Arsenal seemingly operating more down their right, we could be winning the ball back in this channel more than the left and as such, with Suarez being stationed on the left of the duo when out of possession, we could be finding him more than Sturridge with the added benefit of him attacking Mertesacker rather than Koscielny.

As shown in the full back section above, Arsenal at times commit as many as eight outfield players to the final third when in possession leaving the 2 centre backs at the halfway line and even at times, inside the opposition's half and again it seems it was something we were looking at exposing last season. In the first half last season, we played like Arsenal have been this season, i.e. when winning the ball back, getting forward quickly with Henderson breaking from midfield to support the strikers.

In periods of build-up play (i.e. not counter attacking), if Liverpool can congest the middle of the pitch and leave space in the wider channels, we are almost guaranteed to see their full-backs coming up in support to try provide the width stretch our team. During the spells of the game that this does happen, I would expect our strikers to take wider-than-central positions to provide an outlet when we win the ball back. It is feasible that we could get Suarez and Sturridge against their two centre-backs and Arteta near the half way line with Henderson trying to join from midfield.
Stats
The stats would also seem to suggest that Arsenal are focusing less on ball retention but aiming to create better chances by exposing space quickly. Arsenal only rank 8th in terms of possession and 6th in terms of shots per game. However, of the shots they take, only 38% are from outside the box which is the 2nd lowest in the league.
As such, they are getting into the box more to get shots off and they rank 2nd in terms of shots on target. Also, worth noting is that whilst Giroud has 5 league goals, he also has 4 assists thus being directly involved in almost 50% of Arsenal's goals this season. However, that does not reflect his indirect contribution to the team as shown below against Napoli.
In defence, Arsenal have conceded 1 goal in 7 of their 9 league games and kept 2 clean sheets. A simple observation from this stat is that there is a goal to be had against Arsenal in this game, though perhaps not many.
Conclusion
There is not much that a preview of Arsenal can uncover for a reader as most fans will have an understanding of what Liverpool will be facing. Some of the main things would be;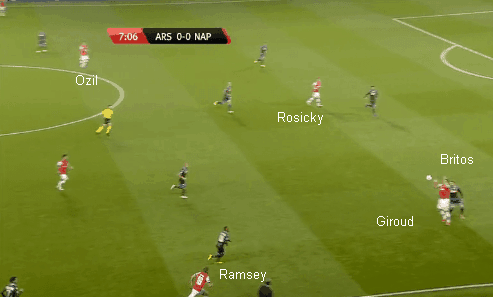 Hopefully this preview has been of some value when evaluating what kind of strengths and weaknesses this Arsenal team have and some of the things we could see this Saturday. For Liverpool, balance will be the key. Arsenal are not bullet proof and enough teams have created chances against them and scored this season.
Hopefully we can strike the right balance between attack and defence as our main strength is getting our attackers on the ball. Whilst the above analysis might seem overbearingly negative, the defeat at Old Trafford last season serves to remind that playing with little adventure causes its own problems and as such, hopefully the team can cause Arsenal real problems without leaving the door wide open at the back.
Rory Fitzgerald
@RoryFitz9
References: arsenal.com, squawka.com, whoscored.com