Liverpool host struggling Crystal Palace at Anfield on Saturday (3pm), Rory Fitzgerald gives us an in-depth look at the opposition ahead of the match.

Liverpool v Crystal Palace
Saturday, 5th October, 2013; Anfield
Their set up has its foundation on the double pivot in midfield of Kagisho Dikgacoi and Mile Jedinak. Dikgacoi is the player more likely to step forward out of midfield with the captain Jedinak covering behind.
Whilst Holloway played an expansive attacking game with Blackpool, he has become more pragmatic with Crystal Palace. Two weeks ago he said that in 2008 he went to Liberty Stadium to watch a few games and that "Swansea changed how I see the whole of football".
However, he was asked if a solid defence was the best starting point for a successful campaign with Holloway replying tellingly that: "I think it is for this group. We actually got promoted by being hard to beat, hard to break down and then counter attacking".
Palace have not generally played with 2 out-and-out wide players. Their favoured channel of attack is down the right. The right back has generally been between Joel Ward or Mariappa, with Ward having the more attacking tendencies and Mariappa being more defensively minded.
On the right of midfield is Jason Puncheon, on loan from Southampton. The stats show that Palace favour the right and even more so when playing away. If there is a break away, our left side is likely to be busier.
Palace's only natural left sided player, Jerome Thomas, has started just once. Instead Holloway preferring to play either Barry Bannan or Jose Campana on this side, both of whom are more suited to a central role. This is perhaps a conservative move to retain balance; i.e. 3 central midfielders in midfield with 1 more attacking wide player and 2 strikers.
Holloway has largely started with 2 centre-forwards in each game so far, with Dwight Gayle and Maroane Chamakh starting most of the games together. Its not a natural 1-upfront-with-1-off but they will take it turns to alternate with Chamakh more likely to come deeper in order to allow Gayle use his pace against the last man.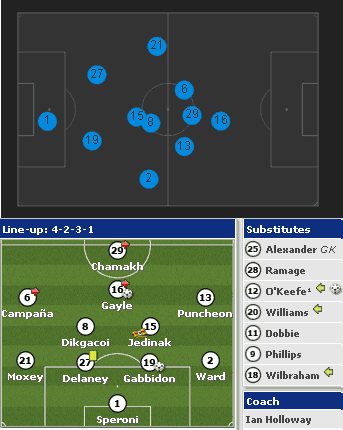 Style of play
While Holloway admits that its a counter-attacking set up, his team do not look to go from back-to-front straight away. He still retains a belief in his players to play football and, unfortunately for him, it has cost him on more than one occasion due to the quality of player in the team.
Jedinak is a 6'2 defensive midfielder and considered one of their best players. Only 3 other midfielders have made more tackles than him this season, with Lucas being one of those. He is the player most likely to get on the ball for Palace in deep areas but with a pass success rate this season of just 76%, its not ideal to be giving away 1 pass in every 4. He is currently getting up to speed with the Premier League but largely at fault for 2 goals recently. However, it is reflective of Holloway's patience with trying to play some football and not just insisting on players taking the safest option and smashing it up the pitch with his captain trying to lead by example.



In the graphic above, Jedinak plays a stray pass despite being under little pressure. Young collects the ball and drives at goal with Dikgacoi fouling him and the referee contentiously awarding a penalty and sending off Dikgacoi.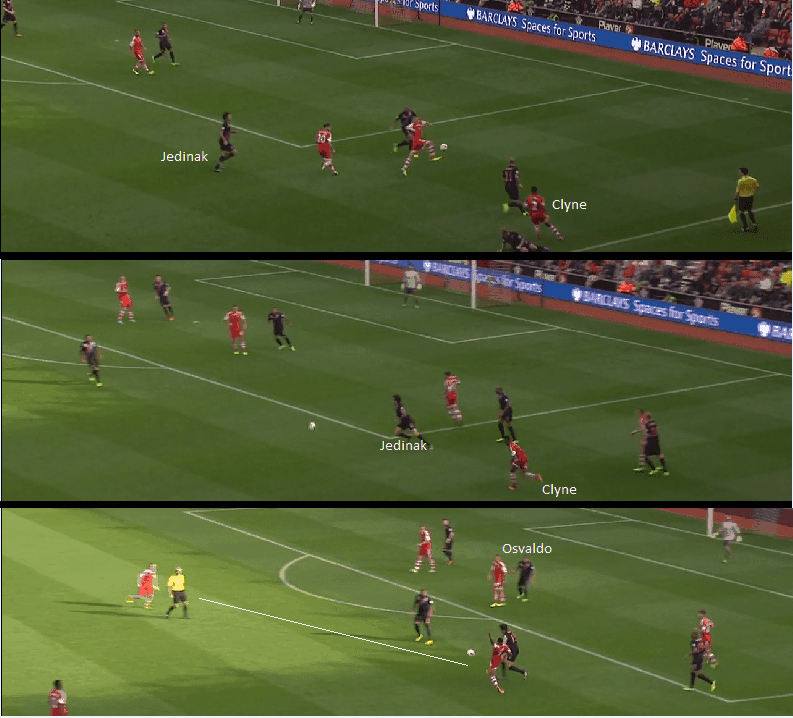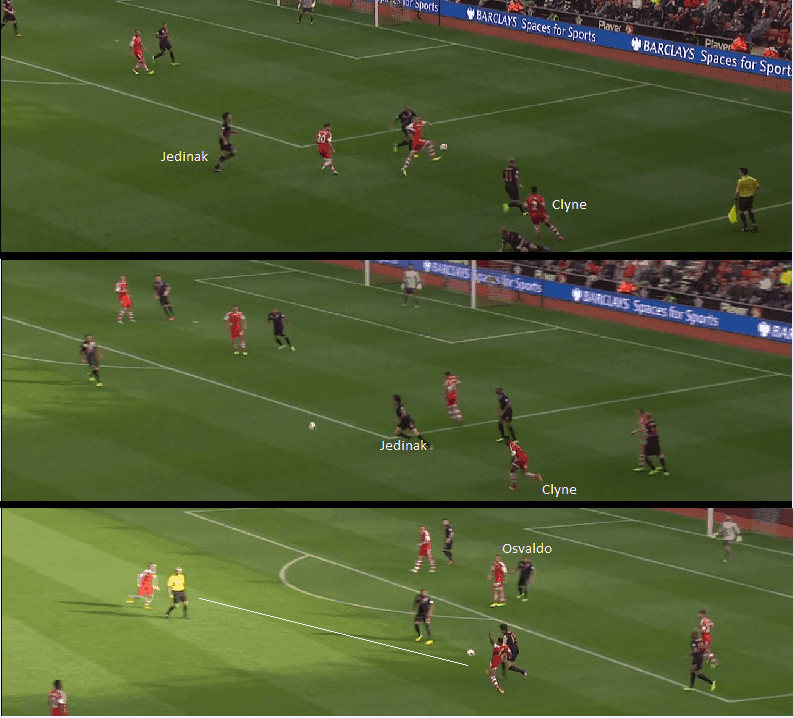 In this screen shot, Clyne has attempted to play a one-two but the return ball is very poor and puts Jedinak in control of the situation. However, he is ponderous in getting to the ball and looks like he is weighing up what he will do with the ball when he controls it. But, Southampton work very hard to win the ball back and Clyne races for the poorly returned ball and gets there ahead of a Jedinak. Ultimately, the ball springs forward to a Southampton player and they get the ball into Osvaldo who scores the opener. Both situations are reflective of a team that look to play some football but can make quite a few unforced errors especially if put under pressure.
Palace's weaknesses
The in-game graphic below is a chance that Southampton created with poor tracking from Jedinak.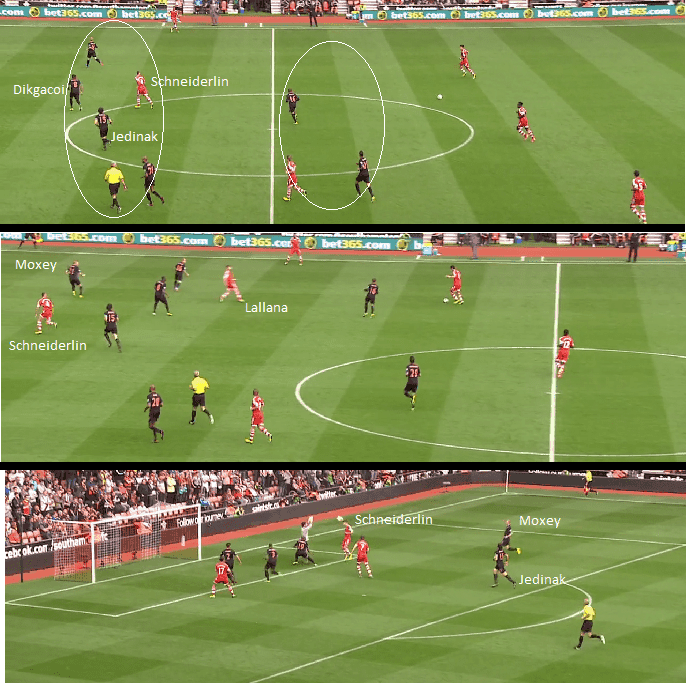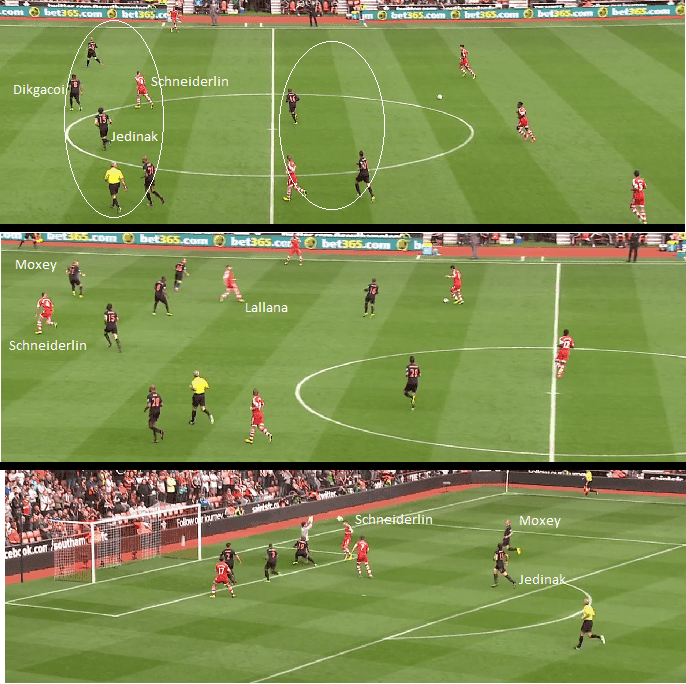 1st screenshot: Palace have fallen into a flat line of 4 in midfield with Gayle & Chamakh ahead. Nothing to see here except to note their shape.

2nd screenshot: Adam Lallana has darted off Moxey who had initially made the move to track him but has now stopped. At the same time, Schneiderlin has continued his run through Dikgacoi and Jedinak and is moving into the space in the left back area vacated by Lallana dragging Moxey out. In a midfield double pivot, one would move out and the other would fill the space. Dikgacoi is holding his position to face Lallana if he receives it. However, Jedinak has not read the danger of Schneiderlin's run. There is little excuse for this as the run and the space are in his line of sight.

3rd screenshot: The ball finds Schneiderlin after a flick on from Lambert and his header is cleared off the line. Note though how poorly he was tracked and the distance between him and Jedinak.
The screen shot below shows some decent movement by Southampton to take advantage of the space between the flat midfield quartet and the defensive line. This is an area of the pitch that Suarez revels in if given enough space to receive a pass and get turned to face goal.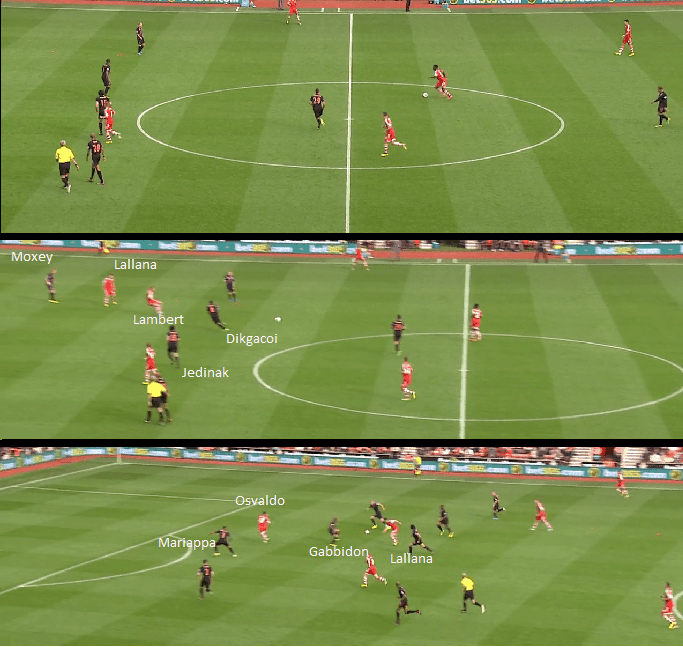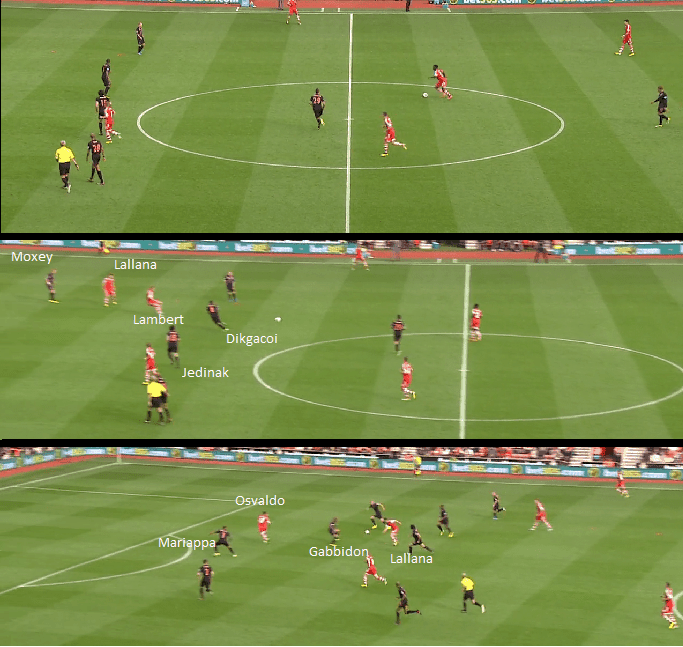 1st screenshot: Same shape in midfield but now Chamakh is off Gayle.

2nd screenshot: Lambert has made the run off the defence and into the space between-the-lines to receive the pass from Wanyama.

3rd screenshot: With one touch, Lambert lays the ball off to Lallana who is also between-the-lines which drags Gabbidon out of the defensive line with Osvaldo making the run into space and Lallana finding him with a pass with the outside of the boot. In the end, Speroni tips a fierce shot from Lambert over the bar.
Attacking 'threat'
Its hard to make a case for Palace as an attacking force. 3 of their 4 goals this season came against a poor Sunderland team and they have lost their last 3 games by a 2-0 scoreline.
In terms of attacking football in the opposition's third of the field, Palace rank joint-2nd worst with just 23% and that falls to 20% when you look at just the away games. Below is a heat map of Crystal Palace's activity against Man Utd at Old Trafford for the opening 40 mins as this was the period when they had 11 men on the field. This is something Liverpool should be looking to replicate at Anfield.

Overall, their stats are commensurate with a team that is 19th in the league;
17th when it comes to shots per game (10)
18th for conceding shots on goal (15.4 per game on average)
17th at retaining possession (44%)
17th in terms of pass success rate (76.1%)
Speroni's right side?
It would be absolutely ridiculous to suggest that a goalkeeper in the Premier League has an issue with diving to a certain side. Speroni has made some good saves going to his right this season and made valiant attempts to get to Rooney and Lambert's free kick goals to that side. Also, 2 of the goals were penalties – though he dived to his left both times – did he guess wrong or was he more comfortable going to his left ?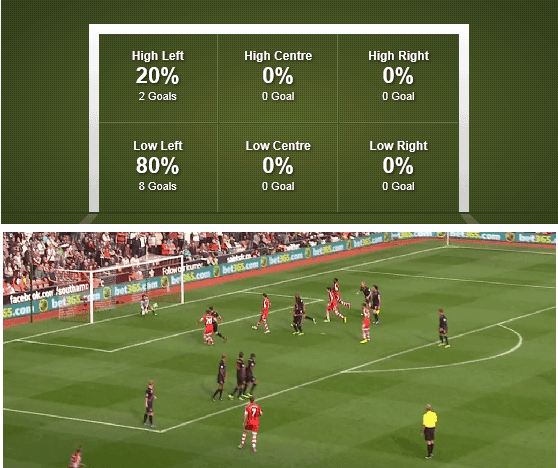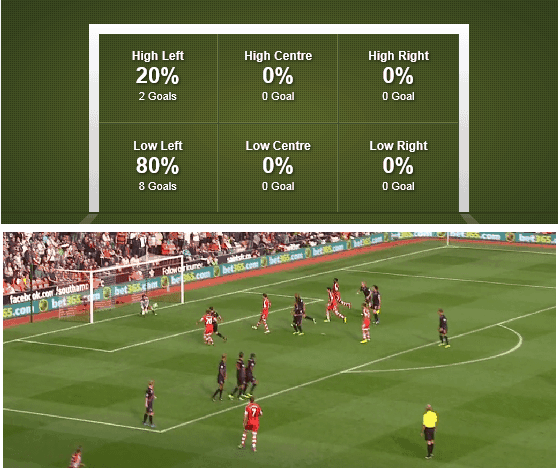 The screenshot above seems to show some discomfort as a free kick by Lambert is palmed away 'beachball' style. Despite being very close to his body, he does not elect to catch it. Is there a slightly higher chance of success by going to his right than his left? Is he a fraction slower getting down to that side? Osvaldo and Charlie Adam scored on this side with shots that were not in the corner of the goal. This could all be coincidence and its only included out of curiosity.
Possible Line-Ups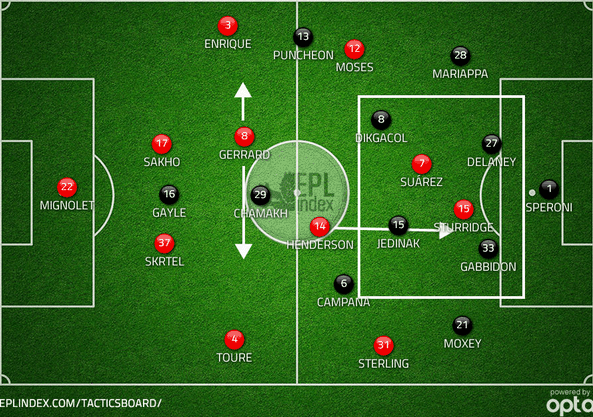 1. Given the quality of the opposition, I do not see why we would look to play 3 centre backs at home.
2. With Lucas banned, I think Rodgers will move Henderson infield and ask him to play the box-to-box role with Gerrard being more disciplined.
3. Should Henderson be moved infield and Sterling recently getting game time from the bench, I think he may get the role on the right side.
4. With Palace likely to play deep & compact, playing Sterling and Moses out wide it could help stretch the play and create space for Suarez.
Conclusion
Crystal Palace are a sub-standard team that are ill-equipped to survive in the Premier League this season.
Their main hope for goals is Marounne Chamakh who has scored 2 goals in 20 league games over the past 3 seasons and a 22yr old kid bought from the Championship who scored 13 goals in 29 appearances. In short, its not enough. They sold Zaha for £15m and invested £18m in the team with loan signings like Cameron Jerome & Jason Puncheon. Given that they were in administration in 2010, its understandable that they did not jeopardise their financial structure in the hope of staying in the league.
In 6 games so far this season, Palace have lost 5 games, scored the (joint) fewest goals (4) and conceded the 2nd most (10). The stats look worse when you consider their only win and half their goals were against Sunderland when John O'Shea had a brain freeze and gave away an unnecessary penalty and got sent off.
Liverpool should dominate possession, with Speroni likely to be very busy in goal.
In essence, this could be like Stoke on the opening day of the season. However, with Suarez now available and Speroni in goal, not Begovic, I would hope that this game would mark the start of Liverpool dominating the opposition from start to finish and scoring a few goals in the process… though perhaps not 9-0!