Dan Holland reports on an ultimately positive day at Anfield but unfortunately there were still some negatives.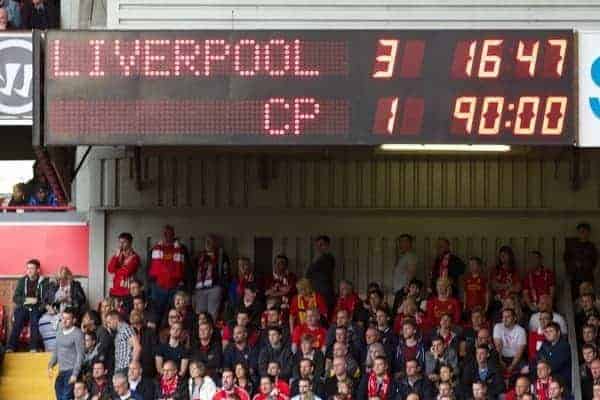 Nothing unusual in the fact I was heading to Anfield on a Saturday morning, but rather than travelling by car as normal I went on a coach with the Grimsby Branch of the Supporters Club. This is something I haven't done for years but it was nice to see some old faces and have a good catch up.
Anyway I digress; the main question ahead of today's game was who would replace Lucas in the Liverpool starting line-up, with Henderson always likely to replace the Brazilian in midfield it was a matter of who would fill the right wing back role. Raheem Sterling was the man that Brendan Rodgers turned to, BR obviously rates the youngster but I have personally seen nothing since his first month in the side last season to suggest he is going to be a top player. His touch at times is very poor and the end product is largely ineffective. Today was another poor performance, yes he was playing in a new role but this does not excuse the regularity with which he gave the ball away. I'm all for giving young promising players a chance but he has soon got to start delivering.
As the teams entered the field yet again Liverpool Football Club showed how much of a family club it is with Luis Suarez carrying his two week old baby and holding the hand of his daughter. After the pointless handshakes he posed for photos with his young family on the field before passing them back to Mum on the touchline. For our female readers I hate to report that after only 2 weeks Mrs Suarez has lost all her baby weight!
Another point of interest following comments from today opposition's gaffer – Ian Holloway – was that he did indeed sing along with You'll Never Walk Alone and looked slightly emotional as thoughts of his father no doubt entered his head. Fair play to you Ian Holloway, never be afraid to show your feelings. Top bloke.
The game got off to a slightly cagey start with only three incredibly loud explosions from the away supporters breaking the monotony on the field. The use of pyrotechnics in a football ground before today hasn't really caused me to have an opinion but today this changed. I'm sure I may upset some Liverpool fans here who in recent times conveyed an opinion at away games of 'No Pyro, No Party'. For me, as a father who is hoping to take my boys to the match in the coming years, the sight of a young boy of around 8-9 years old being carried by a policeman from the affected area and his concerned family following behind made my stomach churn.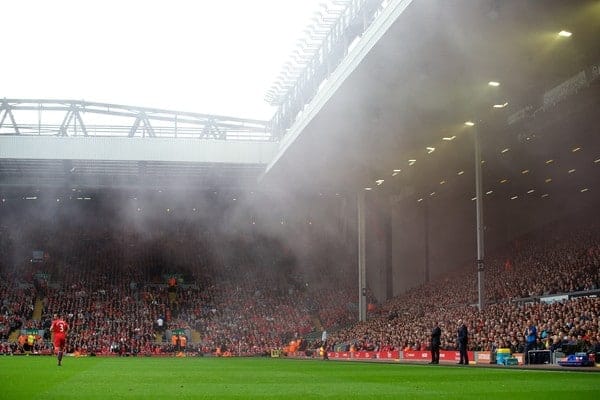 This young child would have I'm sure been looking forward to today's game for days/weeks, it lasted around 2 minutes. Now the reason this young boy was being carried out is obviously unknown to me but he may have been petrified of the noise or he may have incurred injury to his ears and with the volume of the explosions this highly likely. His family must have been worried sick as well and let's be honest this may have put this youngster off going to football matches. What a shame, do we really need these pyrotechnics in a football ground, does it enhance anyone's experience? I doubt it.
I have now got down off my soapbox and will talk about the game I promise. With every passing minute Liverpool grew into the game and our attacking trio of Moses, Suarez and Sturridge were running rings round the Palace defence. The Uruguayan was the man to open the scoring when he linked up well with Jose Enrique before slipping the ball into the Palace net despite being nearly sat on the floor.
Just four minutes later our lead was doubled with a sublime individual goal from our other goal machine Daniel Sturridge. The league's leading scorer twisted and turned around Damien Delaney before clinically slotting in his 6th league goal of the season.
Palace then briefly recovered with Toure clearing of the line and Mignolet pulling off a fantastic save from a deflected shot. Despite this recovery Liverpool were well on top and playing some very nice football with Henderson and Gerrard being at the start of most moves. It was the skipper who added the third from the spot after Sterling was pulled back on the edge of the area. It is now the 15th consecutive season that Stevie has scored in the Premier League, which is some achievement.
I am however concerned about one of our greatest ever players, he doesn't seem to be enjoying his football. I know he's never been one to play with a smile on his face but his body language somehow seems different. There was no real celebration after scoring the goal which is unusual because a lot of emotion is normally shown by Gerrard. There was also an occasion in the game where Sturridge could have squared to Stevie but chose not to and shot wide, normally he would berate this decision from Sturridge or at least look disappointed but he just turned away and trudged back to the half way line, again totally out of character. I hope this is nothing more than a 'blip' as if we are to remain in the top 4 we need Gerrard firing on all cylinders.
Victor Moses could have capped off an excellent first half for him and the team but somehow managed to hit the bar from inside the six yard box. Three nil at half time and the points looked safe already and I think the team knew that.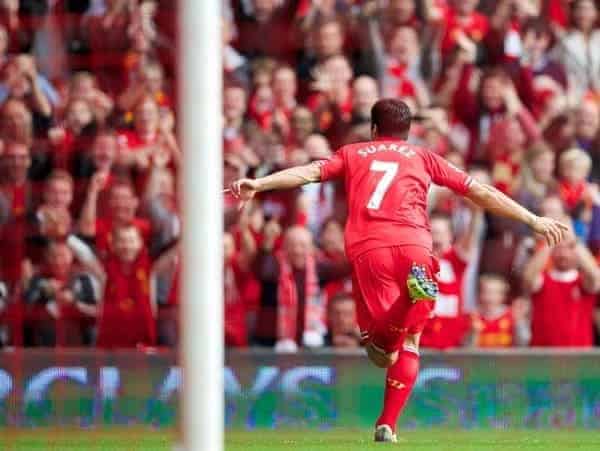 The second half as has been the case more often than not this season was a non-event. The passing wasn't as sharp, the movement was virtually non-existent and silly mistakes crept in. Only Jordan Henderson's performance stayed at the same level throughout and was without question today's man of the match and further questioned why he isn't in the England squad. England's loss is our gain!
The poor performances in 2nd halves this season is becoming a bit of a concern now. Is it a mentality issue ie protect what we've got and this could cause confusion and hesitation in the players or is it a fitness issue, maybe too much time was spent on improving the football during the summer at the detriment of the squads fitness. Either way it needs sorting and quickly as otherwise we will get punished and ruin this fine start to the season.
But let's end on a positive note, we are top of the league until tomorrow night at least but let's hope West Brom can do us a favour and we head off into the international break on top. Maybe then some atmosphere can return to Anfield, any would think we were struggling like them down the East Lancs!