Brendan Rodgers was openly angry about the recent decisions of Liverpool striker Daniel Sturridge which meant he was forced to start with his leading goalscorer on the bench for Saturday's 3-3 draw at Everton.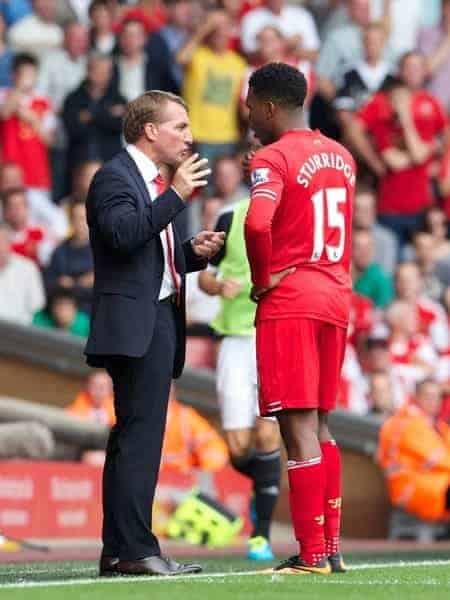 Despite having missed the first of two England games during the international break prior to the weekend's club football to nurse his thigh problem, Sturridge played against Germany for his country on Tuesday night.
The 24-year-old is vying to earn a place in England boss Roy Hodgson's team for next summer's World Cup in Brazil, but his involvement on Tuesday night at Wembley had negative consequences on his fitness when he resumed training for Liverpool.
Consequently, Rodgers was forced to start with Sturridge on the bench against Everton, although the former Chelsea forward came on as a second-half substitute to head home an 88th minute equaliser.
Rodgers explained his selection decision, based on Sturridge's fitness in training before the game. He is quoted in the Guardian as saying, "I am looking at him in training on Friday and he is not right. Whose responsibility is that? It is the [Football] Association and the player.
"It is very simple for me. With any player, you have to put yourself on the training field. If you do that, you will be in with a chance of playing. Jon Flanagan was immense. He will be in a derby that is shown on Sky Golden in 30 years' time because of his desire and will to put himself out there every day.
"If you don't do that, there is a consequence – you don't play. If you want to be a champion, if you want to win things, you have to be ready. For this game I just felt Daniel wasn't ready."
Rodgers added that he was right to rest Sturridge and had predicted an under-par performance from him due to lack of full training.
"I could see it in him. I have seen it before. There is a trend," he added. "The games he has disappointed in have come when he hasn't trained. That was the call here."

Was Brendan Rodgers right to start with Daniel Sturridge on the bench vs Everton? Let us know your thoughts in our TIA Discussion here.
Liverpool now have a quick run of games with a trip to Hull City this Sunday, before a midweek game at home to Norwich City and finally West Ham United three days later at Anfield.