Brendan Rodgers addressed a room of journalists at Melwood on Friday afternoon ahead of this weekend's Premier League trip to Hull City.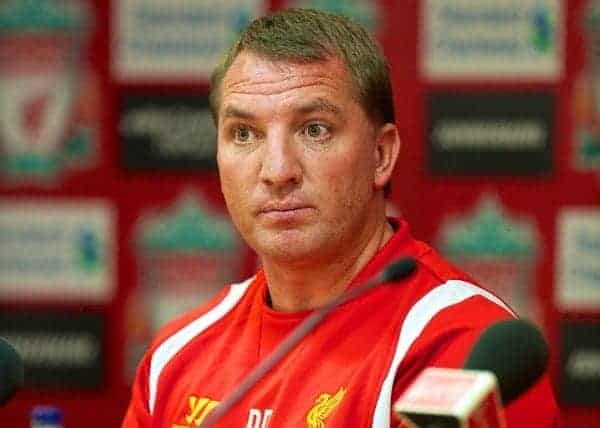 UPDATE: Saturday's newspapers report that Liverpool fear Daniel Sturridge is facing a lengthy spell on the sidelines after the striker suffered suspected ankle ligament damage in training on Friday.
There wasn't much asked of Rodgers, who will be hoping his side can bounce back from their dramatic 3-3 draw at Everton last weekend when they visit the KC Stadium this Sunday.
The Northern Irishman did, however, give an update on the fitness of Daniel Sturridge, who played just 11 minutes of the Merseyside derby.
The official Liverpool FC website quote Rodgers as saying, "He has certainly trained very hard this week. We've got another day to go to prepare and see where all the players are at.
"I like to give all the players every chance to show that they can be in the team. He has worked exceptionally well and, when he does that, his quality is there for everyone to see."
Aside from that, Rodgers said he had no other major injury concerns.
Meanwhile, Hull boss Steve Bruce told press in his pre-match press conference that he believes Brendan Rodgers keeping hold of Luis Suarez at Liverpool this year was the Reds' boss's biggest achievement yet.
"I think that was his biggest achievement so far, turning that situation around because it must have been difficult at times," Bruce is quoted by the Independent as saying.
"I think they were adamant that they were holding on to their best player and any club, if they've got aspirations to go and compete at the top level and win the league, have to keep hold of their best players.
"Certainly Suarez is that for Liverpool.
"He has proved year in, year out that he's as good a player as there is in the Premier League."
HulL City vs Liverpool gets underway at 2pm on Sunday, 1st December 2013 and it's live on Sky Sports.
Look out for more match build-up throughout the weekend on This Is Anfield. But why not start with Rory Fitzgerald's tactical analysis of the Reds' opponents.