In the third part of his four part series this week on This Is Anfield, Romanian writer Alex Irimia charts the progress of Liverpool boss Brendan Rodgers in his first year and a half at the club.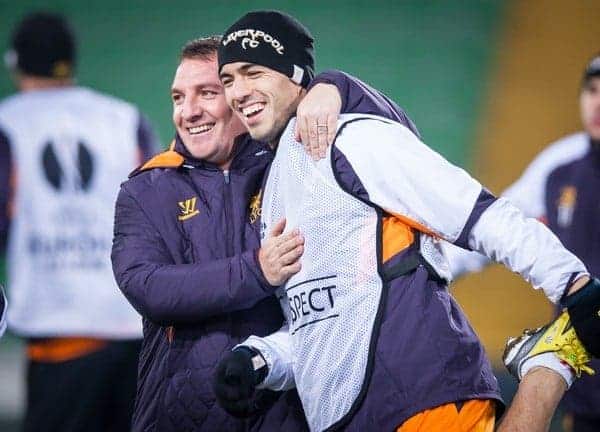 Man management
A paramount skill to a football manager's job is the ability to create, develop and maintain strong relationships with the players. As a manager, you can create your own staff, choosing to keep members of the previous tenure or bring a whole new team.
One cannot do the same with the squad, at least not at once. It is ludicrous to believe that a new manager could sell the entire squad and buy a new one just as easy as purchasing a new golf kit.
Changes can be made only gradually, and it is not an easy task, considering that players have very steady contracts in place, that protect them from being shipped out at any given time.
You also have to consider the required support from the owners for such an approach.
It is an accepted reality that a manager will have to lock horns with some players in his activity that will occasionally result in fallouts, which means the manager-player relationship will not always be pink and bloomy.
And that is absolutely natural considering the chemistry between people and the way individuals wrong each other, not to mention the male pride, so characteristic to an exclusive males environment. And that is ok, as long as it doesn't describes the general atmosphere in a locker-room.
I still remember an episode that happened in the early days of Brendan's regime, when, in the pre-season that took place in the US, the new manager had a small incident involving young Raheem Sterling who tested the new manager's steadiness with a sleazy line thrown back at Rodgers.
The boss responded firmly advising the youngster to either step back in line or be put on the plane back home. It was a minor event but it showed straight away the unbending backbone of the new manager.
You need to know that the man in charge is capable to impose himself on the group he is to manage and he can handle the tough times concerning situations when he will be challenged by others on different levels and different occasions.
For a manager you need a steady hand and I gradually discovered that, regardless of his young age for the position he occupies, Brendan Rodgers is a very sturdy character, not to be taken lightly by anyone, be it own players or people from outside the club.
But despite his steadiness, Brendan Rodgers looked like a manager with a very close relationship with his players since his days at Swansea City.
Watching him on training videos and interviews, you notice that he has much of a fatherlike attitude towards his young players and an honest, opened and friendly, yet steady relationship with the seniors.
Judging from interviews, the players embraced the new manager and seem to have a genuine respect and admiration for him.
It is true we have seen successful football managers who reached high peaks without being known for their close relationships with their players. The first example to spring into mind is of course Rafa Benitez.
The man was known for his tactical prowess, the obsessive attention to details, the exquisite way he prepared the big games and his extremely analytical approach on coaching.
That made him an important manager, well thought, respected and admired, one who brought glory to the clubs he took charge of, bearing in mind his Liverpool tenure was arguably the most notable one, with three trophies won in six years.
But something lacked from the Spanish manager's approach regarding the attitude towards the players. At one point, the club captain, Steven Gerrard, said the style of Rafael Benitez was a bit distant, but that didn't make him less of a manager, or dented his other qualities in any way.
However, it's easy to see why a manager with a strong, close relationship with his players is preferable to one with a cold shoulder.
Those players will fight hard for their manager to repay his faith and support. I'm very happy to observe this phenomenon in our squad this season.
Player handling
This could be the subject of an entire different discussion on transfers and players evolution with loads of statistics and analysis, but the simple truth is that the man has a golden touch.
To prove my point I will remind you that Rodgers brought in, at ridiculous prices or even for free, players that were out of favour and out of form at the time, and they proved to be spectacular for the Reds.
I assume you already guessed I'm talking about Daniel Sturridge, Philippe Coutinho and Kolo Toure.
Remember that everyone thought that Brendan is taking a wild bet doing so, from football specialists and TV pundits to Liverpool's loyals. And it was not about only signing the papers. These players were frustrated and even damaged by their status and the treatment they had at the previous clubs.
There's no denying that they grabbed this chance with both hands, but they could have easily ended up in the "flops" bucket if they wouldn't have been handled properly. A different example is the skipper himself.
Steven Gerrard has barely played the season before the appointment of Brendan due to a series of complicated injuries. Yet, Captain Fantastic had no less than 36 appearances last season, scoring 10 goals and providing 9 assists in the process.
That is impressive by anyone's standards, especially if you think about his horrible year before and it illustrates that Brendan was very careful and paid special attention, customising Gerrard's training for maximum effects.
To put the lid on, I will rewind the case of Martin Skrtel. It's all nice and sunny on his alley now, being, arguably, the main pillar of the team's defence this start of the season. But, not long ago, it wasn't at all like this.
No further than this past summer there were a lot of Liverpool fans arguing that the club should cash in on the Slovakian giant on the first occasion, that he is well passed his best, he's a liability, and there was nothing he could bring to improve the team.
Well, time and Skrtel himself proved them wrong. It's common knowledge that the big centre-back has dragged himself in front of the firing squad through a series of patchy performances last season, which culminated with that awful, awful Oldham cup game.
That resulted in him being dropped from the lineup until the end of the season with quite grey perspectives going into the summer break.
Fast forward few months and take a look at the man now: he is arguably our most in-form centre-back with already a couple of MOTM awards to his name, and looks solid as a rock in the middle of our defensive line. What happened?
The guy learned his lesson, picked himself up and never lowered his sights since then.
But what was the manager's contribution in all of this? He had a sit down with the player and told him where he was on his performance and informed him unless he steps up his game he won't get in the lineup anymore, or even worse, he will not be part of his future plans.
The key was that his speech was reinforced by his attitude and his actions.
After leaving the defender out in the cold for half a season, Rodgers repaid the player's right attitude and his hard work with a big chance against United.
I know the instinct would be to say that Rodgers had no other choice at that time, with Kolo Toure being injured from the cup game, but was that so?
He had on the bench the young Andre Wisdom, and he's shown before and after that point that he has no chills when it comes to sending youngsters into big battles. Besides, Skrtel was coming after a knee injury that kept him from completing the pre-season.
So if Brendan Rodgers really had a thorn against Skrtel he could have not played him.
The whole thing must have been very relevant for Martin Skrtel and his team-mates regarding their new boss's ways.
It became obvious that Brendan Rodgers is a just man, who makes his calls based on performance and not on personal sympathies or preferences. But more importantly, the players understood that with the new manager they have control over themselves: if they work hard and do well they will be rewarded, if they don't measure up they will be dropped.
Another major factor in the solving of the matter must have been the way the manager delivered the punishment to the player, and the feeling that he gave him while doing so. More often than not, the attitude and the feeling transmitted while delivering a message it's worth hundred times the spoken words.
And Brendan must have had the right attitude if in the cases of both Skrtel and Downing the message was received as intended and the response was an adequate one.