Can Joe Allen recover from his missed chance against Everton in the Merseyside derby last week? Neil Collins hopes so and advices the Welshman to take inspiration from how Jordan Henderson has recovered his Liverpool career.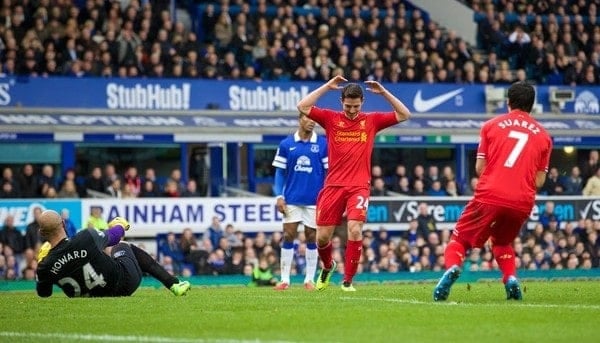 ICONIC and infamous incidents define careers at Anfield. From King Kenny's wild celebrations at Wembley '78, to Brucie's spaghetti legs of Rome '84 to Gerrard's heroics in Istanbul '05; these are moments that will always be associated with Liverpool legends.
Conversely, a player's legacy can also become something he would rather forget. Ronny Rosenthal was instrumental in winning Liverpool's last league title, but he'll forever feature on bloopers DVDs for hitting the bar from an open goal.
Likewise, Djimi Traoré has a Champions League winner's medal but will be remembered for tapdancing the ball into his own net at Burnley. And Phil Babb…well, he'll just be remembered for crushing his plums either side of a goalpost.
A less painful fate may await Joe Allen, but he'll need thick skin to cope with the vitriol hurled his way since that miss. The Welshman will have replayed it in his head a million times. And it doesn't get any better with each view for us Kopites either.
I was stood dead in line with Allen as he beared down on Howard's goal and we awaited the net to ripple. And it actually looked like he had scored from our angle before the away end transformed into a sea of shaking heads and snarled faces.
Famed for his neat, short passes, Allen did no different here. But this time the recipient was the advertising boards. A simple ball to his left would've found Suárez in space for a simple tap-in and it's game over. Understandably, the miss affected Allen who picked up a caution and was hooked soon after. However, it's interesting to note that Liverpool were leading 2-1 when he was on the field, but then conceded twice after he'd been replaced by Moses.
But has the intense criticism of Allen been unfair? After my initial disappointment at Sturridge not starting; I was in the minority that welcomed his inclusion in the team. I felt that a central trio of Barry, McCarthy and Barkley could've dominated a flat 4-4-2 formation. Let's not forget that Allen was the pass-master in Rodgers' promoted 'Swanselona' side that continued playing it's slick style of football in the Premier League; even playing us off the park at Anfield.
And for the first half of last season Allen was our best player behind Suárez; earning rave reviews including a Man of the Match performance against Man City, which Yaya Touré called his toughest game in England. His displays resulted in him winning our August Player of the Month award, and he also impressed at the Olympics for Great Britain. His year was completed by beating Gareth Bale to Welsh Player of the Year award too.
Allen may have arrived with a very promising reputation, but his cause wasn't helped by Rodgers' ill-considered 'Welsh Xavi' comparison, which was always going to be a terrible mistake.
Yet, you don't become a poor player overnight, so where did it all go wrong? Changing circumstances and bad luck have been as much to blame as his drop in form. With Lucas sidelined for months, Allen operated in the holding midfield berth due to the thinness of Rodgers' squad.
However, the role was never Allen's preferred position and he sometimes struggled with the physicality required. After initial success, he fatigued around Christmas from playing too often. His last appearance of the season was a dismal display at Southampton in March before a shoulder operation brought his campaign to an abrupt end.
As Allen's form and confidence declined, the rest of the team produced a great second half of the season; making his fade more prominent. Henderson dramatically improved starting with a crucial goal in the Europa League against Udinese.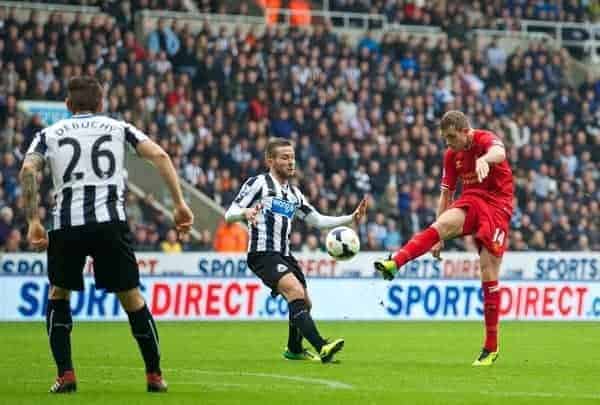 When Rodgers took over, Hendo was becoming the forgotten man and was in the same predicament that Allen finds himself in now. The Wearsider was targeted with criticism as he struggled to justify his big price-tag with a long streak of anonymous form. In fact, he was on his way out as part of the doomed Clint Dempsey deal. Yet, Henderson hasn't looked back since that scruffy winner in Italy, and he added a further five goals in the subsequent months.
He's established himself as a staple of the Rodgers' starting line-up this campaign, and is now a strong contender to be on the plane to Rio. Actually, it's a shame that he wasn't in Allen's one-on-one position last Saturday because he's shown great composure in those situations and would probably have buried it.
Strangely, some of Allen's better performances have come when he's had the shackles off. His two goals came in matches against Oldham and Zenit when we've desperately needed a result. And he thrived in a more advanced role in Gerrard's testimonial; scoring a simple tap-in (but also missing two sitters). Therefore, I don't entirely agree with the general consensus that all he offers is tidy distribution sideways and backwards.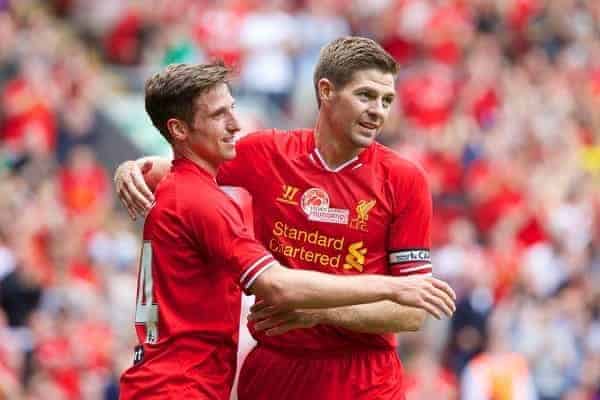 Like it or not, Allen will feature throughout the congested Christmas period and talk amongst fans of him being sold is a bit gung-ho. Rodgers is a brilliant man-manager and I expect he'll defend him in his press conference. I wouldn't be overly surprised if he gives the 23-year-old a start against Hull too.
Allen can take inspiration from Henderson and also his Welsh teammate Aaron Ramsey, who's overcome criticism to excel in a superb Arsenal midfield. The best thing Allen can do now is get that miss out of his system with a good performance or by grabbing a goal; even if it's goes in off his arse. Even so, it's difficult to see where he'll regularly fit into our strongest side.
Regardless, I want him to succeed as he's a modest and hard-working professional, who hasn't moaned about being on the bench. I'm just hoping that miss won't be the overriding memory of his Liverpool career.