Liverpool's performance against Fulham, not just the result, was enjoyable for the dominance which Brendan Rodgers' side displayed, Adam Griffies (@whatahitsonlfc) explains.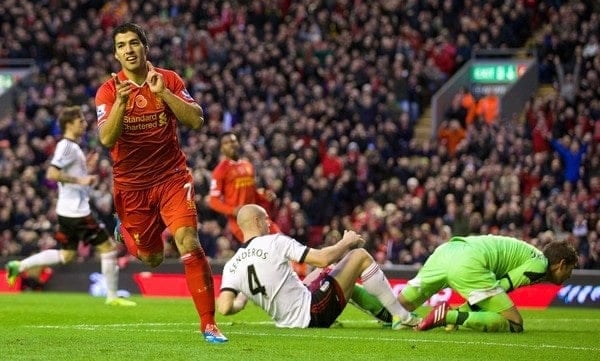 Given Liverpool have retained a lofty league position, so far, throughout the topsy-turvy 2013/14 Premier League season, it seems inappropriate to describe our performance on Saturday as 'better'.
The Reds returned to second place, just two points behind leaders Arsenal, rebounding from last weekend's sobering defeat to the aforementioned, by putting four past Fulham at Anfield, securing 67% of possession in a rampant display. And that's precisely what we were: better.
How Liverpool set up on Saturday. Fluidity was the key to the Reds' improvement:

Having not kept a clean sheet, significant or not, since introducing a back three against Manchester United in the Capital One Cup over two months ago, Brendan Rodgers reverted to a defensive quartet for the visit of Fulham, selecting a "4-2-2-2″—or flexible 4-4-2—system. This allowed us to control the game centrally, with Lucas Leiva, Steven Gerrard, Jordan Henderson and Philippe Coutinho packed into a prominent, diverse midfield.
While risking sounding glaringly obvious, fielding one less centre-back also enabled us to deploy an extra man further up the pitch, and subsequently press higher than in recent games and pen the opposition inside their own half. Instead of self-consciously cramming players behind the ball to account for our lack of energy in the defensive half of our midfield, we finally decided to put our opponents on the back foot and look to win the ball from them early, utilising the energy of Luis Suarez and Jordan Henderson in the attacking third of the field.
Identity
Our identity was back: the Rodgers identity. That's why Saturday felt different to any other win in this campaign to date. Last season, strong, dominant performances often left results behind after a seemingly seismic shift from the stodgy, haphazard football of previous reigns to idealistic tiki-taka stuff.
There may have been too much change, too soon, but at least there was a discernable plan. This watchable footballing formula has unfortunately, slowly faded in 2013/14, and in contrast to last year, results have wrestled their way in front of performances. However, probably for the first time this season, the two aspects married on Saturday.
Another pleasing feature of the victory, for me anyway, was the recurrence of Brendan Rodgers' spontaneity and proactivity with substitutions. Three changes were made, with, most significantly, Joe Allen replacing the impressive, but previously unassailable Steven Gerrard in the 67th minute. The move gave our captain a deserved and necessary rest, while also offering the Welshman Allen half an hour of football after recent injury troubles.
Average positions from Saturday. Our dominance is highlighted by the difference in distance between the goal and each team's last defender:

Dominance
I can almost hear sceptics now, murmuring 'It was only Fulham', but my point is, Saturday wasn't just a comfortable win against a poor side; it was an incredibly dominant team display by the Reds, accounted for by a change of structure and a noticeable improvement in style. We may have beaten West Brom 4-1 and Crystal Palace 3-1 at Anfield recently, in similar fixtures, but we conceded a combined 25 shots in those two games.
Compare this to the four Fulham had on Saturday, and my argument of our increased supremacy at the weekend gains further justification. In fact, the shot differential on Saturday, Liverpool's 32 compared to Fulham's four, has only been exceeded by six of the previous 5,000 Premier League games.
Our fluency returned; Gerrard, Henderson and Coutinho interchanged unconsciously while the front two characteristically drifted around, at times into our own half, confusing Fulham defenders and making themselves impossible to mark. Gone was our disjointed 3-5-2 setup and reliance on the isolated Suarez and Sturridge to produce moments of individual brilliance: universality was finally restored.
Last year's aesthetic quality looks to be back, but now we boast a cutting edge to capitalise on it. If we maintain the manner of Saturday's performance, with the additions of players like Daniel Sturridge and Philippe Coutinho, and the improved finishing of Luis Suarez, I expect us to start reaping the rich rewards our play deserves, in contrast to our prettiness and profligacy during Brendan Rodgers' first few months at the club.

After all, performances, not results themselves, are the most accurate indicator of future results.
Toward the end of Saturday's game, a chorus of 'There's only one Brendan Rodgers' rang around Anfield. Times are changing, and home games are starting to feel like, just that: home games.