Daniel Sturridge has responded to criticism that he jeopardised Liverpool winning Saturday's Premier League clash at Everton by playing for England four days earlier, which ultimately made him unfit to start at Goodison Park.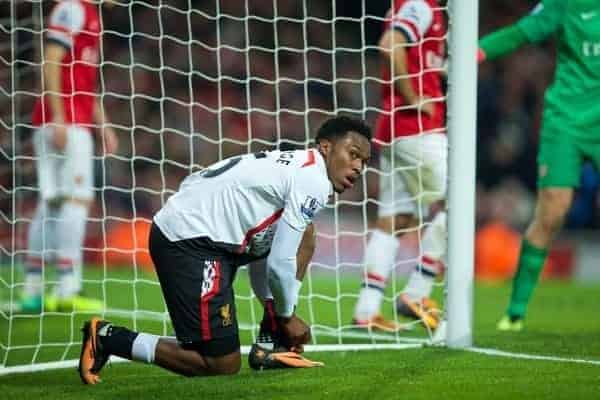 [poll id="150″]
Brendan Rodgers suggested after the match that Sturridge must get his priorities right if he is to succeed and win things at Liverpool.
Sturridge played for England in a friendly against Germany last Tuesday, four days before Liverpool's Merseyside derby clash with the Toffees and despite carrying a thigh injury.
Rodgers deemed the 24-year-old unfit to start, though he came on from the bench with eleven minutes to go to score a late equaliser.
Sturridge hit back at suggestions he should have pulled out of playing for England to save himself for Liverpool.
"For me, regardless of what condition you are in, if you are selected by the England manager, you go out there and do the best you can – regardless of whether you are carrying an injury or no" explained Sturridge.
"The manager gave me an opportunity and it's always a pleasure to put the England shirt on."
Sturridge is hoping to win a starting place in Roy Hodgson's side for next year's World Cup in Rio, however his commitment to Liverpool over his country has now been brought into question.
The former Chelsea striker is now looking to make a recovery from his thigh problem that has plagued him for around a month in time for this Sunday's trip to Hull City.
Sturridge continued, "I have been hampered for the past three games. Since West Brom, when I got the bang, I've had blood underneath the muscles in my thigh.
"When I shoot from long distance I still feel pain, but it's getting better. It's important that I'm training. I didn't get to train much when I was away with England.
"I need to try to make sure I'm in the right condition to be able to go out there and do myself justice.
"I hope I'm fit enough to start against Hull, as it would be great to be back in the side."