Reds and Blues together at Derby games was common practice in years gone by, but in today's era it can be an eye opening experience as Ben Twelves explains.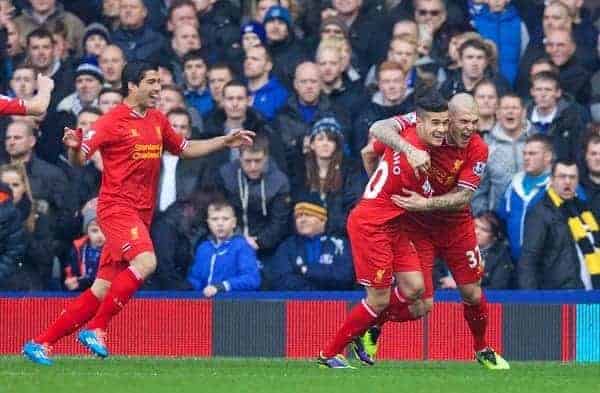 Thanks to a top blue mate of mine (they are out there!) I was able to watch the Merseyside derby live for the second season running at the retro Goodison Park. Last years game was as ever full of drama and although I expected more of the same this time round, nobody could have predicted what will arguably be looked at as one of the most entertaining derby games of all time.
Reds and Blues walked through Stanley Park to Goodison on what was a cold Saturday lunchtime on Merseyside, eagerly anticipating a new era of derby games in which both teams would actually look to win the match.
There seemed to be a new belief amongst Evertonians to support my thoughts, that they actually did have a game plan under an ambitious, forward thinking manager that would give them a genuine chance of claiming three points that wouldn't depend on us.
As I made my way through the narrow turnstile and up the cobbled and well worn stairs, fuming inside over Daniel Sturridge not being fit enough to play from the start, I was greeted at my seat in the lower Bullens stand by a dark blue poster wrapped up with an elastic band, which I quickly removed and positioned under my seat.
Blues and the odd Kopite started piling through the makeshift walkway in front of me, cleverly created by ripping out a row or two of seats at one stage I'd suggest, as kick off time grew ever closer.
The Gladwys Street's chants of "Everton, Everton, Everton" ten minutes before kick off were predictably followed up with a rendition of their thoughts about Kopites but nothing untoward met my ears. The away end responded, singing about their beloved men in red and Goodison was in fine voice.
The team's entered the pitch to a boisterous stadium, full of excitement and the displaying of a humorous banner from the away end celebrating the 18th anniversary since Everton's last trophy. It certainly didn't go down too well with some close to the away fans.
Boss photo this! pic.twitter.com/h9dUAGANfW

— LFCTS (@LFCTS) November 24, 2013
As both sets of players completed the pre-match handshakes and applauded their respective fans, I felt a souring of the atmosphere. The realisation that the match was finally upon us with the reading of the Liverpool team prompted the expected songs from toffees, but they were soon swapped for hate-filled booing and abuse from those around me, especially when Luis Suarez's name was announced.
Seeing the irrational hatred for Suarez in particular throughout the ninety minutes is something that can only be understood if seen first hand. An unrelenting bordering-obsessive abuse that I can't recall seeing anywhere else.
As a new (slimmer) but not improved Phil Dowd blew his whistle and what was to be an extraordinary encounter started, unfortunately, so did some unsavoury and inexcusable chants from a small but audible section of the home fans'. Thankfully the majority ignored them and it wasn't long until they were silenced by Philippe Coutinho anyway.
Unfortunately the silence only three minutes – the majority of Goodison found their voices again and it seemed that the small minority had now been pleasantly distracted by the fact there was a match on and decided to join the other blues in supporting their own team.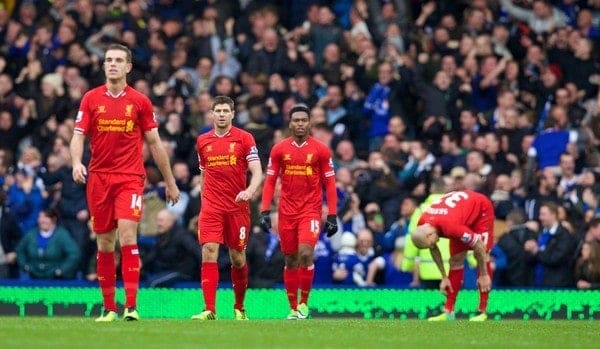 As I kept myself to myself when the goals went in, I spotted another red in the home end closer to the away fans than I was, enjoying and celebrating our goals with a raw passion only generated on derby day.
Just like the games of years gone by were famous for, reds mixed with blues. But it was greeted with a hostility of recent years by a couple of toffees, who proceeded to stand and gesture at him to get out.
There is a common feeling that the atmosphere at the derby games in more recent years has turned for the worst, losing a massive part of what made them great. But credit to the majority of evertonians though – they made some good noise throughout and especially when they took the lead.
Thankfully Sturridge popped up to silence them for a third time, ensuring that the points were shared and they didn't hang on to claim what would have been a "famous win" as one blue behind me declared only seconds earlier.