Everton attacker Kevin Mirallas has revealed he believes he should have been sent off for his horror challenge on Liverpool's Luis Suarez during Saturday's 3-3 draw between the teams at Goodison Park.
Sunday's Mirror back page has a close-up of the damage on Luis Suarez cause by Kevin Mirallas' tackle. pic.twitter.com/pCE4gazB2T

— This Is Anfield (@thisisanfield) November 24, 2013
The Belgian went in with a high foot on the Uruguayan international, which earned him a yellow card from referee Phil Dowd, but left Suarez with visible cuts from Mirallas' studs around his knee.
Mirallas is quoted in the Daily Express as saying, "When I made the challenge the first thing I thought was that it was going to be a red card.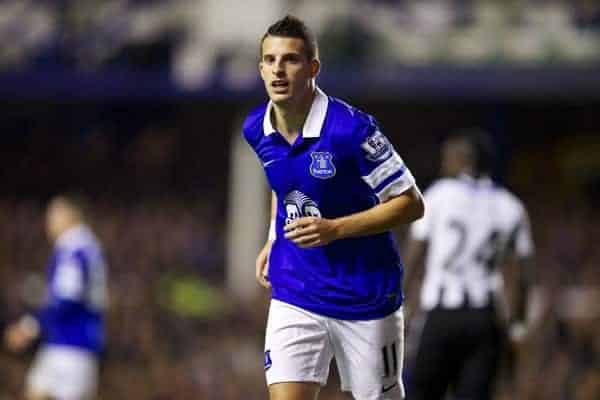 "I was genuinely going for the ball but I know I caught him on the knee and I said sorry straight away."
After the game, Liverpool boss Brendan Rodgers was left furious by the tackle, describing it as a potentially career-ending challenge.
Rodgers also questioned what punishment would have been served to Suarez had the tables been turned.
He is quoted in the Guardian as saying, "I thought Mirallas should have been sent off. It would've been interesting if Luis made the challenge. I have seen Kevin for a few years and he looks a real honest player but if you look at it in every way, real time and slow motion, it is a bad challenge.
"He caught him on the back of his knee and that can end your career. It was awful jumping in like that and it took Luis 10 or 15 minutes to try to run it off and [Mirallas] had another one by the [far] touchline where he's jumped up and come down on the back of Luis. [Suárez] is a player who can look after himself on the pitch, he is a strong player, but I just think it was a bad challenge.
"It wouldn't matter if it was on Luis or someone else it was a naughty challenge. You don't want to see people getting sent off but if they should be than that's what should happen."