Friday is 2013's Children in Need appeal and Liverpool trio Steven Gerrard, Luis Suarez and Lucas Leiva will feature on the BBC's show.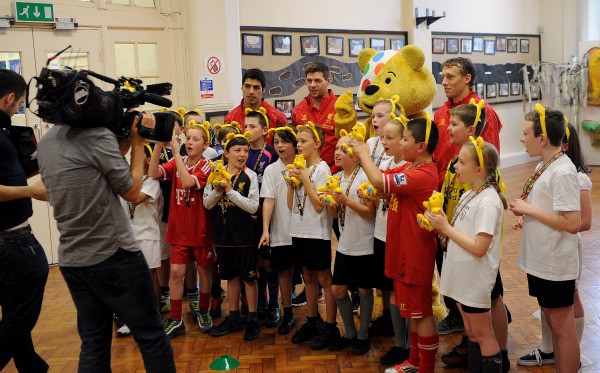 BBC Children in Need recently visited Merseyside to film with Liverpool FC stars ahead of the live appeal show on Friday. The three players came together to film a feature that thanks school children up and down the country for their hard work and dedication in helping to fundraise millions of pounds for the charity.
Steven Gerrard, Luis Suarez and Lucas Leiva visited Anfield Juniors to take part in some mini fundraising activities, including egg and spoon races and football skills sessions, all of which were filmed for the show.
The activities saw the players leading their own mini teams, competing against each other, with Lucas' lineup coming top across the different activities. Cheered on by Liverpool FC's official mascot Mighty Red as well as Pudsey Bear, the players and kids had a fun-filled afternoon that will be available for viewers to watch on Friday's show.
The 20 kids who took part in the filming were all students from Anfield Juniors in Liverpool, which is a partner school of the Liverpool FC Foundation, the Club's official charity. As part of the ongoing partnership, the school is involved in a new Foundation project called On the Ball, which aims to use the power of the LFC badge to positively impact on attendance, aspiration, attainment, health, wellbeing and confidence.
Captain Steven Gerrard commented on the day, "BBC Children in Need is a fantastic charity and it's great to come out and support the work that they do.
"Kids from up and down the country have been coming together to raise money for Children in Need, and we wanted to come along and say thank you."
Viewers can watch the Liverpool FC stars on the BBC Children in Need live appeal show on BBC One, Friday 15th November, from 7.30pm.