Liverpool fans reacted with a mixture of anger, frustrations, admiration and delight after Saturday's thrilling 3-3 draw with Everton at Goodison Park.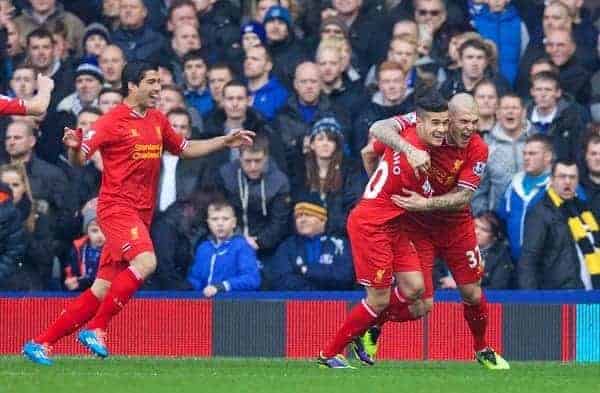 Fans took to Twitter to vent their frustrations that Kevin Mirallas should have been sent off for a high tackle on Luis Suarez, which left the Uruguayan with visible cuts around his knee.
This morning's Sunday Mirror back page went with a close-up photo of the consequences of Mirallas' horror challenge:

Sunday's Mirror back page has a close-up of the damage on Luis Suarez cause by Kevin Mirallas' tackle. pic.twitter.com/pCE4gazB2T

— This Is Anfield (@thisisanfield) November 24, 2013
Nevertheless, despite the lack of red card, many fans believed a draw was the right result and revelled in the excitement that the 221st Merseyside Derby brought us.
There was also a heap of praise for Jon Flanagan, who yet again outperformed some of his Premier League colleagues yesterday:

Flanagan Stats:

Tackles: 8/9 Won – 89% (most tackles)
Ground Duels Won: 11/17 – 65%
Interceptions: 4 (most)
DEF Possession Wins: 6 (most)

— AnfieldIndex (@AnfieldIndex) November 23, 2013
Here are just a selection of post-match reactions. Let us know your post-match thoughts in the comments section below:

https://twitter.com/Brodinho/status/404520258104745984

@thisisanfield 3 game changing moments in the 3-3 1) The non red card 2) Allen's miss 3) Bringing Moses when Sturridge would've been better

— KD (@kunaldua) November 24, 2013

https://twitter.com/M_Sweeting/status/404265115047829505

How Mirallas didn't get sent off today I'll never know #GloveWearingWanker pic.twitter.com/lkdSAzNmec

— LFC Hub (@Lfc_Hub) November 23, 2013
In pure Sunday league terms Mirallas deserves a kicking really…

— The Redmen TV (@TheRedmenTV) November 23, 2013
Fantastic derby,breathtaking 2nd half.Fair result in the end even though Mirallas should have seen red.Flanagan and Barkley outstanding.

— Didi Hamann (@DietmarHamann) November 23, 2013
An intense derby today from the start- dramatic, rough, thrilling, yet agonizing for both sides.

— Linda Pizzuti Henry (@Linda_Pizzuti) November 23, 2013
@thisisanfield only BR needs an improvement on his tactical approach….should stop gambling big games,Flanagan proved me wrng tho.

— St'Xristo (@shegetto) November 23, 2013
@thisisanfield Allen to make it 3 we would have strolled it. Just those moments can make a season. They all add up in the end.

— OOHMYLIVER (@oohmyliver) November 23, 2013

https://twitter.com/M_Sweeting/status/404260069342068738

@Footy_MarcoL The defense was poor in my opinion, Sakho was crying out for this game vs Lukaku as opposed to Skrtel

— Tom McMahon (@tomjpmac) November 23, 2013