Liverpool fans were left disappointed by the 2-0 defeat at The Emirates on Saturday night.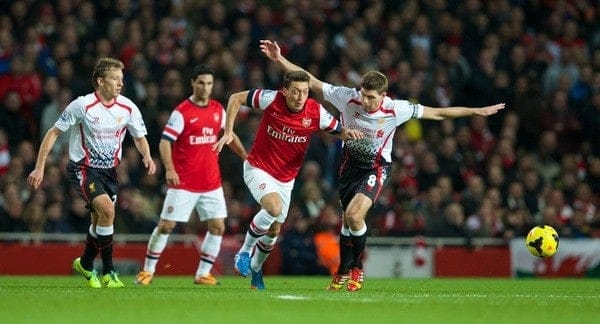 While there is no shame in losing to the best side in the League, much of the discussion has revolved around Liverpool's use of a back three, and The Reds' midfield.
We lost to the best team in the league. Hardly a disgrace. A lot of overreacting on here. #perspective

— Stuart Cowan (@Kopstu) November 2, 2013
Only saving grace is that they are dead good and will win the league

— Thomas Fairclough (@Tom_fairclough9) November 2, 2013
We've gone 7 games without a clean sheet, after keeping 3 in our first 3 games, when we went 4 at the back. Coincidence? I don't think so.

— Joseph Musker (@Musker_LFC) November 2, 2013
So disappointing today, came up against good Arsenal side. Game was lost in midfield, as many predicted, that's where we need to strengthen.

— Simon Steers (@sisteers) November 3, 2013
This is perspective to our fans who thought the title was realistic. We are fighting for fourth.

— Dominic Campbell (@dom_campbell) November 2, 2013
LFC have been winning games because of their forwards. They won't get constant success, because their midfield isn't good enough.

— Matt Ladson (@mattladson) November 2, 2013
@thisisanfield Have you found Gerrard yet? Cause whoever was playing in the Number 8 jersey today was dreadful!!!!

— Patricia Doyle (@PatriciaMDoyle) November 2, 2013
Here's the issue with the CM, Gerrard's legs have gone which was always gonna happen. Lucas has no legs which leaves us with Henderson alone

— Karl (@Karlton81) November 2, 2013
Losing to Arsenal doesn't detract from our objective of top 4, neither does it mean we are shit. They have best midfield in league. #LFC.

— Simon Steers (@sisteers) November 2, 2013
#LFC still have 4 pts more than they got from corresponding fixtures last season, only need to improve by 10 to compete for 4th. Chin up!

— Andrew Beasley (@BassTunedToRed) November 2, 2013
Let us know your thoughts in the comments below.